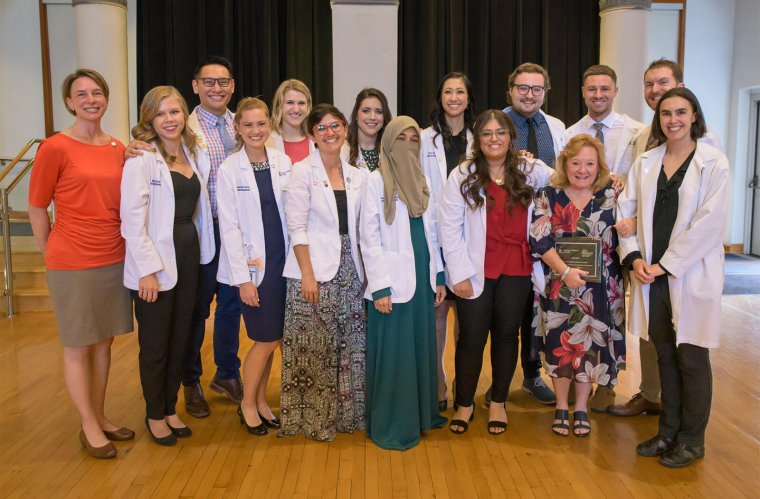 Gold Humanism Honor Society Inducts New Students and Faculty Members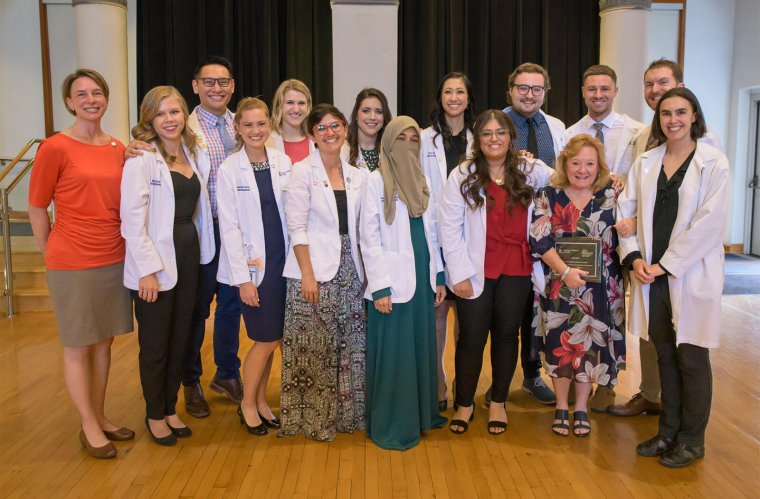 Twelve students and two faculty members were chosen as examples of humanism and kindness in the world of medicine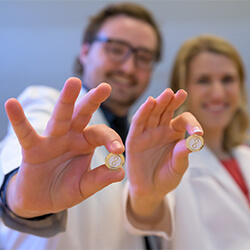 The University of Arizona College of Medicine — Phoenix hosted its annual Gold Humanism Honor Society (GHHS) induction ceremony to celebrate students and faculty who champion humanism in health care.
The UArizona College of Medicine — Phoenix's GHHS chapter was first established in 2010 and, each year, inducts the top 10-15% of the third-year students identified by their peers as exemplars of humanism in medicine.
Katie Brite, MD, interim senior associate dean of Undergraduate Medical Education, opened the ceremony with introductory remarks and welcomed the Class of 2023 inductees into the group.
"It's an acknowledgement from your fellow students and faculty that these are individuals that are truly connected to the honor society's values," Brite said. "Humanism is reflected in the behaviors of physicians that are mindful of all the awesome diversity that they're going to face … from people of varying values, backgrounds and experiences."
The GHHS defines humanism in medicine as respectful and compassionate relationships between physicians and patients. This year, twelve medical students and two faculty members were recognized and inducted.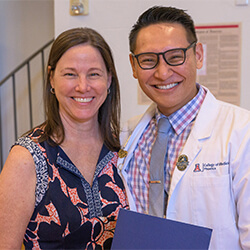 Among the inductees was Abel De Castro, who plansto specialize in internal medicine and pediatrics. He finds it inspiring to see his peers succeed in clinics and hospitals, as well as extracurriculars.
"I'm very humbled to see everything that all my classmates are involved with and the fact that they get to continue to find success … while juggling a million things they are doing," De Castro said. "I'm very honored to receive this award with them."
During the ceremony, students tied ribbons around a staff, which was originally gifted from the inaugural GHHS Class of 2011 inductees. As part of tradition, students from each incoming class tie new ribbons to bind them to previous classes.
The staff is made from yucca stock native to the Arizona desert and symbolizes a single serpent, which, in Native American tradition, is strongly associated with healing capacities.
Robert Raschke, MD, served as the ceremony's guest speaker and presented a speech titled, "Survival and Resilience in a COVID ICU."
He discussed the trials and tribulations he and his hospital staff faced during the past two years with the pandemic. Throughout that time, everyone persevered through the hardships to maintain their humanity while focusing on patient care.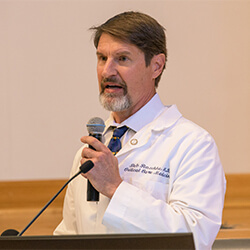 Raschke shared a story about a nurse named Olivia at his hospital, who talked with a COVID-19 patient as she washed [the patient's] hair.
"A week after that [the patient] passed away from complications of COVID pneumonia," Raschke said. "I think Olivia washing [the patient's] hair might've been the last act of human kindness she ever experienced in her life."
Despite the tragic events, Raschke said he noticed much of his staff smiling and keeping up a sense of camaraderie. He saw them working together to not let any patients down and encouraged this year's GHHS inductees to have a similar mindset.
"We're not meant to battle against adversity like this alone; we're meant to work as a team," Raschke said. "For the students, be good to your team, be good to your patients and remember you have a sacred vocation."
Mackenzie Koss Oleksak, another student inductee who is planning on going into psychiatry, said the award and ceremony helped motivate her to always work hard in her profession.
"The award sums it up well with the word 'humanism,'" Oleksak said. "Remembering that each of these patients are people … and all the hard things we go through is meaningful because it impacts not just their outcome in the hospital, but the rest of their lives."
Congratulations to the following students:
Alexis Bailey.
Matthew Campanella.
Abbey Colorafi.
Briana Corkill.
Austin Cotter.
Abel De Castro.
Fathima Haseefa.
Sara Yee.
Nisha Rehman.
Christopher Laube.
Mackenzie Koss Oleksak.
Kylie Kilian.
Faculty members, Sarah Coles, MD, and Andrea Darby-Stewart, MD, were inducted for their outstanding work ethic and service as great role models for humanism in medicine.
Kelly Lynch, manager of alumni and student relations, was selected by the students to receive the Lifetime Humanism Award.
About the College
Founded in 2007, the University of Arizona College of Medicine – Phoenix inspires and trains exemplary physicians, scientists and leaders to optimize health and health care in Arizona and beyond. By cultivating collaborative research locally and globally, the college accelerates discovery in a number of critical areas — including cancer, stroke, traumatic brain injury and cardiovascular disease. Championed as a student-centric campus, the college has graduated 745 physicians, all of whom received exceptional training from nine clinical partners and more than 2,600 diverse faculty members. As the anchor to the Phoenix Bioscience Core, which is projected to have an economic impact of $3.1 billion by 2025, the college prides itself on engaging with the community, fostering education, inclusion, access and advocacy.