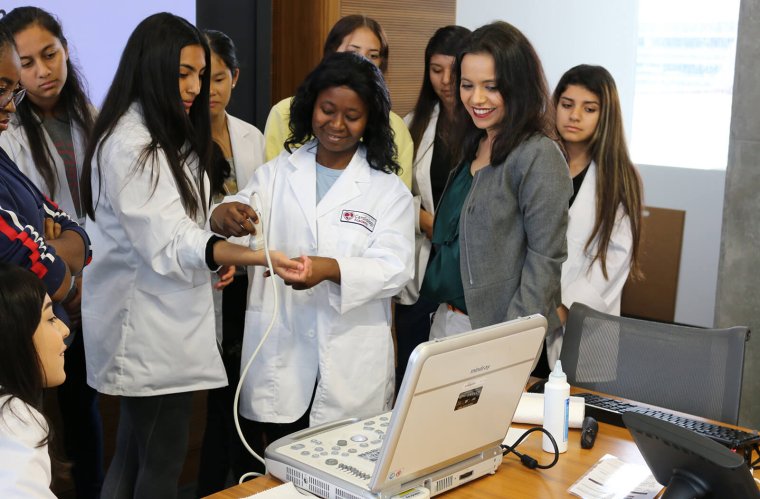 High School Students Spend Spring Break at Cardiology Academy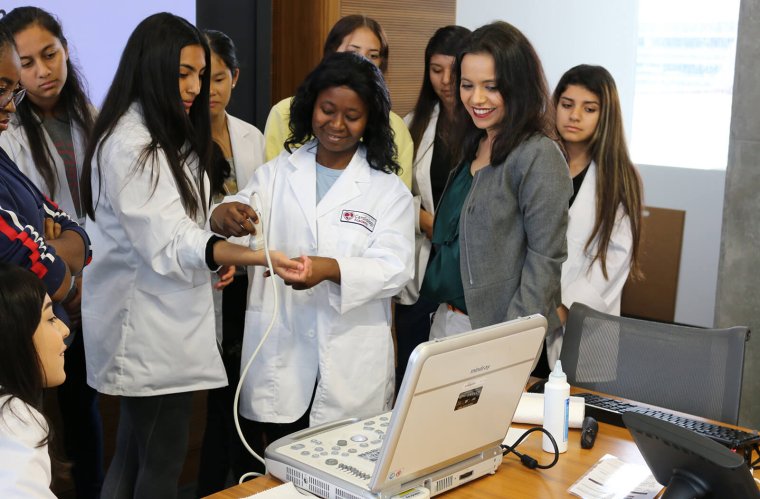 Irene H. Bailey Cardiology Academy Hosts 15 High School Students at the College of Medicine – Phoenix
High school students from underrepresented communities in Arizona participated in a program over Spring Break that helped them explore careers in health care and learn prevention techniques about heart disease. Students tested their clinical and research skills in the lab while learning about a heart healthy lifestyle.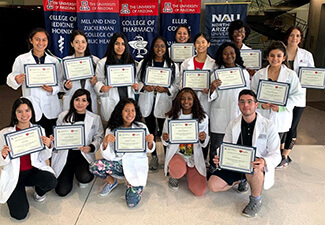 The program was led by Martha Gulati, MD, MS, division chief of cardiology at the University of Arizona College of Medicine – Phoenix, and a national expert on women's heart health.
"This program is designed to instill a respect and love in high school students for the science and art of medicine, focusing on cardiology," Dr. Gulati said. "This is a unique opportunity to make these young minds interested in the most important area of medicine."
The five-day Irene H. Bailey Cardiology Academy attracted 15 high school seniors with an interest in science March 9-13. They learned and applied science skills in the laboratory, explored the variety of career choices in medicine and developed mentoring relations with health care professionals.
Aiai Price-Smith, a senior at BASIS Phoenix, said she enjoyed the freedom and encouragement throughout the program to ask questions. Price-Smith said she learned about pathways to careers in health care and appreciated the advice she received from medical school students and physicians. The experience has motivated her to continue on her journey towards medicine.
"I really enjoyed all of the exposure to different people and different topics, from vaping to epidemiology," Price-Smith said. "I met amazing peers from all over the Valley, and I felt the program did a great job balancing education and fun. I felt engaged throughout, and enjoyed the variety of activities and hands-on opportunities."
"I would definitely recommend this program to anybody who is interested in learning about the medical field," Price-Smith said. "Being in the environment of successful students was truly amazing."
As part of the academy, students participated in a daily, one-hour personal training session led by a certified personal trainer that included cardiovascular and strength training exercises. They kept food diaries to track their nutritional intake, which they reviewed with a dietician and created individualized plans to add healthier foods to their diet.
Students also learned the basic anatomy and physiology of the heart and arteries, performed a dissection of a pig heart and participated in hands-on clinical workshops to learn about the electrophysiology of the heart. They also had hands-on simulations with defibrillators and pacemakers.
Jessica Roman, a junior at Tempe High School, joined the program because of her interest in medicine. She hopes to become a surgeon.
"My favorite part about the academy was being around people who are just as determined to do something as I am," Roman said. "The overall experience was great. I would do this program again if I could. I created long-term friends in this program, which I wouldn't have done on my own, so I'm grateful for this small, but significant push in my life."
The Irene H. Bailey Cardiology Academy is funded in part by the Red Dress Cocktail Party and supported by the University of Arizona College of Medicine – Phoenix. The Academy was started by Maria Bailey Benson, founder of the Red Dress Cocktail Party. Benson is an advocate for heart disease prevention and awareness, which is the leading cause of death for women in the U.S. Benson's mother, Irene H. Bailey, was 53 when she passed away from what she thought was indigestion, but was a heart attack. In addition to her mother, Benson's grandmother and aunt died of heart disease.
About the College
Founded in 2007, the University of Arizona College of Medicine – Phoenix inspires and trains exemplary physicians, scientists and leaders to optimize health and health care in Arizona and beyond. By cultivating collaborative research locally and globally, the college accelerates discovery in a number of critical areas — including cancer, stroke, traumatic brain injury and cardiovascular disease. Championed as a student-centric campus, the college has graduated 665 physicians, all of whom received exceptional training from nine clinical partners and more than 2,500 diverse faculty members. As the anchor to the Phoenix Bioscience Core, which is projected to have an economic impact of $3.1 billion by 2025, the college prides itself on engaging with the community, fostering education, inclusion, access and advocacy.