Hispanic Heritage Month: Clarimar Borrero-Mejias, MD
Pediatric Neurologist Shares Background and Path Towards Medicine
The University of Arizona College of Medicine – Phoenix is proud to highlight a few of our Hispanic students and faculty during Hispanic Heritage Month (Sept. 15th – Oct. 15th).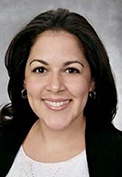 Clarimar Borrero-Mejias, MD, knew she wanted to pursue medicine since a young age. With the support of her community, she overcame obstacles and pursued her dream of becoming a physician.
Dr. Borrero-Mejias attended medical school at the Universidad Central Del Caribe School of Medicine in Bayamon, Puerto Rico and completed a residency at the Pediatric Hospital – University of Puerto Rico School of Medicine in San Juan. She is a pediatric neurologist at Barrow Neurological Institute at Phoenix Children's Hospital and a clinical assistant professor of Child Health and Neurology at the University of Arizona College of Medicine – Phoenix.
In honor of Hispanic Heritage Month, Dr. Borrero-Mejias answered a few questions about her background.
What does Hispanic Heritage month mean to you?
As an American citizen growing up outside of the United States (mainland), I do not recall much about celebrating Hispanic Heritage month until I moved to Arizona. I guess to me, it was more of a daily celebration of an insular "us." However, when I moved to Arizona almost 10 years ago, I became acutely aware of the sociocultural similarities and differences in my experiences, compared to those who were born, raised or moved to this country from other Hispanic and Latin-American countries. Immersing myself into learning about other Latin and Hispanic cultures elevated my appreciation of the rich heritage that I share with the world. It is no longer an insular "us," but a global "us." It is through identifying what unites us and not what makes us different, that I've grown. It is a privilege that I may not have experienced or recognized, had I not moved to Arizona. For that, I am grateful.
How has your background influenced your practice?
As a medical student and pediatric resident in Puerto Rico, I recognized the multitude of barriers that my patients faced when attempting to access health care. In Puerto Rico, however, language was not one of them. Every individual was able to communicate with their doctor and health care team in their native language. What is more, taking into account the patient's socioeconomic and educational background did not seem to be as critical of a component in my medical decision making while living in Puerto Rico as it has become here in Arizona. There is a great number of Hispanic/Latinx patients and families that I see whose educational and socioeconomic status is an additional barrier to accessing equitable health care. With that, I have embraced the opportunity to be a bridge that helps my patients and families overcome these barriers by providing excellent care, communicating with patients in their native language and advocating for the socioeconomic support that they need and deserve. It is a privilege and one of my greatest satisfactions.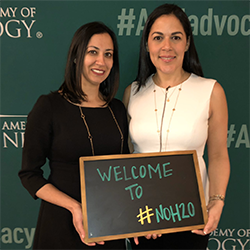 Why did you pursue medicine?
I recall being eight years old when I told my mother I wanted to be a doctor. I had seen a movie at school that mentioned how doctors helped people by figuring out what made them sick and how to cure them. It spoke to my heart. I recall the man on the screen had gray hair, sunglasses and was wearing a white coat. As a young girl, I pictured myself wearing that coat and I had my mind set on becoming a doctor, regardless of how hard I would have to work for it. With personal dedication, resilience and the support from my family and teachers, I learned how important it was to overcome every obstacle, while enjoying everything that was wonderful.
What words of encouragement or advice do you have for kids, specifically girls, who are interested in STEM?
Acknowledging that certain gendered stereotypes exist, I was naive to them as a young girl, and resolute to ignore them, once I was older. After dedicating several decades to working on STEM and medicine, there is no doubt in my mind that women of all ages are absolutely capable and essential to advancing the field of STEM. With that, I encourage anyone who is interested in the field to reach out, show up, ask questions and offer to help. Many are familiar with the wise words of the late Ruth Bader Ginsburg, "Women belong in all places where decisions are being made." She also said, "We should not be held back from pursuing our full talents, from contributing what we could contribute to the society, because we fit into a certain mold." To all the girls out there, I say: Let's continue breaking molds and creating spaces for everyone.
About the College
Founded in 2007, the University of Arizona College of Medicine – Phoenix inspires and trains exemplary physicians, scientists and leaders to optimize health and health care in Arizona and beyond. By cultivating collaborative research locally and globally, the college accelerates discovery in a number of critical areas — including cancer, stroke, traumatic brain injury and cardiovascular disease. Championed as a student-centric campus, the college has graduated 669 physicians, all of whom received exceptional training from nine clinical partners and more than 2,600 diverse faculty members. As the anchor to the Phoenix Bioscience Core, which is projected to have an economic impact of $3.1 billion by 2025, the college prides itself on engaging with the community, fostering education, inclusion, access and advocacy.