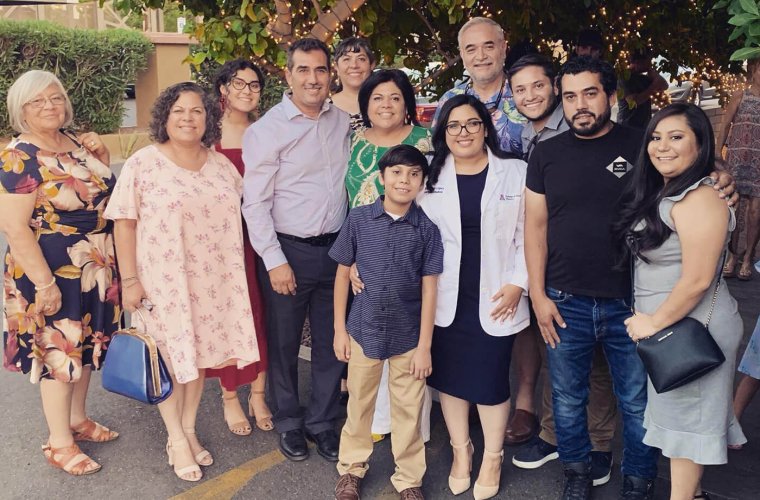 Hispanic Heritage Month Student Profile – Estefanía López De Gallegos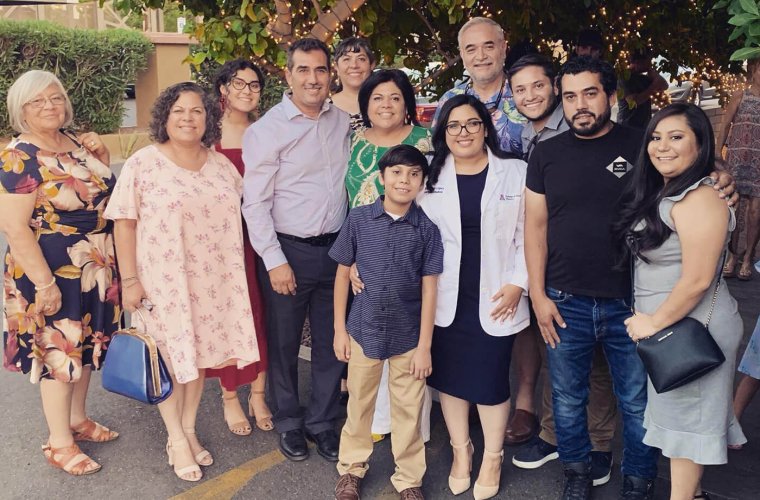 Medical Student Shares Empowering Hispanic Heritage Upbringing
The University of Arizona College of Medicine – Phoenix is proud to highlight a few of our Hispanic students and faculty during Hispanic Heritage Month (Sept. 15th – Oct. 15th).
Meet Estefania López De Gallegos
Estefania López De Gallegos is a second-year medical student whose interest in pursuing medical education sprouted from her childhood experience of battling asthma and receiving treatment in both the U.S. and Mexico. Estefania emphasizes that the cultural and linguistic differences in providing health care directly impacted her motivation to become a physician.
Can you tell a story about your childhood upbringing and family culture?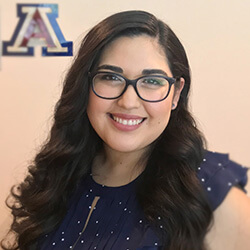 Growing up in a Hispanic household, I had the joy of having birthdays with piñatas, carne asada and tortillas, but of course living "under my parents' roof" there were rules, as well. My parents had a very strict rule enforced to this day — at home, you must speak Spanish only. However, when we gathered for Christmas, for example, I had cousins who loved talking in English, and I remember "the look" we would get from my parents if we followed along; we had to speak in Spanish, which led to very interesting bilingual communication. These gatherings at my grandparents' home in Mexico are such a fond memory. The women in the family would make a traditional Mexican food feast, and before enjoying, we would say grace as an entire family and fulfill our religious celebration for Christmas. Since it was in Mexico, my cousins would all go outside to light fireworks in the dirt alley, while I sat at the window with my nebulizer watching them from inside because of my asthma.
What inspired you to pursue medical education?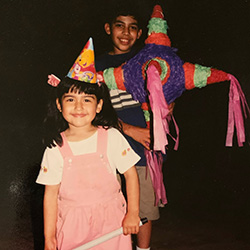 Being a child with asthma and a severe peanut allergy created many awkward first days of school with my mom explaining to the teachers and nurses what my situation was. Unfortunately, despite my mother's best efforts, I didn't always leave the nurse's office unscathed and ended up in the emergency department too. During my childhood, I lived in northern California with frequent visits to family in Mexico; I then moved and spent most of my childhood in San Luis, a border town. Given this, I've experienced health care in the U.S. and in Mexico, which gave me a unique perspective growing up. There are so many differences — the system, the cost, the language, the culture, the approach, etc. What I started to see was how we were being treated; we felt so much more comfortable being treated by physicians who had a better understanding of our Hispanic culture and even more when they could speak Spanish, which is the language my mom is most comfortable with. Bridging the cultural and linguistic gap of communication for Hispanics became a leading motivation in becoming a doctor. 
What does Hispanic Heritage Month mean to you?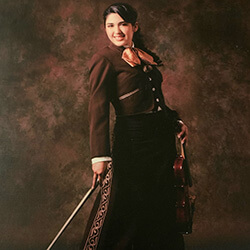 Hispanic Heritage Month is a joyous time dedicated to celebrating our roots and sharing the wonderful beauty of Hispanic culture that varies across the different Spanish-speaking countries. Growing up, I remember seeing these 30-second "Orgullo Hispano" commercials on Univision highlighting a Hispanic/Hispanic-American who has been successful and serves as a role model for others. My mother would always say that one day that would be me. Being able to see role models who shared a piece of my culture was and is incredibly inspiring and encouraging. I am proudly Mexican American. I love my Hispanic heritage characterized by family-oriented values, a strong work-ethic, can-do attitude and, of course, delicious food. When I was younger, I joined the Mexican folkloric dance group and I was a Mariachi playing the violin locally, attending the International Mariachi Conference in Tucson and even a festival in a town called Álamos in Mexico. I've also had the pleasure to learn more medical Spanish and work with a physician in an underserved area in Costa Rica, gaining a deeper appreciation for the Hispanic culture in their region — both within and outside of the health care setting.
If you could speak to an elementary-age child of Hispanic heritage regarding STEM education and careers, what would you say to them?
Whatever you dream of becoming, I want you to know that you can do it! You can do anything you set your mind to, it'll just take some hard work, dedication and resilience. Sometimes we may not see as many Hispanic role models in STEM, but don't let that discourage you. Believe in yourself and you can become a role model for someone else in the future. Focus on doing what you enjoy, ask questions and pursue your goals even if they seem impossible, if you have the will to do it, you will find a way. "¡Sí se puede!"
About the College
Founded in 2007, the University of Arizona College of Medicine – Phoenix inspires and trains exemplary physicians, scientists and leaders to optimize health and health care in Arizona and beyond. By cultivating collaborative research locally and globally, the college accelerates discovery in a number of critical areas — including cancer, stroke, traumatic brain injury and cardiovascular disease. Championed as a student-centric campus, the college has graduated 593 physicians, all of whom received exceptional training from nine clinical partners and more than 2,400 diverse faculty members. As the anchor to the Phoenix Biomedical Campus, which is projected to have an economic impact of $3.1 billion by 2025, the college prides itself on engaging with the community, fostering education, inclusion, access and advocacy.