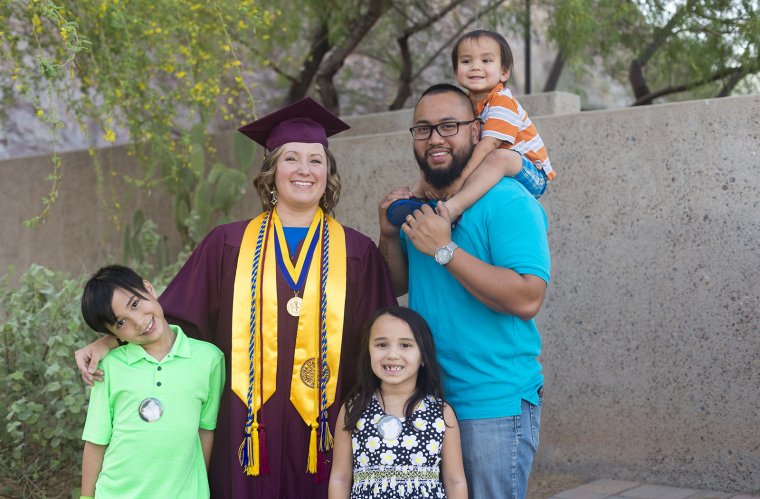 Incoming Student Profile: Carleen Cuevas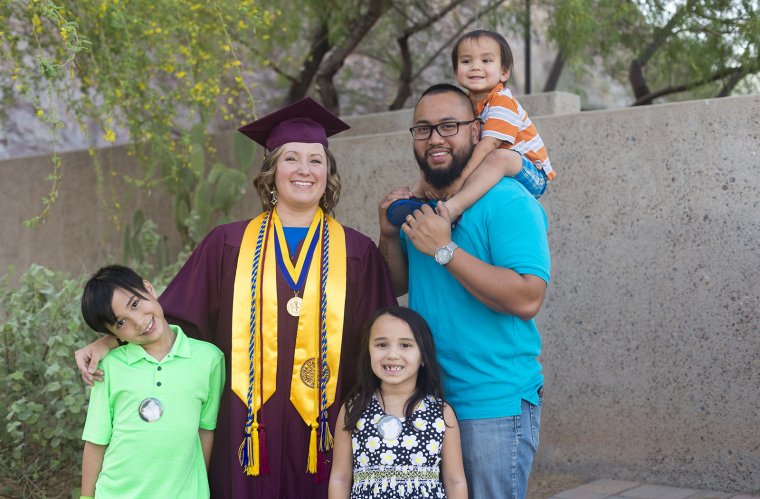 First-Year Student Pursues Medicine to Influence Change and Improve the Lives of Her Community
The University of Arizona College of Medicine – Phoenix welcomed its largest class of students this July. Due to the coronavirus pandemic, incoming students embarked on their medical journey via Zoom for the first time in the college's history. Although they will not be arriving on campus until the fall, we will be highlighting a few of the incoming students from the Class of 2024 and introducing them to the campus community.
Meet Carleen Cuevas
First-year medical student Carleen Cuevas married her high school sweetheart and started their family at a young age. They now have three children, a cat, a dog and a ball python. Cuevas and her family have lived all over the place — including Texas, Alaska, Wisconsin, California and, now, Arizona — where she is excited to start her medical school journey.
"I am excited to begin seeing patients and to start really being a part of their health care team," Cuevas said. "If I did have to choose one institutional aspect of the College of Medicine – Phoenix that helped me decide, it would, by far, be the early clinical exposure and Doctoring course. I can't wait to meet patients, hear their stories, learn how help them and start taking a more active role in their care."
Cuevas received her bachelor's degree in Sociology from Arizona State University.
Path Toward Medicine 
"While I've always loved the science of the human body, I knew I had to be a physician after experiencing the profound impact they can have on a person's life story through the experiences of my father and son, as well as my own chronic condition. I think medicine is such a special field because what it addresses — life, health, pain, illness, death — cuts to the core of a person and reveals their values, beliefs and fears. Being with people and their families facing the most sensitive aspects of humanity and having the privilege to guide and help them drew me in from the start. While every member of the health care team makes a difference in a patient's life, I was especially drawn to the leadership, responsibility and societal influence the title of 'physician' bestows. I want to help the patients directly in front of me each day, while also using my position to participate in and advocate for systemic changes that improve the lives of everyone in my community, especially the marginalized and disadvantaged."
Choosing the College of Medicine – Phoenix 
"While there are so many positive aspects of this institution as a whole, it was really the people here that solidified my choice. The students whom I spoke with before and at the interview day, as well as those whom I interviewed with, all seemed so thoughtful, optimistic and energized by this place. The staff and administration are supportive, transparent and truly invested in each student's success. The community this institution serves is extremely diverse, which will expose me not only to a wide range of clinical conditions, but also to a variety of cultural beliefs, attitudes and values."
Entering Medical School During a Pandemic
"I agree with many who say the pandemic will forever change our society and believe it will have a lasting impact on the health care field. I think the changes to our medical school experience are just our first taste of the necessity for flexibility and adaptability as a physician. This is perfectly reflected and exemplified by the physicians and staff continuing their work during this time. I am excited to be coming into this profession at a time when there is a blossoming readiness and willingness to change our approach to health care in this country. I actually think medical students will have a unique place in this shift because we are not directly in the trenches, but rather adjacent to them. We have the luxury of being a step back to observe experiences, ask questions, research and reflect on where our place will be moving forward. We still have the fire and energy of being new to the profession and are less affected by the functional fixedness years of working in the system can bring. I feel the College of Medicine – Phoenix does an outstanding job of providing opportunities for students to learn from the wisdom of those coming before us as we find our own unique paths in medicine and have no doubt it will continue to do so throughout the pandemic."
Volunteer, Research and Hobbies
"During my time away from college I pursued several areas of interest — including building a business as a family and wedding photographer, as well as becoming a certified personal trainer and nutrition coach. This led to a passion for competing in powerlifting, even doing so at the National level, as well as coaching and empowering women to experience the strength within themselves in a tangible, physical way. I also love to travel, camp and hike. For my birthday last year, my family and I tent camped our way along a road trip from Los Angeles to Banff, AB Canada. My husband and I love traveling abroad and last year explored Ireland and Iceland together. It's a little more difficult to bring our children along on overseas trips to say the least, but they loved meeting family and seeing the Philippines a few years ago and are itching to go back soon."
Topics
About the College
Founded in 2007, the University of Arizona College of Medicine – Phoenix inspires and trains exemplary physicians, scientists and leaders to optimize health and health care in Arizona and beyond. By cultivating collaborative research locally and globally, the college accelerates discovery in a number of critical areas — including cancer, stroke, traumatic brain injury and cardiovascular disease. Championed as a student-centric campus, the college has graduated 669 physicians, all of whom received exceptional training from nine clinical partners and more than 2,600 diverse faculty members. As the anchor to the Phoenix Bioscience Core, which is projected to have an economic impact of $3.1 billion by 2025, the college prides itself on engaging with the community, fostering education, inclusion, access and advocacy.