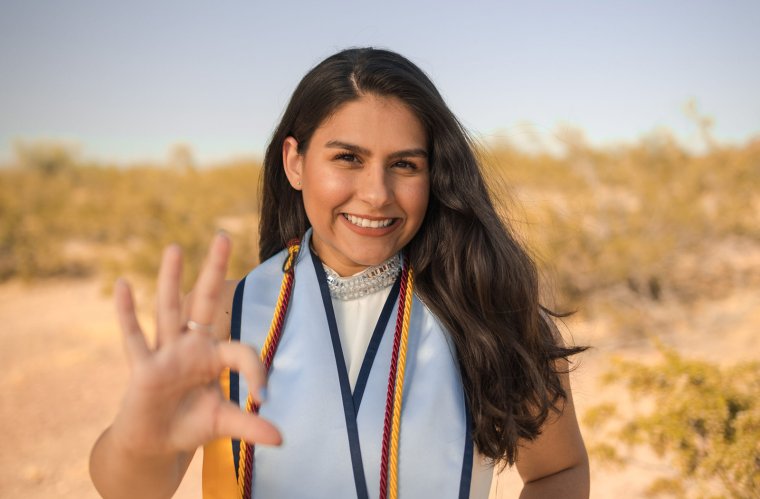 Incoming Student Profile: Miranda Yousif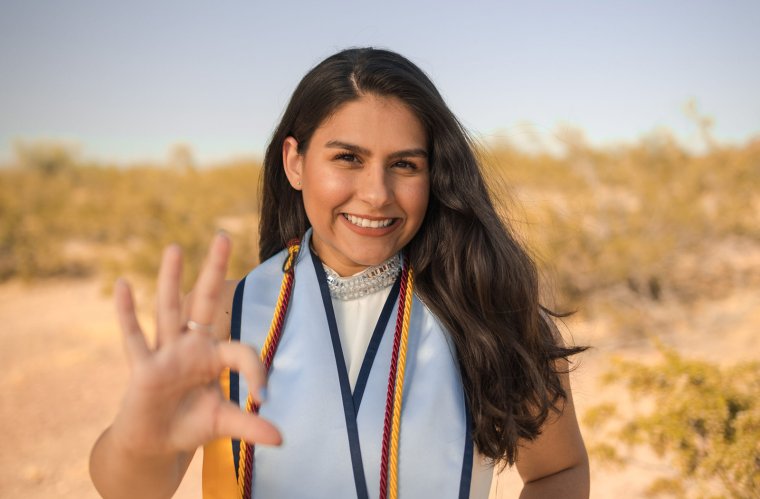 Compassionate Care Enthusiast is Thrilled to Learn and Ready to Serve Her Hometown Community
The University of Arizona College of Medicine – Phoenix welcomed its largest class of students this July. Due to the coronavirus pandemic, incoming students embarked on their medical journey via Zoom for the first time in the college's history. Although they will not be arriving on campus until the fall, we will be highlighting a few of the incoming students from the Class of 2024 and introducing them to the campus community.
Meet Miranda Yousif
Born in Royal Oak, Michigan and raised in Glendale, AZ, incoming first-year medical student Miranda Yousif claims Phoenix as her hometown and is eager to become an integral part of the Arizona medical community. Miranda earned her bachelor's degree in Biological Sciences at Arizona State University after graduating from Mountain Ridge High School in 2016. When Miranda isn't quenching her thirst for medical knowledge, you'll find her spending her quality time with her family, friends and fur baby, Ella.
Path toward Medicine
"I chose to pursue medicine because I saw a gap in equitable health care for disenfranchised communities. I know what it feels like to be a member of a community that has been historically marginalized, so I wanted to be a part of the change in taking down barriers to health care and advocating for culturally sensitive and compassionate care."
Choosing the College of Medicine – Phoenix
"I was really fortunate to have great options in where I would pursue my medical degree, but for me, it came down to having a family-like community of peers, faculty and mentors that would support me along my journey to becoming a physician. During my interview at UArizona College of Medicine – Phoenix, I immediately connected with the community and felt at home. I knew if I came here, I would only be limited by hard how I was willing to work and how big I could dream."
Entering Medical School During a Global Pandemic
"Entering medical school during a pandemic is definitely not something that was on my vision board. While it's frustrating at times to be entering medical school when the world is facing so many unique challenges, it's also exhilarating to be a part of the generation that lives through the changes that await the medical community at the end of the pandemic. I look forward to seeing the growth and progression of medicine and how future physicians can learn from the effects of COVID-19 to become better doctors."
Volunteer and Research Experience
"I was really fortunate to be able to participate in multiple research projects at the Mayo Clinic and Biodesign Institute in college that fostered the skills I needed to be a future physician-researcher. I loved learning the process and implications of research and am looking forward to further developing my scientific footprint through my Scholarly Project."
What Are You Most Excited About?
"After countless hours of shadowing, studying, volunteering and unique pre-med experiences that I am grateful to have, I am most excited to feel like I am a part of the medical community. I would not change a minute of my pre-medical experiences and the opportunities to learn in that capacity, but I am excited to officially pursue my passion and be an engaged member of the medical community."
Interesting Fact about Miranda
"I recently 'virtually' graduated from Arizona State University with a BS in Biological Sciences and I am in the process of relinquishing my Sun Devil pride and adjusting to Wildcat excellence. I am really excited to attend my hometown medical school, befriend my future classmates, meet amazing faculty and learn how to become a changemaker for our communities."
"I'd like to add that I am grateful for the admissions team for accepting me to the college. I am beyond honored and humbled by the opportunity to serve my community in the most foundational sense. I am looking forward to this journey through medical school and cannot think of a better place to do so. Bear down, Phoenix."
Topics
About the College
Founded in 2007, the University of Arizona College of Medicine – Phoenix inspires and trains exemplary physicians, scientists and leaders to optimize health and health care in Arizona and beyond. By cultivating collaborative research locally and globally, the college accelerates discovery in a number of critical areas — including cancer, stroke, traumatic brain injury and cardiovascular disease. Championed as a student-centric campus, the college has graduated 669 physicians, all of whom received exceptional training from nine clinical partners and more than 2,600 diverse faculty members. As the anchor to the Phoenix Bioscience Core, which is projected to have an economic impact of $3.1 billion by 2025, the college prides itself on engaging with the community, fostering education, inclusion, access and advocacy.