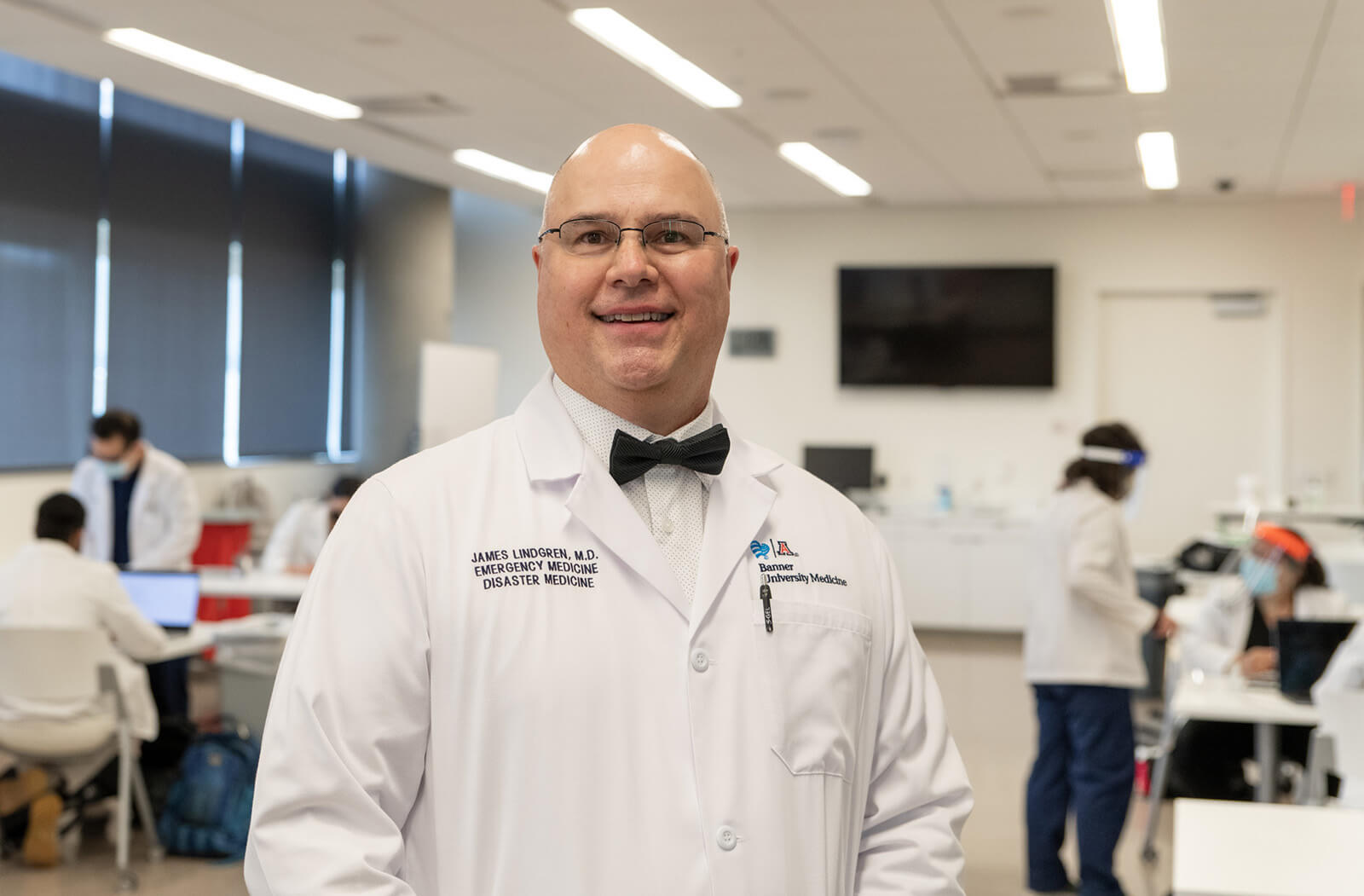 Innovating Medical Education through Clinical Simulation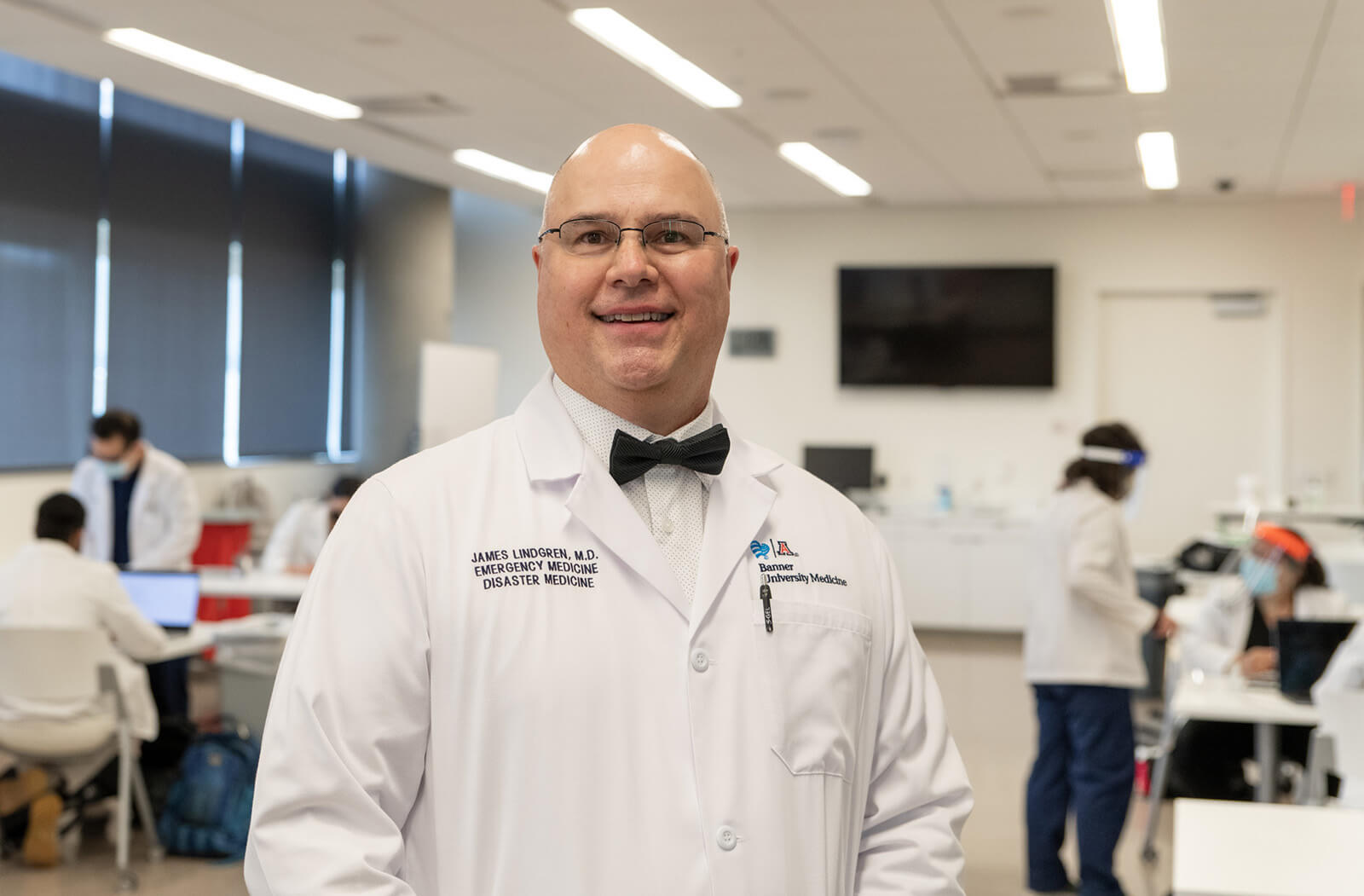 James Lindgren, MD, FAAP, FACP, Named Medical Director of the State-of-the-Art Training Facility
Health care changes rapidly as new technologies and treatments are developed to improve patient outcomes. Clinical simulation serves a critical role in training future physicians, providing students access to leading-edge technology, as well as offering opportunities to develop skills and improve performance prior to clinical rotations.
The Center for Simulation and Innovation at the UArizona College of Medicine – Phoenix named James Lindgren, MD, FAAP, FACP, medical director in February 2021 to lead the facility's efforts in training the next generation of physicians. After serving as curricular director of the 'Sim Center' for a year, Dr. Lindgren assumed the leadership role at a time in which clinical simulation training has become a cornerstone in medical education.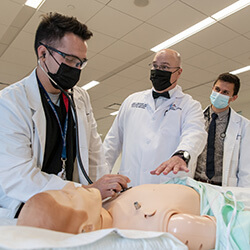 "I had been a simulation instructor for a few years, and definitely had a passion for how simulation can help students learn and acquire clinical skills in a safe environment," said Dr. Lindgren.
As the former curricular director, Dr. Lindgren was integral in creating content and logistical procedures, and now he is focused on how the program can impact a student's learning experience overall. Dr. Lindgren emphasized that his vision for the Sim Center is to utilize the innovative facility and simulation capabilities to support a time variable medical school experience, integrate new technologies and create customized content for students.
A time variable medical school experience is a new trend in which a student has either identified their field of specialty and intend to move quickly through their education, or may be enrolled in a dual-degree program — such as the MD/MPH program — and may need to extend their medical school journey to accommodate the additional coursework.
"We see that simulation has the ability to be flexible and to help us provide the experience and exposure to clinical scenarios, but also to help us with the assessment of how well our students are understanding their clinical knowledge," Dr. Lindgren said.
Dr. Lindgren expounded that the simulation instructors can create complex medical cases that are learned through repetition and immediate feedback. Whether it is a technologically advanced mannequin going through the stages of labor and delivery or an adolescent mannequin requiring immediate intubation, these high-stake scenarios lead to hours of experiential skills that medical students can take with them to future residencies or fellowships.
"In simulation, you're never going to injure a patient, and if a student struggles, then we can debrief and run the scenario again and have them layer on knowledge," said Dr. Lindgren.
Innovation — a central aspect of the Sim Center's namesake and vision — is a key component that Dr. Lindgren and his team want to highlight. In addition to the time variable medical school experience, Dr. Lindgren notes that the use of technology is at the forefront of their curriculum.
The Sim Center recently unveiled virtual reality simulation software during Health Care Simulation Week, and students immediately began to utilize the new technology. Using an Oculus headset, students can act as though they are in a patient's room and independently manage a case. Faculty evaluate the student's performance and provide feedback.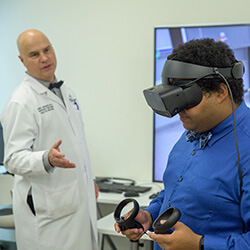 Dr. Lindgren shared that another goal of the Sim Center is to expand their use of ultrasound technology, which he described as the pocket stethoscope of the 21st century. Beyond the typical ultrasound rollaway machine, he states that the Sim Center is procuring more handheld ultrasound devices that can be utilized to ultrasound the heart, lungs or belly during a simulation training procedure. The Sim Center intends to apply for grant funding to provide an ultrasound device for every cohort of 120 students.
The Sim Center has implemented additional advancements that include upgrades to their technology-driven mannequins and a new whiteboard medical charting system.
"We have installed a whiteboard medical chart with a camera capture system. As students write a patient's history and physical on a whiteboard, it gets organized as a chart and is captured by a camera that is visible — not only in our control room for our simulation instructor, but it also becomes available via a link so that if somebody is remotely viewing the session, they can also see what the students are writing on the whiteboard in real time," Dr. Lindgren said.
While the COVID-19 pandemic forced educators to innovate to continue to train students at high levels, the Sim Center was already accustomed to modernizing curriculum to fit into the fast-paced medical student journey. If a student is in a remote learning environment — such as being required to quarantine due to the pandemic, or if a student enrolled in one of our Rural Health programs and needs to connect virtually — the Sim Center implemented "Zoom buddies." These are essentially tablets with an audio in/out speaker on a roller that classmates maneuver to help move through their shared coursework.
The Sim Center's ability to cater to a student's individual specialty and provide them with helpful tools at an early stage is crucial, particularly for a fourth-year student's ability to stand out during competitive residency interviews. Dr. Lindgren noted that the Academic Affairs department at the College of Medicine – Phoenix was instrumental in providing these advanced clerkship opportunities, which can be a catalyst for students securing the best residencies throughout the country.
"We have a really great team at the Sim Center. There's about a dozen of us that are all linked together — from our simulation operators that are running the mannequins and being the voice of the patients, to the nurse presence in the room, and to our simulation instructors who come in and teach; we have a vibrant, capable team," said Dr. Lindgren.
About the College
Founded in 2007, the University of Arizona College of Medicine – Phoenix inspires and trains exemplary physicians, scientists and leaders to optimize health and health care in Arizona and beyond. By cultivating collaborative research locally and globally, the college accelerates discovery in a number of critical areas — including cancer, stroke, traumatic brain injury and cardiovascular disease. Championed as a student-centric campus, the college has graduated more than 800 physicians, all of whom received exceptional training from nine clinical partners and more than 2,700 diverse faculty members. As the anchor to the Phoenix Bioscience Core, which is projected to have an economic impact of $3.1 billion by 2025, the college prides itself on engaging with the community, fostering education, inclusion, access and advocacy.