M. Sriram Iyengar, PhD, Named Fulbright Scholar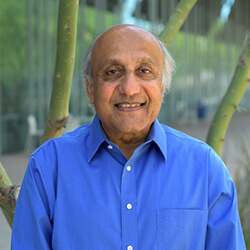 M. Sriram Iyengar, PhD, was recently named a Fulbright Scholar in Brazil at the Federal University of Santa Catarina. For his research project, Dr. Iyengar will collaborate with Brazilian colleagues on optimal uses of mobile phone technology to promote lifestyle changes preventing cardio-vascular disease. His project will also support health care workers by helping them identify individuals in need of mental health care and directing them to appropriate resources. Due to COVID-19, he is tentatively scheduled to begin Feb. 2022, and will collaborate with Grace dal Sasso, PhD, of the nursing faculty.
"I'm pleased and honored to be named a Fulbright Scholar. I came to this amazing University of Arizona College of Medicine – Phoenix two years ago. I have been so impressed with the wonderful culture and the dedication of people here to improving health care. And I love the fact that they also support an international focus in their work," said Dr. Iyengar.
Dr. Iyengar is the first Fulbright Scholar from the UArizona College of Medicine – Phoenix. He joined the college as an associate professor and director of the Clinical Outcomes Research Analytics for the Department of Internal Medicine. 
The Fulbright Program was created 75 years ago to increase mutual understanding between the people of the United States and the people of other countries. Fulbright is the world's largest and most diverse international educational exchange program. The program sends American scholars and professionals abroad to lecture or conduct research for up to a year. 
Each year, the U.S. Department of State's Bureau of Educational and Cultural Affairs announces the top-producing institutions for the Fulbright Program — the U.S. government's flagship international educational exchange program. The primary source of funding for the Fulbright Program is an annual appropriation made by the U.S. Congress to the Bureau of Educational and Cultural Affairs. The Chronicle of Higher Education publishes the lists annually.
Topics
About the College
Founded in 2007, the University of Arizona College of Medicine – Phoenix inspires and trains exemplary physicians, scientists and leaders to optimize health and health care in Arizona and beyond. By cultivating collaborative research locally and globally, the college accelerates discovery in a number of critical areas — including cancer, stroke, traumatic brain injury and cardiovascular disease. Championed as a student-centric campus, the college has graduated 669 physicians, all of whom received exceptional training from nine clinical partners and more than 2,600 diverse faculty members. As the anchor to the Phoenix Bioscience Core, which is projected to have an economic impact of $3.1 billion by 2025, the college prides itself on engaging with the community, fostering education, inclusion, access and advocacy.