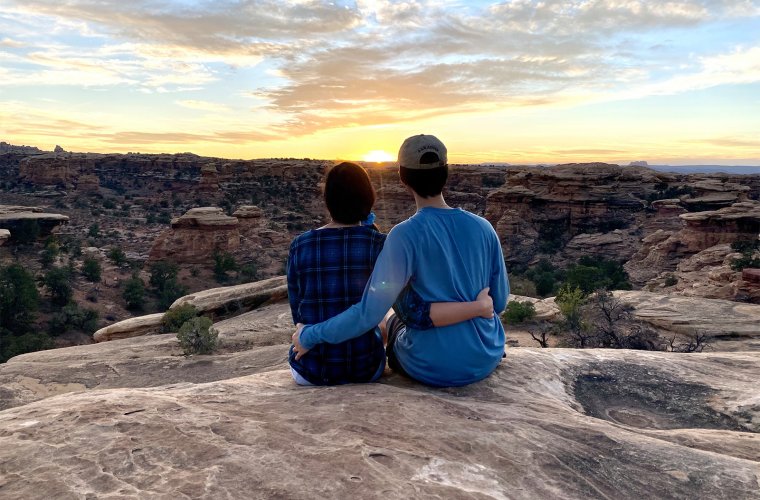 Match Day Profile: Julie Tran and Diep Nguyen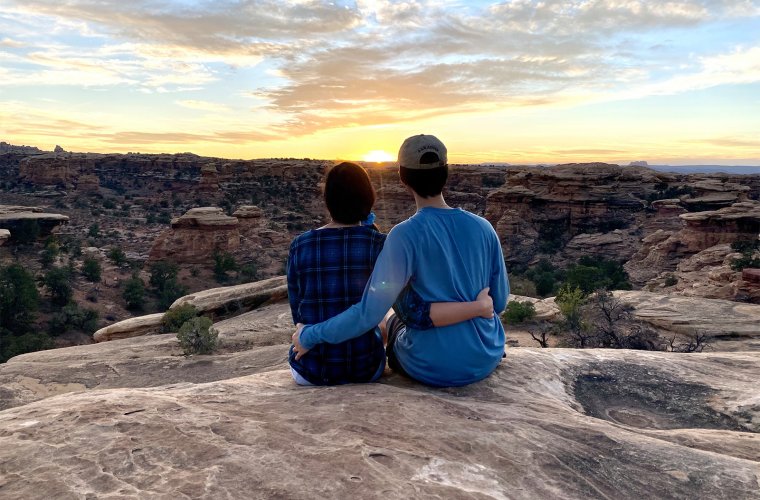 From Study Buddies to Lifelong Partners in Love and Medicine
Every third Friday in March, fourth-year medical students across the United States learn where the next chapter in their careers will be written. Match Day is the day when the National Resident Matching Program releases results to applicants in sealed envelopes, revealing where they will spend the next several years in residency training in their chosen specialty. After years of preparation and study, it is a long-awaited and well-deserved day to celebrate. The University of Arizona College of Medicine – Phoenix is profiling several students for Match Day 2022.
Meet Julie Tran and Diep Nguyen
Julie Tran is a first-generation Asian American, born and raised in Adelphi, Maryland. Her mother immigrated from Cambodia and her father from Vietnam. Tran graduated from a liberal arts university, Franklin and Marshall College, in Lancaster, Pennsylvania — home of the Amish — where she majored in biology and minored in philosophy.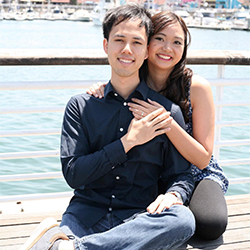 Tran's biggest supporters are her family and fiancé, Diep Nguyen, with whom she's couples matching. Tran quipped that she's not sure how they tolerated her throughout her medical school journey, but she is eternally grateful. She also wants to specifically thank mentors, Eric vanSonnenberg, MD, and Javier Munoz, MD, MS, for their continuous encouragement and support.
Diep Nguyen was born and raised in San Jose, California. He is also a first-generation Asian American student and the first in his family to attend college and medical school. Nguyen attended college at UC Berkeley, where he earned his undergraduate degree in bioengineering, specializing in tissue engineering and bioinformatics. Nguyen's general interests in medicine include radiology, artificial intelligence (AI) and physician burnout.
Nguyen's biggest supporters are his fiancé, Tran, and his family — including his mom, dad and two younger brothers. Nguyen credits them with providing emotional wellness and says that they enjoy listening about his medical school journey. He wishes to thank his student advisor and long-term mentor, Dr. Eric vanSonnenberg, for whom he owes his enthusiasm for both radiology and medical research.
Path Toward Medicine
What was the spark that led you to become a physician?
Tran: The initial spark toward becoming a physician was when I observed my uncle's practice as an orthopedic surgeon. I enjoyed learning about his physician-patient relationships and had second-hand gratification after seeing how he was able to really make a difference in someone else's life. I thought to myself, "Wow! I want to do that too one day."
My general interest in medicine came from growing up in a low-income neighborhood with poor access to health care or health literacy. My father suffered from schizophrenia, which was my primary exposure to medicine, since I helped as a primary caretaker. I recounted my experiences in our student-run periodical, The Differential. I knew I wanted to practice medicine after seeing the consequences of social determinants of health and chronic diseases.
Nguyen: The spark that led me to become a physician was the satisfaction I found after seeing others smile, particularly after recovering from a sick episode. Before entering medical school, I dedicated my time toward improving another person's quality of life in various settings — hospital, hospice, clinic and homeless shelters — and I realized I felt fulfilled in helping others with their health problems. That spark has kept me going to this day. I wake up every morning grateful and motivated for the chance to take care of others.
Choosing a Specialty
Do you have a specialty? What is it and why did it interest you, or what led you to it?
Tran: Internal medicine! I really enjoyed my internal medicine rotations. Even if the day's work was hard, I always felt rewarded and satisfied. Some of things I look forward to include continuous and longitudinal patient care, diversity in medical problems, and the ability to subspecialize if I want to!
Nguyen: Diagnostic radiology! I quickly became attracted to the field through lectures, interest groups and AI research. Medical imaging is the cornerstone of modern medicine, as it guides medical management and elucidates critical clues for diagnoses. The diversity of imaging modalities and the intersection of physics, anatomy and pathophysiology is very interesting. During my Radiology rotation, I appreciated how radiologists were the "doctor's doctor," as they provided their expertise on transplant and tumor board meetings. I am excited for the opportunity to interface with multiple medical specialties and apply cutting-edge technology to safely guide patient care.
What's Next?
Post-Match Day, what are your goals moving forward?
Tran: My short-term goals are to get married to my fiancé this May 2022 and journey through our respective residencies together. My long-term goals are to become a well-rounded physician that practices evidence-based medicine, work in the outpatient setting, and eventually become a mentor or faculty member to teach other aspiring physicians.
Nguyen: Post-Match Day, my goals are to have a smooth wedding, sort out housing for my future residency, finish up my remaining research projects, take on more research projects, travel for my honeymoon, and be a hard-working and stellar intern.
The College of Medicine – Phoenix Culture
What will you miss most about the College of Medicine – Phoenix? Any advice for incoming medical students?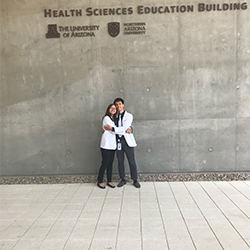 Tran: I will definitely miss the people — both the students and the faculty. Everyone has been so supportive and encouraging!
My main advice to incoming medical students is to make connections. Medical school feels like a long four years initially, but the time will go by quickly and the friends you make along the way could be your lifelong besties.
Nguyen: Most definitely the people — faculty, schoolmates, attendings, student advisors, learning specialists, research staff, admissions committee and Community Health Initiative – Phoenix (CHIP) team. I have made many precious friendships and memories during my time at the University of Arizona College of Medicine – Phoenix. Everyone here is invested in your success and always open to providing guidance in your endeavors.
For incoming students, my advice is to have an open mind and to seek clinical experiences outside of your specialty of interest. There is always something to be gained from broadening your horizons.
Couples Match – Finding Their Best Fit
Did you meet at the College of Medicine – Phoenix? What was that like?
Tran and Nguyen: While it would be fun to say that we met and fell in love during anatomy lab touching a donor's heart, we actually met during our Second Look before we officially started as medical students! At the time, we had both already submitted our confirmation to attend the College of Medicine – Phoenix, so we knew that we'd be classmates from the beginning. We started off just studying together for exams, then doing volunteering activities together — we are both a part of the Service and Community Health Certificate of Distinction — and then eventually enjoyed just hanging out without the pretense of some school-related reason.
What does it mean to be able to take the next step in your journey together?
Tran and Nguyen: Taking our next step in this medicine journey together is so meaningful and exciting! We have been with each other since the beginning — as we progressed through volunteering, anatomy lab, Doctoring, USMLE studying and clinical rotations. We have both experienced the ups and downs in medicine, and we are thankful for each other's support every step of the way. We look forward to our future of healing patients, advancing medical knowledge and starting a new chapter in our lives.
About the College
Founded in 2007, the University of Arizona College of Medicine – Phoenix inspires and trains exemplary physicians, scientists and leaders to optimize health and health care in Arizona and beyond. By cultivating collaborative research locally and globally, the college accelerates discovery in a number of critical areas — including cancer, stroke, traumatic brain injury and cardiovascular disease. Championed as a student-centric campus, the college has graduated 669 physicians, all of whom received exceptional training from nine clinical partners and more than 2,600 diverse faculty members. As the anchor to the Phoenix Bioscience Core, which is projected to have an economic impact of $3.1 billion by 2025, the college prides itself on engaging with the community, fostering education, inclusion, access and advocacy.