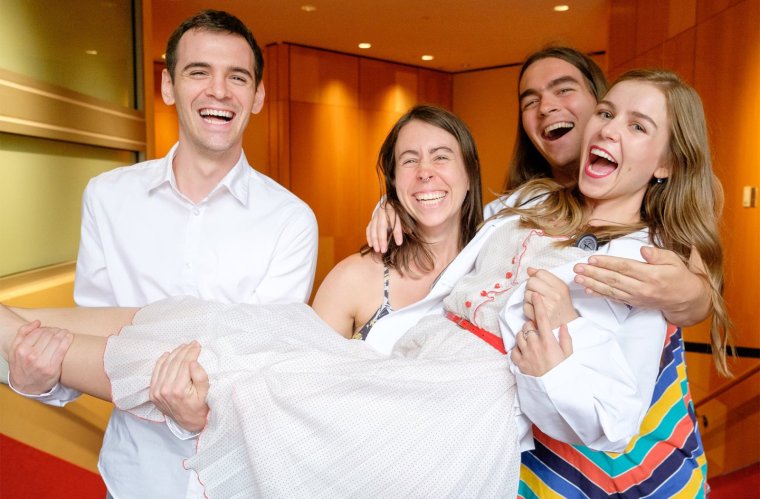 Match Day Profile: Merrion Dawson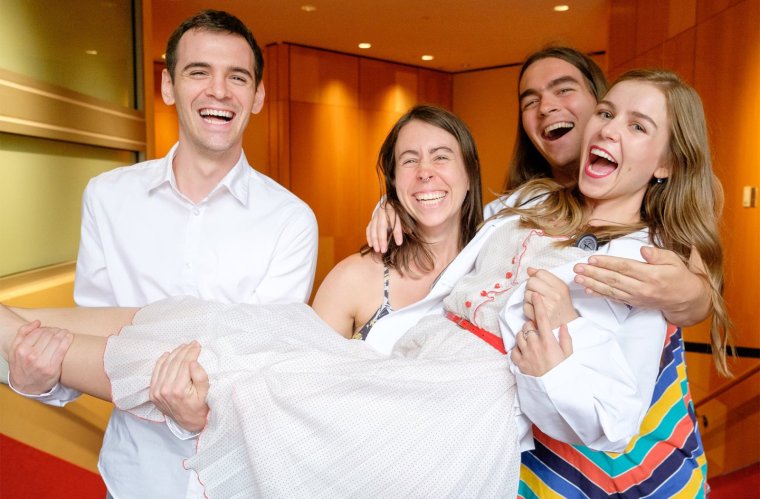 'Wildcat Wonder' Plans to Stay in Arizona to Practice Family Medicine
Every third Friday in March, fourth-year medical students across the United States learn where the next chapter in their careers will be written. Match Day is the day when the National Resident Matching Program releases results to applicants in sealed envelopes, revealing where they will spend the next several years in residency training in their chosen specialty. After years of preparation and study, it is a long-awaited and well-deserved day to celebrate. The University of Arizona College of Medicine – Phoenix is profiling several students for Match Day 2022.
Meet Merrion Dawson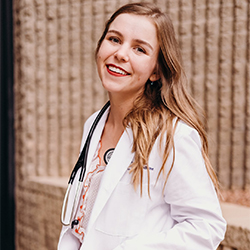 Originally from Canada, Merrion Dawson moved with her family to Gilbert, Arizona, when she was five years old, and she has been here ever since.
Dawson credits her husband, family, dog and best friends for helping her navigate through medical school. During her first two years of study, Dawson praises faculty members — such as Marícéla Moffitt, MD, Rebecca Fisher, PhD, Stephanie Smith, EdD, Kelsey Walsh, PhD, and, of course, Kelly Lynch — as campus mentors.
For Dawson's third and fourth years, she thanks her family medicine mentors Steven Brown, MD, Sarah Coles, MD, and Shahrzad Saririan, MD, for her success.
Path Toward Medicine
What was the spark that led you to become a physician?
After I graduated high school, I knew I wanted to land somewhere in the medical field, but I was unsure where. I did my undergraduate degree in Public Health at the University of Arizona in Tucson. I quickly fell in love with public health and basic sciences, so one of my mentors suggested I go into medicine. The thought had never occurred to me before. 'Me, a doctor?' After pushing my insecurities aside, I made a list of all the things I needed to do to get into medical school and my journey began.
Before medical school, I did clinical research affiliated with East Valley Family Physicians in Chandler, Arizona. It was there that I realized I loved family medicine because of the long-term relationships physicians make with their patients. I knew going into medical school that I would likely end up in a primary care setting.
Choosing a Specialty
Do you have a specialty? What is it and why did it interest you, or what led you to it?
I told myself throughout my first three years that I would keep an open mind, but in reality, I knew I wanted to do family medicine since my first month of medical school when I joined the Primary Care Scholars Certificate of Distinction. I immediately felt at home whenever I spoke with family medicine physicians. They made me excited about medicine because they cared about public health, advocacy and specializing in the patient.
What's Next?
Post-Match Day, what are your goals moving forward?
My goals moving forward are to stay in Arizona and work with an underserved population, practicing full-spectrum family medicine. I would like to practice for several years, and then possibly come back as faculty once I feel like I have a solid foundation.
The College of Medicine – Phoenix Culture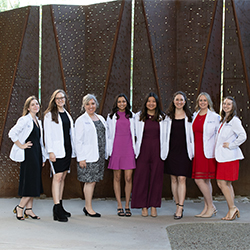 What will you miss most about the College of Medicine – Phoenix? Any advice for incoming medical students?
I will miss my class the most. Our class is the most supportive class, and I really feel like we were picked for more than just our scores. It's the culture here that makes the College of Medicine – Phoenix so wonderful.
My biggest piece of advice for incoming students is to utilize the free therapy our school offers because medical school is tough. Know that you are not alone if doctoring makes you cry, if you feel overwhelmed by exams or if you feel like Glen Fogerty, PhD, MBA — associate dean of Admissions and Recruitment — made a mistake when he called you (he didn't btw). But also know that there is a whole team of people to support you, and that you deserve to be here.
Wildcat Wonder #BearDownForLife
Lastly, what does it mean to you to be considered a 'Wildcat Wonder?'
I am so excited to be a Wildcat Wonder! UArizona has provided me with an environment where I was able to grow, explore and pursue my passion. I am really excited for my next chapter.
Wildcat Wonder: a pupil who has attended the University of Arizona throughout their higher education journey, spanning from their bachelor's degree and beyond.
About the College
Founded in 2007, the University of Arizona College of Medicine – Phoenix inspires and trains exemplary physicians, scientists and leaders to optimize health and health care in Arizona and beyond. By cultivating collaborative research locally and globally, the college accelerates discovery in a number of critical areas — including cancer, stroke, traumatic brain injury and cardiovascular disease. Championed as a student-centric campus, the college has graduated 669 physicians, all of whom received exceptional training from nine clinical partners and more than 2,600 diverse faculty members. As the anchor to the Phoenix Bioscience Core, which is projected to have an economic impact of $3.1 billion by 2025, the college prides itself on engaging with the community, fostering education, inclusion, access and advocacy.