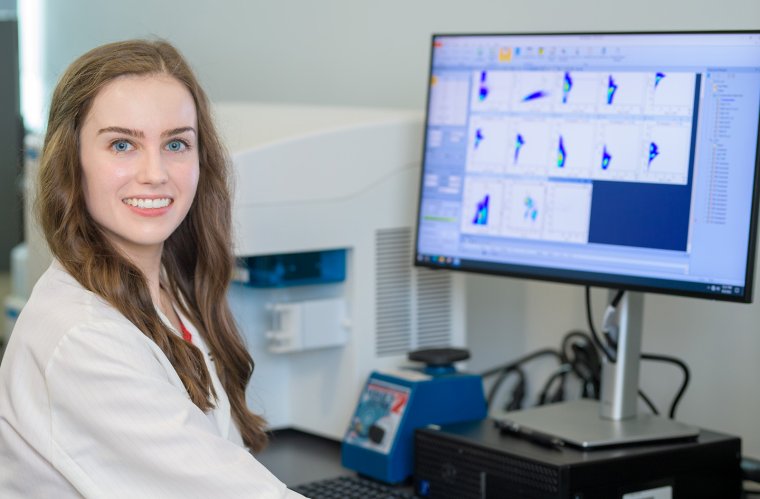 MD/PhD Student Receives Grant to Further Her Skin Cancer Research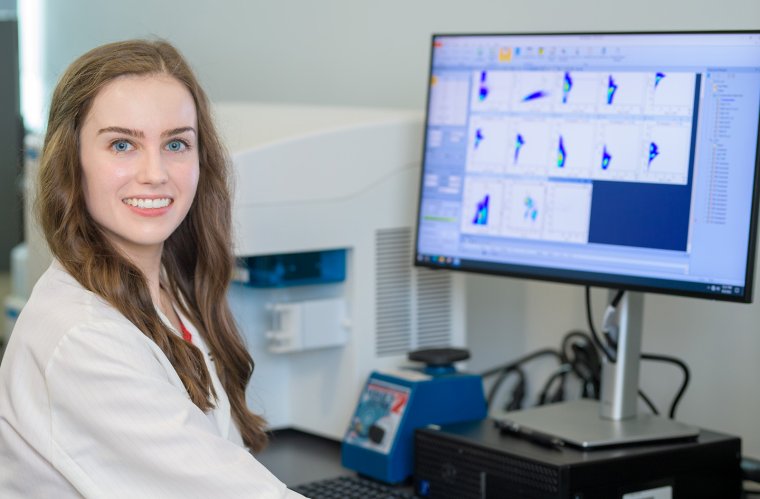 Anngela Adams, an MD/PhD student in the lab of Karen Hastings, MD, PhD, seeks to identify the role of T cells in the most common skin cancer
Even though one in three Americans suffers from skin disorders, *the National Institutes of Health currently devotes less than two percent of its annual budget to discovering their cause, better methods of prevention, diagnosis and treatment.
One such affliction, non-melanoma skin cancer, including cutaneous squamous cell carcinoma (cSCC), is actually the most common cancer. Though current research has shown that T cells can control cSCC, and patients treated with T cell-targeting immunotherapies have responded positively, the role of T cells in cSCC remains uncertain. But the research of Anngela Adams, an MD/PhD student in the lab of Karen Hastings, MD, PhD, aims to change that.
She received the 2022 American Skin Association Medical Student Grant Targeting Melanoma and Skin Cancer. Her award is part of the American Skin Association's $50 million commitment to underwriting research by the next generation of scientists trained in dermatology.
The $7,000 grant will help further her studies utilizing a solar simulated light induced cSCC model, developed by Adams, that recapitulates human disease.
"I am using this cSCC model to identify the contributions of tumor-specific CD8 and CD4 T cells in control of cSCC growth and advance the application of personalized cancer vaccines to treat cSCC alone or in combination with T cell targeting immunotherapies," she said.
Dr. Hastings added that, ultimately, "This novel model will allow Ms. Adams to study how T cells recognize and destroy cSCC. We expect it will facilitate the development of new strategies to prevent and treat skin cancer."
Adams' passion for this investigation was ignited during her first year of medical school. It was in that early phase of her education that she attended dermatology and immunology lectures from Dr. Hastings. She found them to be so inspiring that she was determined to complete her scholarly project under Dr. Hastings' mentorship.
Utilizing her background in biomedical engineering research, Adams was able to seamlessly transition into skin cancer research — a topic she found so engrossing that it led her to pursue her PhD. She couldn't have taken this step without the support of her mentor.
"Dr. Hastings facilitated my transition from the MD program to the MD/PhD program. Her outstanding mentorship has provided me with opportunities to build a repertoire of research skills, present my research at national conferences and publish my work in peer-reviewed journals," she said.
Post-medical school, Adams intends to complete her residency in dermatology. This will help facilitate her long-term career goals of "Providing insight into the immunological pathways involved in skin cancers, creating the foundation for the development of new treatments for metastatic skin cancers, and working to improve the lives of dermatology and skin cancer patients."
Her work has also reinforced just how important a strong research background can be for a physician. "Research training allows clinicians to have a deeper understanding of their medical specialty and a unique approach in treating patients. In addition to treating patients, physician scientists conduct cutting-edge research that advances the body of knowledge in their specialty and innovates and improves clinical care for patients," she said.
In addition to this honor, Adams' work with Dr. Hastings has led to the publication of four peer-reviewed research articles, as well as the award of the Histochemical Society's Cornerstone Grant.
*These statistics were provided on the American Skin Association website.
About the College
Founded in 2007, the University of Arizona College of Medicine – Phoenix inspires and trains exemplary physicians, scientists and leaders to optimize health and health care in Arizona and beyond. By cultivating collaborative research locally and globally, the college accelerates discovery in a number of critical areas — including cancer, stroke, traumatic brain injury and cardiovascular disease. Championed as a student-centric campus, the college has graduated 745 physicians, all of whom received exceptional training from nine clinical partners and more than 2,700 diverse faculty members. As the anchor to the Phoenix Bioscience Core, which is projected to have an economic impact of $3.1 billion by 2025, the college prides itself on engaging with the community, fostering education, inclusion, access and advocacy.