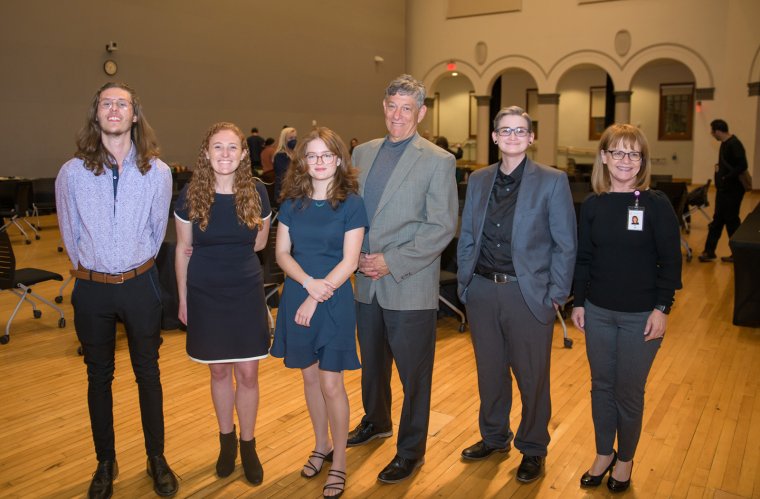 Medical Student Serves as an Advocate for People Experiencing Homelessness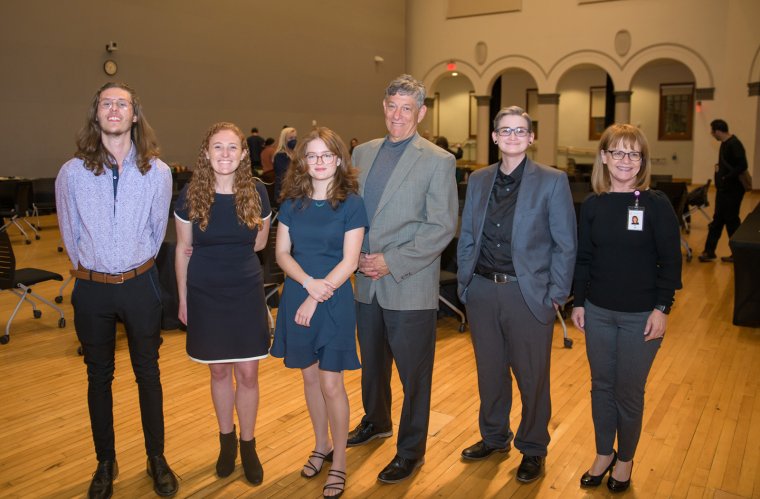 Caitlin Parke, Class of 2023, works to spread awareness of the values of medical humanism
When it comes to advocating for vulnerable people, sometimes the best way to be an ally is to listen, spread awareness and take action.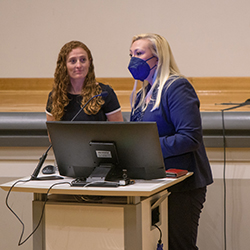 Caitlin Parke, a fourth-year medical student at the University of Arizona College of Medicine – Phoenix, designed a project focused on having a dialog about the health challenges that unhoused populations in Phoenix face. An aspiring family medicine physician, this idea grew naturally out of her experiences in medical school.
"I was doing my own research about the relationship between housing insecurity and health outcomes," Parke said. "I thought, 'If I want to know more about this, so I can be a better doctor, then other medical students might want to, too.'"
Parke's project received financial support for her project from the Office of Equity, Diversity and Inclusion Excellence and Innovation fund.
During her Emergency Medicine rotation, Parke helped care for a patient who had blood clots in her lungs. This patient had a previous history of pulmonary embolisms and was on medication for the issue.
When the patient's insurance changed and increased the cost of her prescription, she had to choose between keeping her apartment or paying for her medication. The fateful decision to keep her apartment ended up costing her life, as she passed away from the blood clots.
"In medical school, we learn about homelessness in the context of social determinants of health," Parke said. "Talking about these subjects in the abstract is absolutely beneficial, but when transitioning to clinical years, I found myself without any tools to address the specific health effects of homelessness."
To help others become informed on the issue, Parke created the Let's Talk Series: Health and Homelessness event on campus. Parke moderated the February 15 event, which featured panelists who are working with unhoused populations across the City of Phoenix.
The panel included Catherine Miller, the lead of Street Medicine Phoenix in the College of Public Health Community Outreach and Engagement Program; Bob Fauer, MD, medical director of the College of Public Health Community Outreach and Engagement Program; Kim Depres, CEO of Circle the City; Danielle Millard, board of directors of Circle the City; and Austin Davis, founder of AZ HUGS.
Danielle Millard spoke with the panel about her personal experiences with access to care, chronic illness and homelessness. She became homeless during the pandemic and saw the biases some doctors had regarding unhoused people.
"People work with the homeless population with the mentality of 'this person did this to themselves,' and they don't treat people with the compassion that is necessary," Millard said. "It's not something I saw in the medical field until those biases were pointed toward my direction."
Millard discussed the importance of medical providers understanding patients' circumstances to better appreciate the decisions they make.
"It's impossible to keep any kind of medical supplies in the shelters because you have to hand everything over to them," Millard said. "If there was more understanding from the provider side, then maybe the doctors would understand why [the patient] is making the decision."
Austin Davis arrived at Arizona State University and became involved in a variety of nonprofits with projects such as AZ HUGS. His advocacy helped him realize the benefit of humanizing the unhoused simply by starting a conversation with them.
"We started making that connection that no matter what someone is going through, everyone needs a friend," Davis said. "I saw the complexities of homelessness — how it's intertwined with all of these social issues, such as lack of affordable housing, barriers to health care and the drug crisis."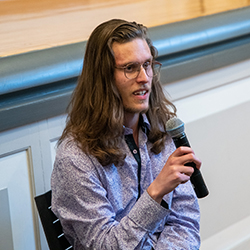 Jennifer R. Hartmark-Hill, MD, FAAFP, serves as an associate professor of Bioethics and Medical Humanism and Family, Community and Preventive Medicine at the college. She worked closely with Parke as a mentor in the creation of this event.
"As health professionals, we have to continuously recognize and work to mitigate both our own unconscious biases and the structural inequities of our health care system," Dr. Hartmark-Hill said. "We hope this awareness inspires more advocacy and action, and, ultimately, improvements in the system to better care for patients experiencing homelessness."
In addition to the event bringing community organizations and content experts to the college's campus, Dr. Hartmark Hill said Parke's event helped attendees realize how necessary it is to provide trauma-informed, person-centered care to vulnerable patients.
The Let's Talk Series continues the practice of bringing collaborators together for disease-focused patient panels to share valuable information and training to medical students and faculty at the college.
Parke also hopes to establish Circle the City as a formal clerkship site for the college and is also working to get the panel integrated into the curriculum of the college.
"I really hope this event starts a conversation about how to really care for unhoused patients — whether that means increasing health care accessibility or directly addressing housing insecurity," Parke said. "I want people to walk away with a few extra tools to help us provide compassionate care to our unhoused neighbors."
About the College
Founded in 2007, the University of Arizona College of Medicine – Phoenix inspires and trains exemplary physicians, scientists and leaders to optimize health and health care in Arizona and beyond. By cultivating collaborative research locally and globally, the college accelerates discovery in a number of critical areas — including cancer, stroke, traumatic brain injury and cardiovascular disease. Championed as a student-centric campus, the college has graduated 745 physicians, all of whom received exceptional training from nine clinical partners and more than 2,600 diverse faculty members. As the anchor to the Phoenix Bioscience Core, which is projected to have an economic impact of $3.1 billion by 2025, the college prides itself on engaging with the community, fostering education, inclusion, access and advocacy.