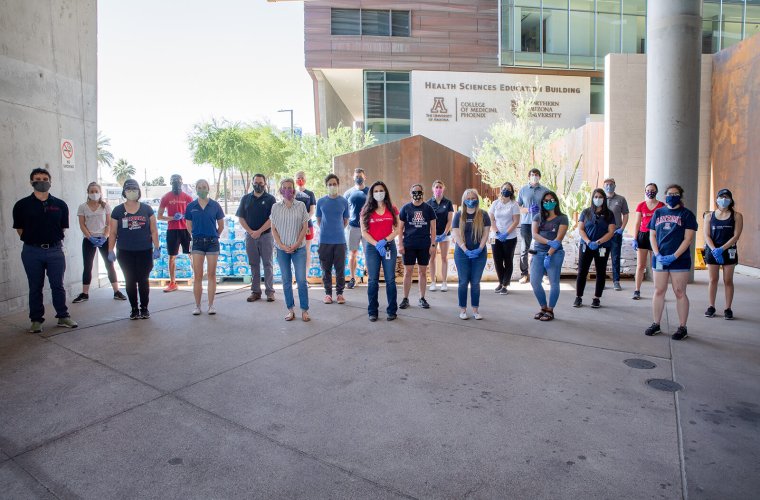 Medical Students Partner with South Korea to Deliver Supplies to the Navajo Nation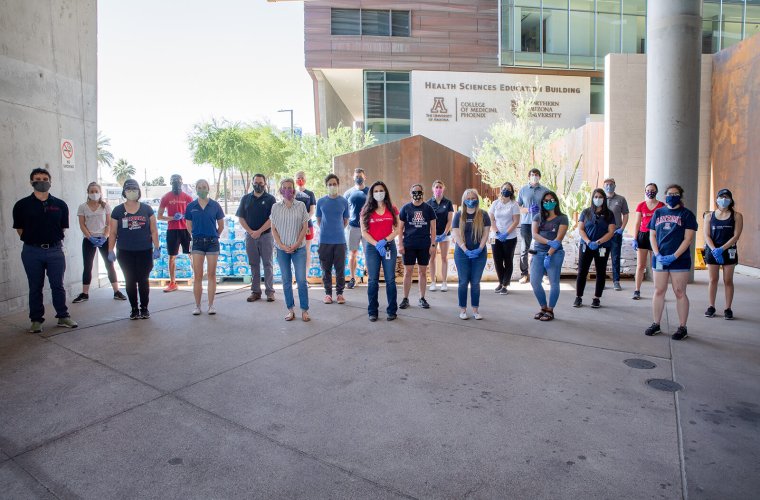 Korean Ministry of Patriots and Veterans Affairs Donated Supplies to Honor Navajo Veterans
To address the critical needs of the Navajo Nation during the coronavirus outbreak and honor Navajo veterans who served in the Korean war, the University of Arizona College of Medicine – Phoenix, U.S. Representative Greg Stanton, as well as the Korean Ministry of Patriots and Veterans Affairs partnered to donate more than 10,000 N95 masks and 3.9 tons of supplies on Memorial Day weekend.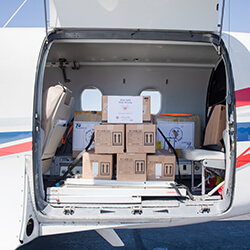 On Saturday, May 23, medical students from the UArizona COVID-19 Student Service Corps spent the morning gathering and loading supplies to help the Native American community, which has the highest per capita COVID-19 infection rate in the U.S.
Through an initiative called Operation Pegasus, the Student Service Corps partnered with Guardian Air Transport to bring critical supplies to the Navajo and Hopi Nations and other rural communities of northern Arizona. Doreen McPaul, attorney general of the Navajo Nation, asked fourth-year medical student at the College of Medicine – Phoenix Kevin Gochenour, who is one of the leaders of the Student Service Corps, for help coordinating the transport of donations from the Korean Ministry of Patriots and Veterans Affairs.
The Navajo Nation has been impacted deeply by the pandemic. According to the Navajo Department of Health, there are 4,842 positive cases and 158 confirmed deaths from of COVID-19 as of May 27. Due to the remote location of the communities and the shutdown of local businesses, it is difficult for members to get the supplies they need.
Gochenour, who was once stationed on the reservations as a flight paramedic, felt personally about the situation in the Navajo Nation. Stationed on the reservation for two years, Gochenour said it's difficult to understand the severity of the situation unless you have lived on the reservation. He said that about 15 percent of homes don't have running water, many of the tribal elders are subsistence farmers and have been for generations, many don't speak English, and there are houses on the reservation without addresses.
Representatives of the Korean Ministry of Patriots and Veterans Affairs with Kevin Gochenour and Dr. Stephanie Briney
"Adding COVID-19 to the mix with a health care system that is on the edge on a good day, you can't imagine the humanitarian crisis that has unfolded on the reservation," he said. "The Navajo people are losing an entire generation of elders and the oral history they carry with them."
Throughout the morning of May 23, members from the Student Service Corps, South Korean Consulate and Arizona Korean Association loaded up 10,000 masks, which were transferred to Sky Harbor Airport. On the morning of May 26, the AZ national Guard brought a truck to campus and loaded up the remaining supplies, including 7,821 lbs. of food and water. They drove it the same day to Window Rock, AZ.
Rep. Stanton was on location to help load the supplies onto a cargo plane that would then transfer them.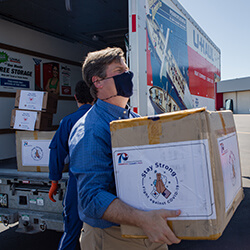 "What's really special about this is that they heard about how difficult it was at the Navajo Nation and they wanted to help because the Navajo people helped them during the Korean War," said Rep. Stanton, "This is a decades-long thank you, and for me it's very touching and beautiful."
Student Service Corps member and fourth-year medical student Nicole Segaline felt that, "As medical students, we have faced uncertainty and challenges regarding the future of our medical education, but overall, I feel very thankful to be in a position where we are able to serve our community, even if it isn't through medicine, during times of greatest need."
Items Donated Include
Donations from the Korean Ministry of Patriots and Veterans Affairs, equivalent to 7,821 lbs:
10,000 KF-94 Grade Masks.
50 bags of 25 lb. Jasmine rice.
50 bags of 25 lb. white flour.
25 bags of 25 lb. pinto beans.
Two pallets of 40 bottles of water.
100 – 500 ml Hand sanitizer.
Donations from Operation Pegasus's five other flights via Guardian Air transport, equivalent to 1,500 lbs:
765 N95 masks.
1,470 surgical masks.
135 face shields.
90 sewn masks.
50 mask inserts.
200 goggles.
200 improvised gowns.
335 lbs. of face shields.
30 lbs. feminine hygiene products.
Other donations include:
Through a partnership with the Internal Medicine Residency, the team donated 2,200 lbs. of food and water, cleaning products, baby products, hygiene goods, and paper products on May 16.
Overall, the Student Service Corps has donated more than 5.5 tons. The Native American community is still in need of supplies, specifically PPE grade gowns, touchless thermometers and hand sanitizer. If you're interested in donating, please contact the Student Service Corps.
About the College
Founded in 2007, the University of Arizona College of Medicine – Phoenix inspires and trains exemplary physicians, scientists and leaders to optimize health and health care in Arizona and beyond. By cultivating collaborative research locally and globally, the college accelerates discovery in a number of critical areas — including cancer, stroke, traumatic brain injury and cardiovascular disease. Championed as a student-centric campus, the college has graduated 745 physicians, all of whom received exceptional training from nine clinical partners and more than 2,700 diverse faculty members. As the anchor to the Phoenix Bioscience Core, which is projected to have an economic impact of $3.1 billion by 2025, the college prides itself on engaging with the community, fostering education, inclusion, access and advocacy.