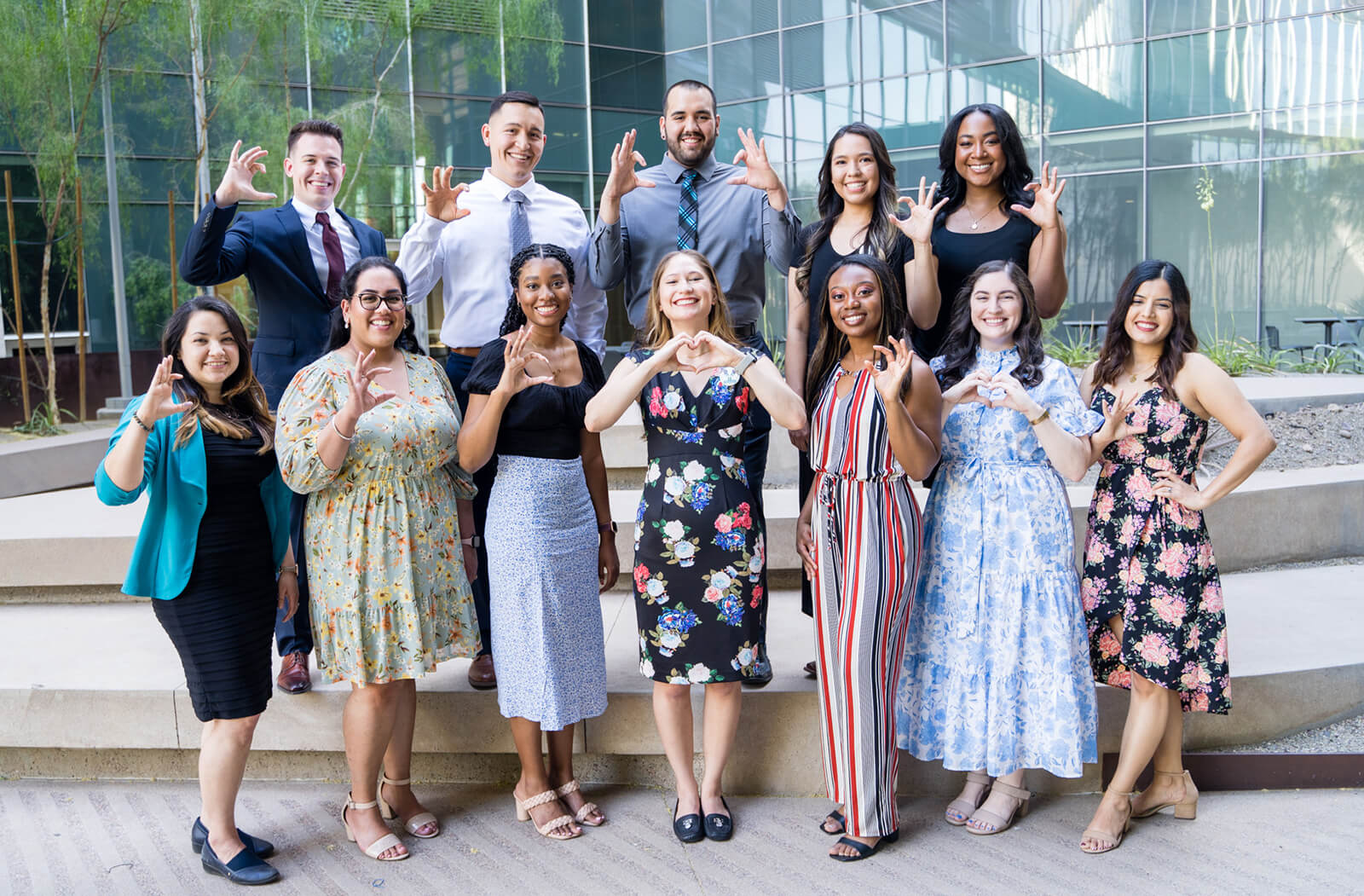 Pathway Scholars Graduate, Join Class of 2027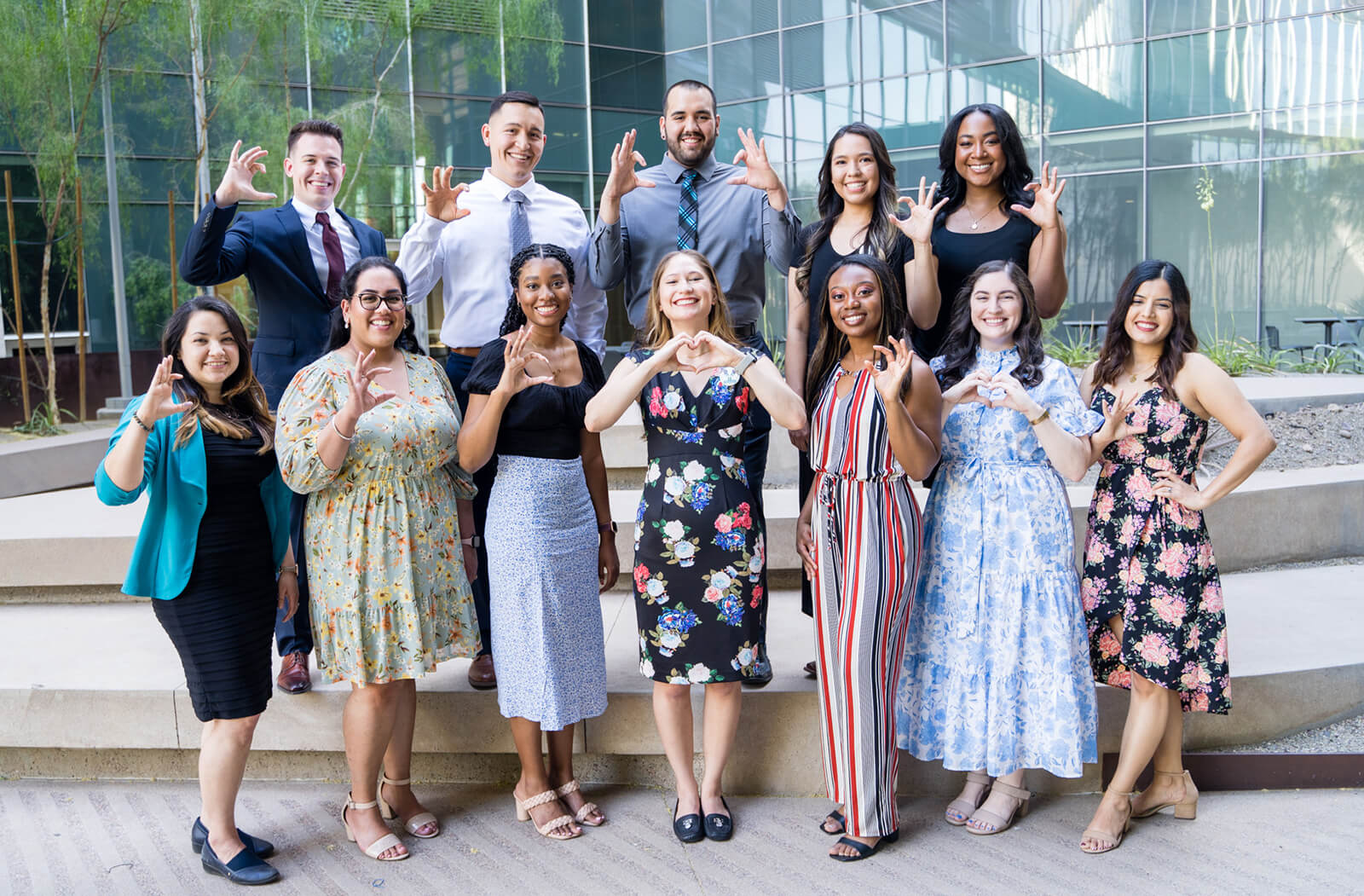 Twelve students matriculate to medical school after earning their Medical Studies master's degrees
Twelve Pathway Scholars earned their master's degrees in Medical Studies May 12 and will matriculate into the University of Arizona College of Medicine – Phoenix's Class of 2027 in July.
The Pathway Scholars Program is a year-long pipeline program at the college that prepares underrepresented students for medical school. Through the program, the students develop academic skills to help them succeed as medical students.
Maria Manriquez, MD, director of the program, welcomed audience members in the Virginia G. Piper auditorium, detailing the importance of the program's offerings and what it has accomplished.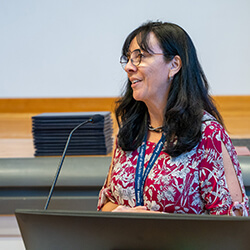 "Our Pathway Scholars alumni have matched into competitive residencies, have been in leadership positions in the medical school and continue to demonstrate compassion for advocacy and commitment to underserved populations," Dr. Manriquez said.
Isrealia Jado was the student speaker and delivered a speech during the ceremony, where she acknowledged all the positive traits of her fellow classmates.
"While everyone is excited for induction into medicine during our White Coat Ceremony, I hope we all recognize how big of an accomplishment completing the Pathways Program has been," Jado said. "You've basically proven to yourself that you'll be a successful medical student without a coat."
Gina Touch-Mercer, PhD, director of the Behavioral and Social Sciences Theme for the college, spoke as the faculty speaker for the ceremony. She expressed to the graduating cohort the potential they now have for the future.
"As you continue to learn, you will teach your teachers and your preceptors your teams and your patients what it really means to serve, to heal and to provide care with the deepest respect and compassion," Dr. Touch-Mercer said. "You will teach these things because you already embodied these things."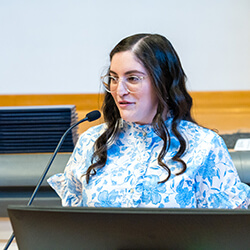 To qualify for graduation, the Pathway Scholars Program students must work together to complete a community service endeavor called a Legacy Project.
Becky Salamanca led the Legacy Project Presentation during the ceremony. This year's recipient for the Legacy Project was Street Medicine Phoenix, a student-led program that provides health care to the unhoused population in Phoenix.
"From the beginning, we knew we wanted to work on a project that would continue to improve lives of members in our community long after it left our hands," Salamanca said. "I'd like to thank everyone in this room who allowed us to dig deep and give back to the community in a meaningful way."
The Pathway Scholars in 2019 also chose Street Medicine Phoenix for their legacy projects, so the 2023 cohort wanted to pick up where they left off, tailoring it toward current needs. They focused on "the zone," which is the largest homeless encampment in Phoenix.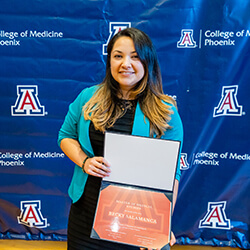 The ceremony concluded with a diploma presentation. Each student was called by name one-by-one to receive the certificate they had earned.
The closing remarks were given by Glen Fogerty, PhD, MBA, associate dean of Admissions and Student Services.
"All I want to tell you guys is that the 12 of you belong; there is no imposter syndrome," Dr. Fogerty said. "You absolutely earned your way into this MD program, and you will be leaders for these next four years."
The Pathway Scholars Program Class of 2023:
Millicent "Milli" Darko.
Naomi Galloway.
Diego Garcia.
Kaleb Gastelo.
Susma Ghimire.
Christian Godina.
Isrealia "Izzie" Jado.
Monika Kaur.
Amara Miller.
Stefanie Nguyen.
Becky Salamanca.
Niomi Tsingine.
About the College
Founded in 2007, the University of Arizona College of Medicine – Phoenix inspires and trains exemplary physicians, scientists and leaders to optimize health and health care in Arizona and beyond. By cultivating collaborative research locally and globally, the college accelerates discovery in a number of critical areas — including cancer, stroke, traumatic brain injury and cardiovascular disease. Championed as a student-centric campus, the college has graduated more than 800 physicians, all of whom received exceptional training from nine clinical partners and more than 2,700 diverse faculty members. As the anchor to the Phoenix Bioscience Core, which is projected to have an economic impact of $3.1 billion by 2025, the college prides itself on engaging with the community, fostering education, inclusion, access and advocacy.