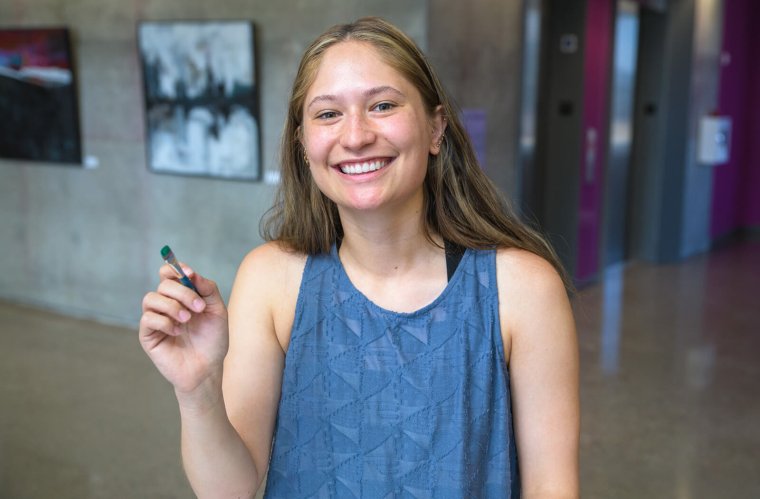 Persistence Pays Off for Pathway Scholars Student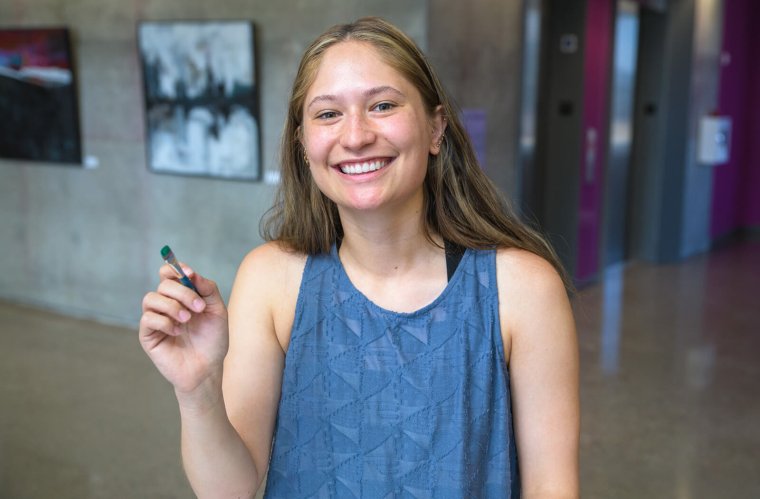 After multiple applications, Stefanie Nguyen's dream of acceptance into the Pathway Scholars Program realized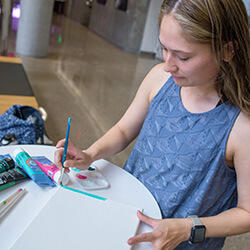 The second oldest of 12 children, Stefanie Nguyen has never been averse to hard work. Her father, an immigrant from Vietnam, and mother instilled the importance of hard work and a good education in her from a young age.
Growing up in a big family also sparked her interest in art and medicine. Nguyen watched her older sister develop her art skills, and it inspired her to take interest. "She has always been a role model for me (much to her annoyance in our younger years), and I eagerly followed in her footsteps," she said.
When a loved one began to struggle with health issues, Nguyen witnessed the therapeutic nature of art, leading her to better understand its role in rehabilitation. "I gained a deep appreciation for art from seeing the healing and wholeness it brought, and it expanded my view of health and integrative care."
Since then, art and medicine have become lifelong pursuits for Nguyen. With medical school as her goal, Nguyen completed her master's in physiological sciences; worked as a scribe for an Emergency Department; volunteered for a telemetry unit; served as a personal caregiver; and, most recently, was a medical assistant for a dermatology clinic.
Despite her vast experience, the last step of that goal — being accepted to the University of Arizona College of Medicine – Phoenix as part of the Pathway Scholars Program (PSP) — proved to be the most difficult.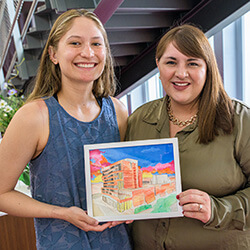 In her own words — "Never give up" — Nguyen defines her journey to the PSP. It took her multiple application cycles to finally be admitted. The result was well worth the wait.
She credits the College of Medicine – Phoenix's welcoming environment for her determination to keep working toward acceptance.
"The college prides itself on its community and culture, and it is palpable. The support I received as an applicant has been unmatched, and it's a testament to the support they give their students," she explained.
That support is what led her to utilize her interest in art to show her appreciation for those who'd helped her through the admissions process in 2020. In lieu of a 'Thank you' note, she sent them a painting of the Biomedical Sciences Partnership Building (BSPB) as a gift in recognition of all they did for her — even though she wasn't accepted at that time.
"When I applied for the program in 2020, the interviews were conducted online, but I really got a feel for the program and community and started to visualize myself as part of it," she said. "I thought it would be fun to create something meaningful by combining aspects of my past, present and what I hoped to be my future."
In that moment, her present wasn't on campus, but it was a across from it. Waiting anxiously to apply again, she found a job working near the college and passed by the BSPB daily on her commute; it served as a reminder of where she ultimately wanted to be.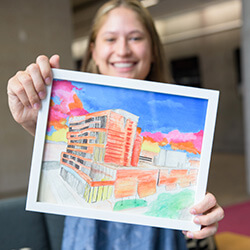 And when she finally got that call, her emotions were flooded with a healthy dose of tears and excitement. "Now that I'm here, I think of that painting as a poetic representation of gratitude, hope for what is to come and persistence come to fruition," she said.
The PSP is designed for students who have experienced unique or greater than average challenges in preparing to become competitive medical school applicants. For the next year, Nguyen — along with her fellow 2022 cohort of PSP students — will work toward a master of medical studies (MMS) degree. Should she successfully complete the program, she will then matriculate into the college's medical school Class of 2027.
For future students who experience similar tribulations, Nguyen had these words: "Some of the best advice I have gotten about re-applying is: You know you are going to be a great doctor. It's not a matter of 'if' it's a matter of 'when.'"
About the College
Founded in 2007, the University of Arizona College of Medicine – Phoenix inspires and trains exemplary physicians, scientists and leaders to optimize health and health care in Arizona and beyond. By cultivating collaborative research locally and globally, the college accelerates discovery in a number of critical areas — including cancer, stroke, traumatic brain injury and cardiovascular disease. Championed as a student-centric campus, the college has graduated 669 physicians, all of whom received exceptional training from nine clinical partners and more than 2,600 diverse faculty members. As the anchor to the Phoenix Bioscience Core, which is projected to have an economic impact of $3.1 billion by 2025, the college prides itself on engaging with the community, fostering education, inclusion, access and advocacy.