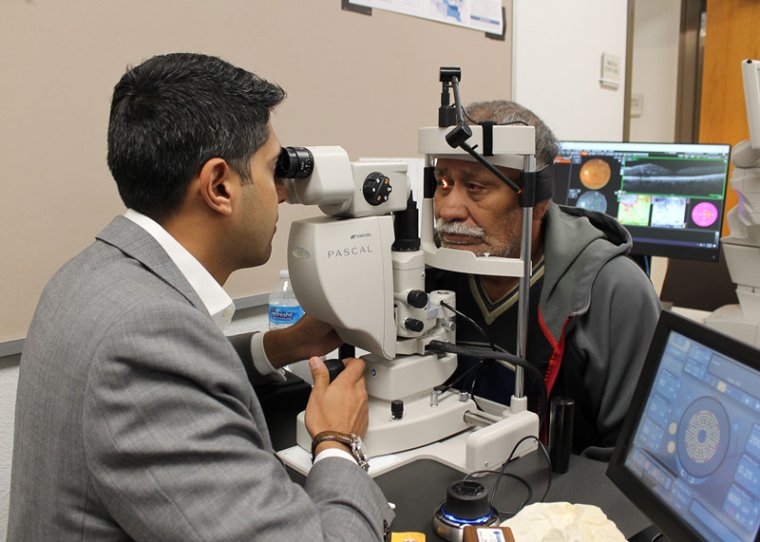 Physicians Perform Eye Surgery for Free on Uninsured Patients to Prevent Blindness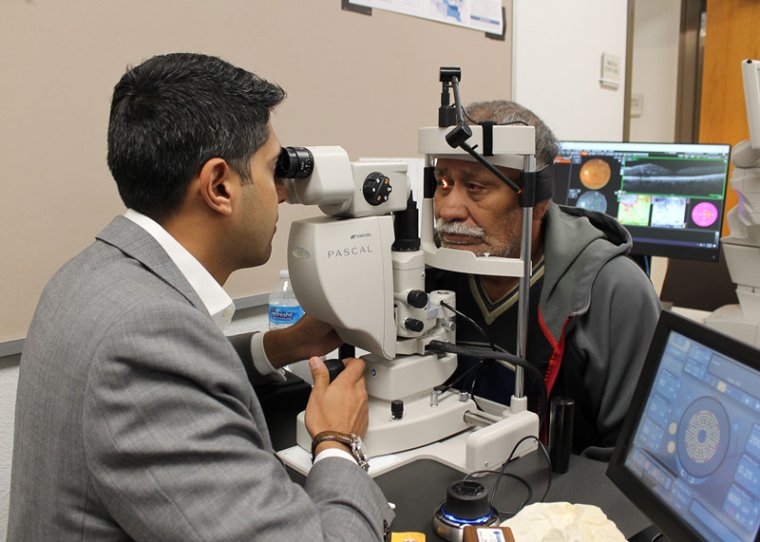 First Eye Surgery for Diabetic Retinopathy Performed at St. Vincent de Paul by UArizona Physicians
For the first time at St. Vincent de Paul's Virginia G. Piper Medical and Dental Clinic, physicians performed a free-of-charge diabetic retinopathy laser treatment on uninsured patients with an eye disease that is the leading cause of blindness in the U.S.
The procedure was made possible due to the efforts of community physicians, including those at the University of Arizona College of Medicine – Phoenix. On Feb. 7, 2020, Mandi Conway, MD, interim chair of the Department of Ophthalmology, and Amit Sangave, MD, a clinical assistant professor of Ophthalmology, performed the first two eye laser treatments at the clinic.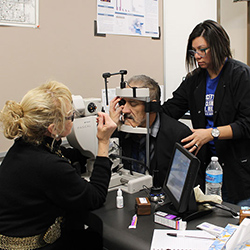 "Diabetic retinopathy is treatable and because we can prevent this blindness, people can retain their normal life," Dr. Conway said. "By offering these retina services to the uninsured population and offering this expensive surgery that they most likely wouldn't be able to receive otherwise, we can intervene on a preventable diabetic eye disease at an earlier stage and screen them, treat them, keep them ambulatory and keep them seeing."
Diabetic retinopathy is a diabetes complication that occurs when high blood sugar levels cause damage to blood vessels in the retina. The condition often causes visual loss. Currently, St. Vincent de Paul is the only location for free and readily obtainable diabetic eye disease screenings for uninsured patients, and now, they are able to treat and prevent this serious retinal disease. This treatment can cost thousands of dollars for the patients, which is all provided here free of cost.
Dr. Conway was introduced to the clinic by Robin Ross, MD, MPH, a clinical assistant professor in Ophthalmology and Bioethics and Medical Humanism at the college, and Aileen Villareal, MD, an ophthalmologist who volunteers her time at the clinic. Dr. Conway met with Maurice Lee, MD, MPH, chief medical officer of the St. Vincent de Paul Medical Clinic. After touring the facility and meeting with Dr. Lee, Dr. Conway knew this was something she needed to be a part of.
Through her industry connections, Dr. Conway was able to negotiate $90,000 of equipment needed to do the treatments, which was generously provided by The Thunderbirds.
"Prior to Dr. Conway recruiting her colleagues to start treatments, we were always hoping for a contact to come through saying they were willing and able to help," Dr. Lee said. "We would get about $20,000 in grants or donations a year, but that would only treat a handful of patients, and then we were back at square one. With regular clinics, we can be that contact for the 40 plus safety net clinics that refer to us for diabetic retinopathy screening, effectively treating any uninsured patient who needs it."
Dr. Conway said she would like to make this community outreach something that students, residents and faculty members in the Department of Ophthalmology at UArizona College of Medicine – Phoenix can be part of. She said that our community has so many gifted and like-minded physicians who could go to the clinic and help these patients and really make a difference in their lives.
"This is so incredibly important because it's an unmet need in our community," Dr. Conway said. "I want our residents, providers, faculty members and community to know about this marvelous way to help people."
She envisions future residents rotating at the clinic and getting hands-on experience with diabetic retinopathy. She sees it as a chance for young health care providers to also understand the needs of this population and their obligation, as physicians, to help them.
"It's an obligation for every physician to help the underserved," Dr. Conway said. "What's the point of being a doctor if all you do is treat insured patients, when we are supposed to heal everyone?"
Dr. Conway added that even if you're not a physician, there are ways to still support the medical center at St. Vincent de Paul, such as volunteering or donating.
About the College
Founded in 2007, the University of Arizona College of Medicine – Phoenix inspires and trains exemplary physicians, scientists and leaders to optimize health and health care in Arizona and beyond. By cultivating collaborative research locally and globally, the college accelerates discovery in a number of critical areas — including cancer, stroke, traumatic brain injury and cardiovascular disease. Championed as a student-centric campus, the college has graduated 669 physicians, all of whom received exceptional training from nine clinical partners and more than 2,600 diverse faculty members. As the anchor to the Phoenix Bioscience Core, which is projected to have an economic impact of $3.1 billion by 2025, the college prides itself on engaging with the community, fostering education, inclusion, access and advocacy.