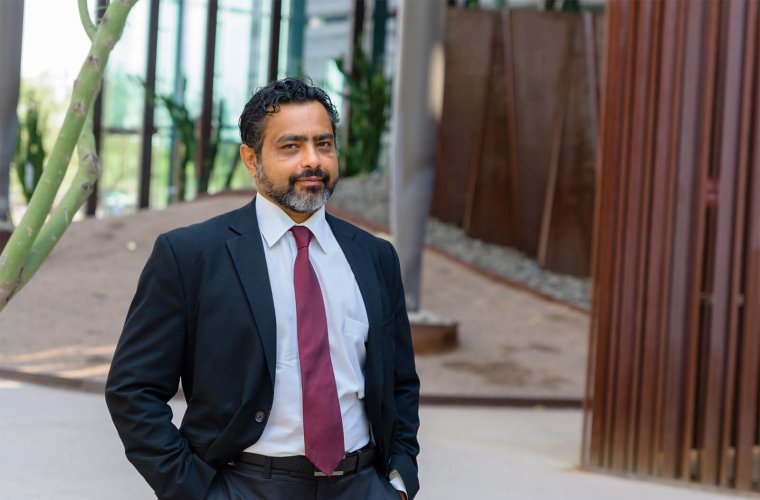 Psychiatric Precision Medicine a Focus of Ayman Fanous, MD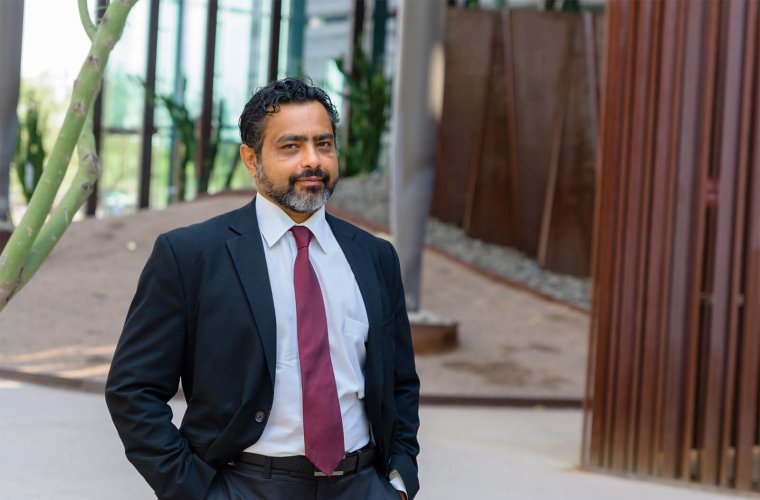 Chair of the Department of Psychiatry Hopes to Establish the College as a Center for Precision Psychiatry
Developing precision medicine for the treatment of diseases of the mind is a goal Ayman Fanous, MD, sees in his future as the chair of the Department of Psychiatry at the University of Arizona College of Medicine – Phoenix.
"We could really have a niche in the area of what I would call precision psychiatry. I would like to see the UArizona College of Medicine − Phoenix Department of Psychiatry be a national center for precision psychiatry," said Dr. Fanous, noting that this medical specialty is still in its infancy.
Dr. Fanous assumed his role in August, succeeding James B. McLoone, MD, who retired earlier this year after leading the department since the college opened. Dr. Fanous is in the process of moving his lab and trying to encourage former colleagues to join him here, while recruiting new faculty into what he envisions will be a world-class academic department of psychiatry. Previously, Dr. Fanous served as chair of Psychiatry and professor of Psychiatry at the State University of New York (SUNY) Downstate Medical Center. As a researcher, he has authored or co-authored more than 120 publications in peer-reviewed journals.
"When certain electrical processes in neurons and pathways don't function properly, this can sometimes lead to hallucinations, delusions, depression or other symptoms. Our work is uncovering the genetic underpinnings of these illnesses among over three billion DNA base-pairs and the mutations that might cause certain proteins or certain cells to not work properly," said Dr. Fanous. He has spent more than 20 years researching how genetic DNA mutations impact brain development and potentially cause schizophrenia and bipolar disorder in some patients.
Collaborating with principal investigators, including physician-scientists at universities around the world to access large population health samples and data has been very beneficial for him and his research team. Unlike diseases such as cystic fibrosis — which develop as a result of a single gene mutation — the risk of schizophrenia and bipolar disorder can be influenced by hundreds, or even thousands, of genes. Developing an understanding of how individual genes influence treatment response would allow health care providers to translate these findings into more individualized and precise patient treatment plans.
"In order to really get a good look at the genome, we have to have very large numbers of patients. We've been able to develop samples of almost 80,000 patients from all over the world," said Dr. Fanous. "And, because of this very large global collaboration, we have been able to identify more than 250 sequence variants in DNA. This certainly wouldn't be possible for any one group to do on their own."
The ability to access data from the Million Veteran Program (MVP) — a national research program managed by the Veterans Administration (VA) — has proven especially helpful in his research. Dr. Fanous served as chief of Psychiatric Genetics and staff psychiatrist at the Washington VA Medical Center. The UArizona College of Medicine – Phoenix's strong translational research program in psychopharmacology and psychotherapy, in partnership with the MVP, will facilitate novel scientific investigation.
"The VA Million Veteran Program data has been part of our portfolio of work for at least four years now, and it's played a major role. Veterans represent a cross section of the United States. They come from all socio-economic backgrounds, all ethnic groups and all races. They're a microcosm of the United States of America and because of that, we're able to actually look at a random sample of the United States population," said Dr. Fanous. "I feel very fortunate to have access to the VA as a clinical partner along with our significant computational capacity, plus private sector partners like the Translational Genomics Research Institute (TGen)."
The database also provides population health access to the experiences of minority populations, or people of African American, Asian, Latino and Native American ancestry. This is an advantage for investigators because these populations were the least likely to be included in large genomic studies — and the most likely to suffer health care and outcome disparities.
"We can take their entire medical record, going back years, and very thoroughly mine it for all kinds of information. What we can do with the data now is just so much more complex and complete. We've not only been looking at the genetics of bipolar disorder and schizophrenia, but we've also been looking at things like suicidal behavior in veterans, which is extremely important. And, of course, now we have all the genetic information on these individuals, so we can look at the genetics of many different things like drug response and side effects."
Dr. Fanous reflected on the ongoing dialogue about mental health and effective treatments. He believes now is a time of great promise for patients and their families.
"I think a lot of the work that's recently come out really should be cause for hope."
About the College
Founded in 2007, the University of Arizona College of Medicine – Phoenix inspires and trains exemplary physicians, scientists and leaders to optimize health and health care in Arizona and beyond. By cultivating collaborative research locally and globally, the college accelerates discovery in a number of critical areas — including cancer, stroke, traumatic brain injury and cardiovascular disease. Championed as a student-centric campus, the college has graduated 745 physicians, all of whom received exceptional training from nine clinical partners and more than 2,600 diverse faculty members. As the anchor to the Phoenix Bioscience Core, which is projected to have an economic impact of $3.1 billion by 2025, the college prides itself on engaging with the community, fostering education, inclusion, access and advocacy.