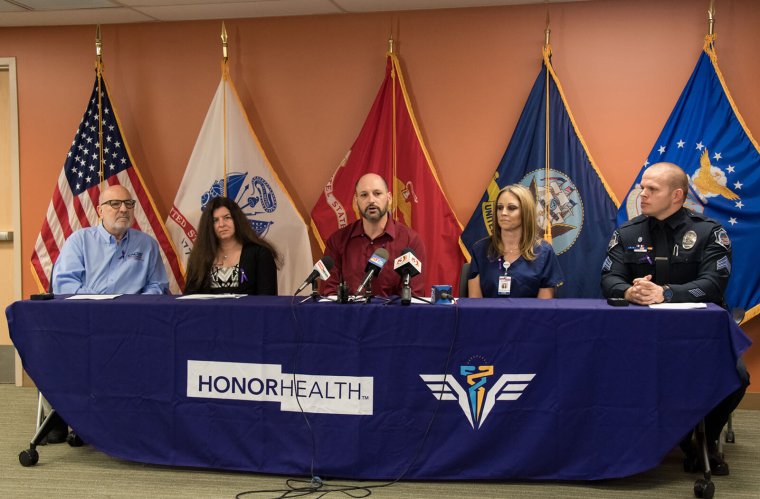 Report Emphasizes Need for Improved Data and Funding for Brain Injuries in Intimate Partner Violence Victims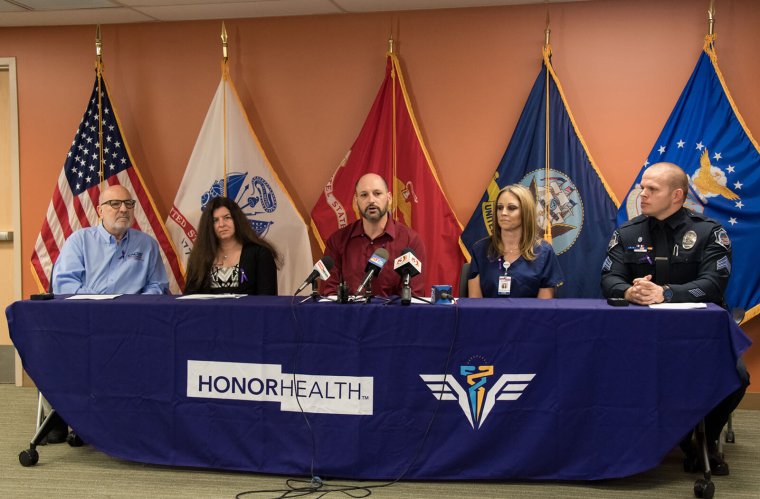 UArizona Researchers Provide Insight for Federal Report to Improve Care for Domestic Violence Victims
A recent report published by the Government Accountability Office (GAO) emphasized the need for improved data and funding to identify the prevalence of brain injuries among domestic violence victims.
Approximately 21.4 percent of women and 14.9 percent of men in the U.S. experienced severe physical violence by an intimate partner; and about 30 million women and 12 million men reported experiencing some effect from the violence.
This report, released in June 2020, was mandated by the federal government to tackle this societal problem. It examined and weighed heavily on recommendations from a program in Maricopa County that involves law enforcement, the county attorney, social workers, health care providers, advocates, a women's shelter and University of Arizona College of Medicine – Phoenix faculty.
"One in four women and one in seven men will be in an abusive/domestic violence situation in their lives," said Jonathan Lifshitz, PhD, director of the Translational Neurotrauma Research program at the College of Medicine – Phoenix and Barrow Neurological Institute at Phoenix Children's Hospital,. "This amounts to 1.2 billion people exposed to these conditions. In encounters that involve physical violence, upwards of 90 percent will receive blows to the head, neck or face. This means that an estimated 1.1 billion people could suffer a traumatic brain injury (TBI) from domestic violence. This happens all too often and all too violently."
The Maricopa County Collaboration on Concussions in Domestic Violence (MC3DV), which was created in 2014, is being led by UArizona College of Medicine – Phoenix faculty, Dr. Lifshitz and Hirsch Handmaker, MD. The collaboration includes the Maricopa County Attorney's Family Violence Bureau, the Sojourner Center, the Mesa and Tempe Police Departments, The CACTIS Foundation, the University of Arizona College of Medicine – Phoenix, as well as Barrow Neurological Institute at Phoenix Children's Hospital. MC3DV was created to develop a greater understanding of the frequency and improve identification and treatment of concussions in the context of domestic violence.
"The groundbreaking work being done by MC3DV addresses a serious societal problem throughout Maricopa County, and is a tribute to the progressive attitude of the Maricopa County Attorney's Office, shared grant support with the Sojourner Center and dedicated health care providers," said Dr. Handmaker, a research professor of Radiology.
The GAO identified 12 non-federal initiatives that provide education, screen for or treat brain injuries resulting from intimate partner violence. All 12 developed and distributed education and training materials to domestic violence shelter staff, victims, health care providers and others. Six of the 12 initiatives used screening tools to identify potential brain injuries among intimate partner violence victims, and two included a treatment component. MC3DV has programs in each of these categories.
For three days last fall, the MC3DV hosted the GAO analysts, where they discussed all aspects of the program in Maricopa County. MC3DV offered access to their library of information, access to their collaborators and experts, and discussed the complexities and solutions to the problem. The findings from the GAO emphasized the need for the Department of Health and Human Services to implement a plan to improve data collection on the prevalence of TBIs resulting from intimate partner violence and use these data to influence its allocation of resources to address the issue.
Although domestic violence has been a societal problem for decades, nay centuries, researchers explained that this report and its call to action for more data is extremely relevant today as the COVID-19 pandemic has increased the number of intimate partner violence cases.
"The report regarding the epidemic of concussions in victims of intimate partner violence was relevant prior to the COVID pandemic," Dr. Handmaker said. "Now it is more relevant as current information indicates that the violence issue is escalating in severity and increasing in frequency across the U.S. and around the world."
Dr. Lifshitz added, "This is the world's oldest pandemic. In the current COVID pandemic, increased stress, loss of jobs and increased alcohol intake, means that intimate partners are sheltered together. Victims and assailants are trapped together with all the stressors for violent outbursts. Hotlines report 30 percent or more increases in domestic violence related calls. This is predictably accompanied by more TBI."
According to researchers, the next steps require funding, which falls under social services — a program traditionally underfunded. They hope to expand the MC3DV program to all of Maricopa County and then across the State of Arizona. In addition, they have begun collaborating with recognized leaders to develop similar programs nationally.
"The capacity to grow in this space is limited based on resources," Dr. Lifshitz said. "Funding will allow the program to grow, which means expanded social worker and patient advocate contacts; increased education of law enforcement to recognize signs and symptoms; collection of epidemiological and testing data to understand the severity and incidence of TBI; and health care for victims. The long-term goals include the definition and creation of statutes classifying TBI as a felony, rather than a simple misdemeanor assault. It is anticipated that doing so will increase the prosecution of abusers."
About the College
Founded in 2007, the University of Arizona College of Medicine – Phoenix inspires and trains exemplary physicians, scientists and leaders to optimize health and health care in Arizona and beyond. By cultivating collaborative research locally and globally, the college accelerates discovery in a number of critical areas — including cancer, stroke, traumatic brain injury and cardiovascular disease. Championed as a student-centric campus, the college has graduated 593 physicians, all of whom received exceptional training from nine clinical partners and more than 2,400 diverse faculty members. As the anchor to the Phoenix Biomedical Campus, which is projected to have an economic impact of $3.1 billion by 2025, the college prides itself on engaging with the community, fostering education, inclusion, access and advocacy.