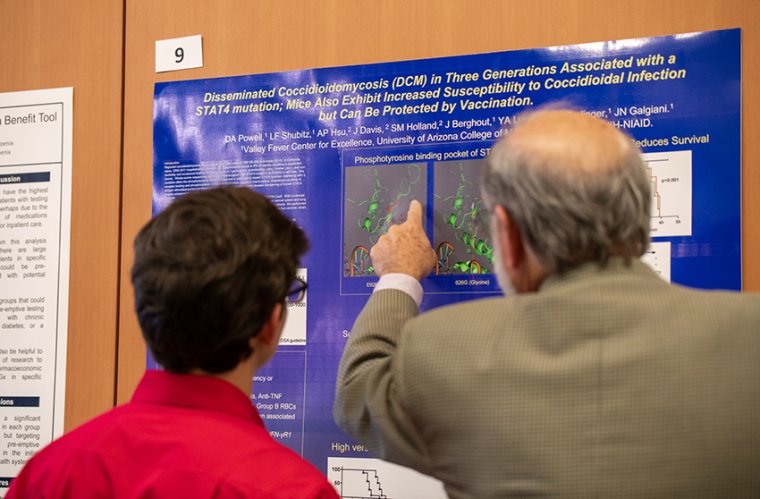 Research Symposium Addresses Latest Findings and Questions in Genomic Medicine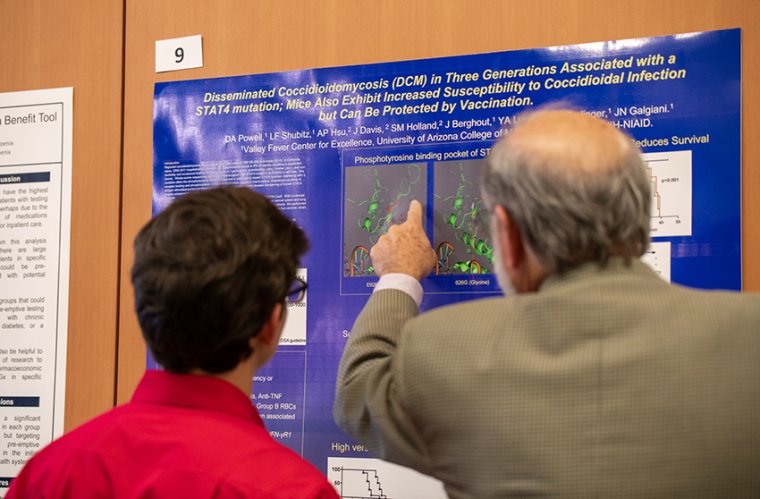 Local and National Experts Gather to Address the Question: "Is My Fate in My Genes?"
Experts in genomic medicine gathered on Nov. 20 to address the complex question: "Is My Fate in My Genes?" The second annual research symposium at the University of Arizona College of Medicine – Phoenix featured local and national experts who presented their latest findings in the areas of genomics and genetics, gene-environment interactions, as well as social and ethical considerations.
About 200 members from the community attended the free event, which discussed the role of genomics in diseases such as cardiovascular, cancer and neurosciences. The symposium explored the interaction of genetic medicine with environmental modifiers, including socio-economic factors, geographic environment, aging, diet and others.
"We are so excited to be meeting again for our second annual 'reimagine Health Symposium, Is My Fate in My Genes?'" said Paul Boehmer, PhD, interim associate dean of Research. "This is a very intriguing, contemporary question to pose, and we have a line-up of expert speakers in a variety of sessions to address this topic and its different aspects."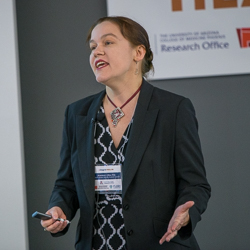 The symposium began with a special keynote address provided by renowned epidemiologist and program director of the Division of Genomic Medicine at the National Human Genome Research Institute, Anastasia Wise, PhD. Dr. Wise spoke about the current clinical practices and research in genomic medicine, the promises today around diagnosis and the use of exome and genome sequencing in the clinic for rare and undiagnosed conditions. She also discussed screening and its challenges; she talked about therapeutics and its promising work in the cancer space and shared her insights on the possibilities for tomorrow and integrating this data to make genomic medicine scalable and accessible to all.
"The human genome was completed in 2003," Dr. Wise said. "Since then, a lot of progress has been made in genomic medicine. We are now seeing cases where there is clinical utility and insurance companies willing to pick up genomic testing, because they see it being a benefit to the patient. It provides the opportunity for more rapid diagnosis, gets them to care and treatment faster and ends up costing less in terms of people's time and the system itself.
"Although we have some really incredible stories that get told in the media around individual cases having remarkable recoveries due to genomic medicine, it's going to take some time until this is something that any person can walk into their doctor's office, expect to get sequenced and use that for the rest of their life."
Experts presented on various topics throughout the day, which were broken up into three categories: Genomics and genetics, gene-environment interactions, as well as social and ethical considerations.
Genomics and Genetics
Experts discussed the power of genetics in cancer treatments, heart disease and developmental brain disorders. Presentations included Joann Sweasy, PhD, interim director of the UArizona Cancer Center; Linda Restifo, MD, PhD, a professor of neurology, neuroscience and cellular and molecular medicine; and Robert Roberts, MD, professor of medicine and director of Cardiovascular Genomic and Genetics at Dignity Health St. Joseph's Hospital and Medical Center.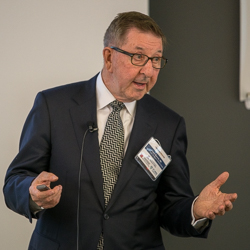 Dr. Roberts' presentation discussed how genetics will revolutionize the prevention of heart disease. Coronary Artery Disease (CAD) is the number one cause of death in 192 countries, out of the 195 countries in the world. About one-third of all deaths today are due to heart disease. Since the 1950s, researchers have known that about 50 percent of your risk for heart disease is in your genes. However, the technology to discover these genes did not exist until recently.
In 2007, Dr. Roberts' team and a group in Iceland independently identified the first gene related to CAD, 9p21. About 12 years later, researchers have now identified 200 genetic variants. The gene 9p21 is very common, with about 75 percent of the population having this gene.
"A single copy of 9p21 increases your risk of CAD by 25 percent, but this is a relative risk," Dr. Roberts said. "The absolute risk is less than one percent."
According to Dr. Roberts, your genetic risk is related to the number of genetic variants you have associated with heart disease. Although these genetic risks increase your chance of heart disease, you can decrease your risk of dying from heart disease by 40 percent by maintaining a healthy lifestyle.
"It has been said for a long time that this should be the last century of CAD," Dr. Roberts said. "Whether that is possible or not, I think it's fair to think that heart disease at the end of this century is not going to be the number one cause of death in the world."
Gene-Environment Interactions
Experts discussed both the genetic and environmental influences to tackling cancer and cerebral palsy and understanding a healthy aging brain. Speakers included Melissa Herbst-Kralovetz, PhD, an associate professor in the Department of Basic Medical Sciences; Michael Kruer, MD, an associate professor of Neurology, and Matt Huentelman, PhD, a professor of Neurogenomics Division at the Translational Genomics Research Institute.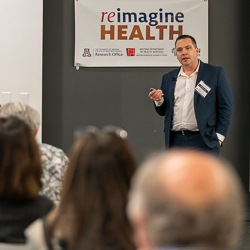 Historically, medical experts believed cerebral palsy occurs due to factors such as prematurity, an infection or a lack of oxygen to the developing brain. However, Dr. Kruer's research focuses on the one-third of the people with cerebral palsy who did not have these risk factors. He studies mutated genes that could lead to cerebral palsy.
Dr. Kruer said that families are typically told these days that their risk of having another child with cerebral palsy is about one percent. In many cases, that's true, but it depends on the cause of that child's cerebral palsy. As their results have started to indicate, depending upon the nature of the genetic mutation for what is presented, the recurrence risk could be exponentially higher.
"Ultimately, we think genomics will provide a new window into cerebral palsy and neurobiology," Dr. Kruer said. "We think that the genes that we are identifying will change the way we diagnosis patients and help provide new insights into mechanisms. In the near future, we think that this will allow us to better apply the treatments that do exist and really, we hope this will allow us to develop new therapies not just focused on the symptoms, but the cause of these developmental disorders."
Social and Ethical Considerations
Discussions focused on health inequities, genetic counseling and ethical challenges of genomic medicine. Presenters included Joia Crear-Perry, MD, president of the National Birth Equity Collaborative; Paul Harmatz, MD, professor in residence at the University of California, San Francisco Benioff Children's Hospital; and Dee Quinn, MS, director of the UArizona Counseling Graduate Program.
Quinn, who is a board-certified genetic counselor, discussed the process of genetic counseling and the importance of communicating risks for complex issues.
Genetic counseling integrates the interpretation of family and medical histories to assess the chance of disease and promote informed choices about risk and condition. It typically involves a team that provides services to a wide variety of individuals in different points of their life, including preconception and prenatal counseling, pediatric counseling, cancer, cardiovascular disease, neurology, research and industry. Genetic counseling as a profession is relatively new. It started in 1971 and now has more than 5,000 genetic counselors with 50 programs across the country.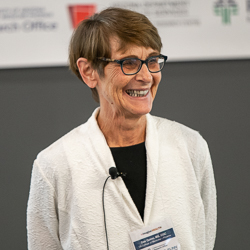 "There are some concerns with genetic testing," Quinn said. "Some of them have to do with a clear understanding of the results. The results are complicated and can be difficult to explain. All to often, people don't really understand the significance of those results."
Quinn added that she is concerned with direct to consumer testing and how people interpret those results. For example, she is concerned that if an individual gets a negative result for a particular gene, do they think they are now immune from it?
"What about people who get a negative result for breast cancer?" Quinn said. "Do they think they are not going to get it now? One-in-ten will get breast cancer and a subset of those individuals might have an even higher risk, because they had genetic changes that were not tested for."
The event concluded with a panel discussion from experts who presented throughout the day, a poster session and networking event.
The symposium was made possible through the support of event sponsors including the University of Arizona College of Medicine – Phoenix Research Office, the Arizona Department of Health Services, and the Flinn Foundation.
About the College
Founded in 2007, the University of Arizona College of Medicine – Phoenix inspires and trains exemplary physicians, scientists and leaders to optimize health and health care in Arizona and beyond. By cultivating collaborative research locally and globally, the college accelerates discovery in a number of critical areas — including cancer, stroke, traumatic brain injury and cardiovascular disease. Championed as a student-centric campus, the college has graduated 669 physicians, all of whom received exceptional training from nine clinical partners and more than 2,600 diverse faculty members. As the anchor to the Phoenix Bioscience Core, which is projected to have an economic impact of $3.1 billion by 2025, the college prides itself on engaging with the community, fostering education, inclusion, access and advocacy.