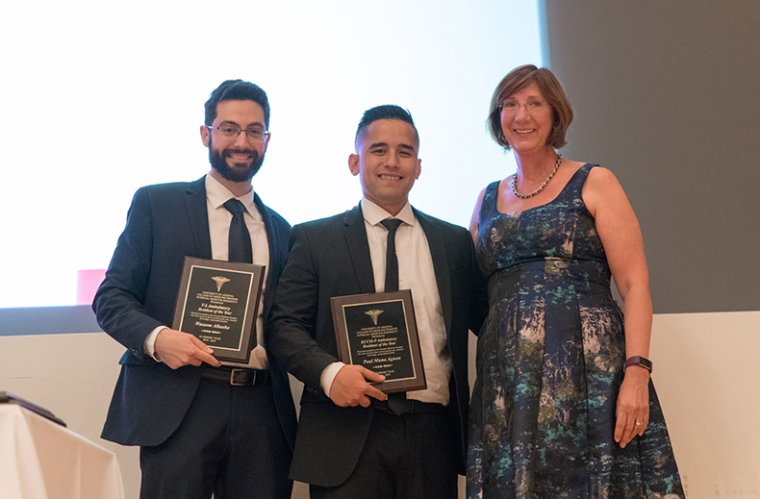 Residency Graduation Profile: Paul Muna Aguon, MD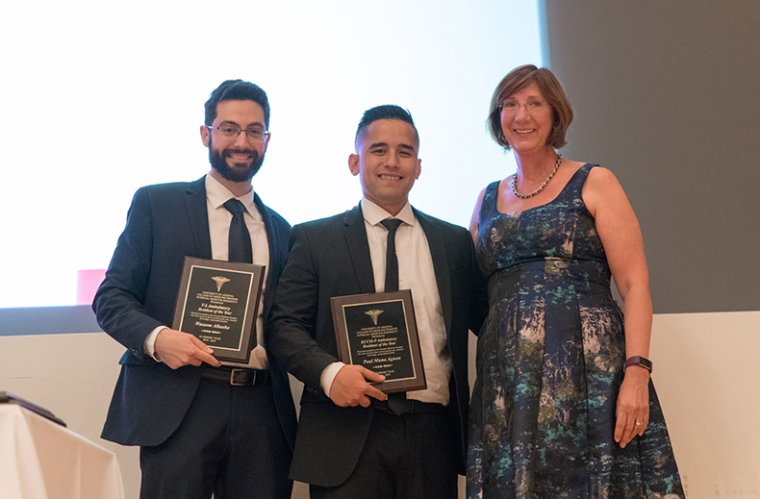 Support System Allows 'Island Boy' to Achieve Dream he Thought Impossible
Paul Muna Aguon, MD, decided to become a physician because of the dire need for health care professionals in Guam and the lack of access to care for his fellow islanders throughout the Pacific Islands. As a 2019 graduate from the University of Arizona College of Medicine – Phoenix's Internal Medicine Residency Program, Dr. Muna Aguon thanks his wife, two daughters, parents, siblings and the entire Muna and Aguon families for supporting him and helping him achieve a dream he thought was impossible.
Dr. Muna Aguon moved to Phoenix after completing medical school at the University of Hawaii at Manoa. He will be staying at the UA College of Medicine – Phoenix to pursue a fellowship in Gastroenterology starting July 1.
"I am extremely excited to start a Gastroenterology fellowship," he said. "Since the beginning of intern year, I have worked as hard as I could to get to this point and it feels very rewarding. I could not have done this without the support of my wife, my daughters, the rest of my family and all my mentors at Banner – University Medical Center Phoenix."
Choosing gastroenterology
"I chose gastroenterology because I really enjoy learning about this specific organ system, and I fell in love with the endoscopy suite since the first time I stepped foot in one as a third-year medical student while doing an away rotation in Guam at the VA," Dr. Muna Aguon said. "This passion for gastroenterology has only grown with the mentorship I had from the current GI fellows."
Residency Experience
"I had an excellent residency experience," he said. "I initially interviewed at our program for internal medicine residency just to visit Phoenix and see what the city was like. However, on orientation day, I was extremely impressed by the enthusiasm, hospitality, response to resident feedback and passion for teaching by all the faculty. I admit that Dr. Kerilyn Bollmann was also a big part of why I chose this program. Her compassion and hospitable nature reminded me of the island spirit, which I was looking for in a program. I knew I would get great training at many of the programs I had interviewed at, but I wanted to be at one that felt like home."
Favorite Part of Residency
"My favorite part of residency was being able to take care of very sick patients and helping them through a very vulnerable and difficult time in their life," Dr. Muna Aguon said.
How Has Residency Prepared You for Your Next Steps?
"Our residency has prepared me to be a proactive and lifelong learner who continues to ask questions to broaden my knowledge base and understanding," he said. "All of the faculty have played a big part in preparing me for what lies ahead, but I would like to specifically recognize Dr. Kerilyn Bollmann, Dr. Jayne Peterson, Dr. Harvey Hsu and Dr. Brenda Shinar for all they have invested in me."
About the College
Founded in 2007, the University of Arizona College of Medicine – Phoenix inspires and trains exemplary physicians, scientists and leaders to optimize health and health care in Arizona and beyond. By cultivating collaborative research locally and globally, the college accelerates discovery in a number of critical areas — including cancer, stroke, traumatic brain injury and cardiovascular disease. Championed as a student-centric campus, the college has graduated 593 physicians, all of whom received exceptional training from nine clinical partners and more than 2,400 diverse faculty members. As the anchor to the Phoenix Biomedical Campus, which is projected to have an economic impact of $3.1 billion by 2025, the college prides itself on engaging with the community, fostering education, inclusion, access and advocacy.