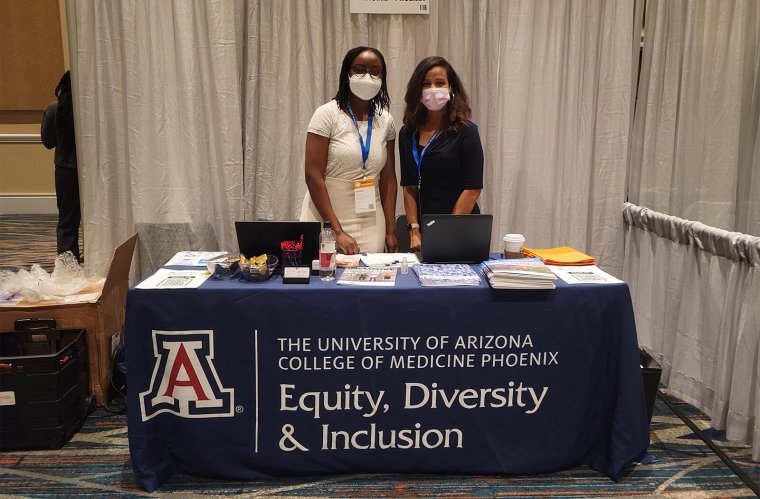 Training a Generation and Changing the Future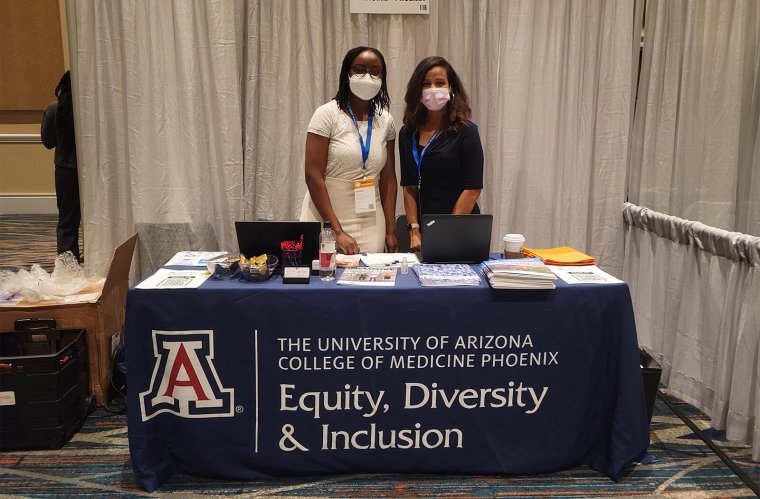 SNMA conference helped network underrepresented minority medical students through workshops and academic programs
For the Student National Medical Association (SNMA), hosting a conference dedicated toward minority medical students will transform the future.
Held in Orlando, Florida, on April 13-17, the Annual Medical Education Conference (AMEC) brought more than 200 medical and educational exhibitors together to engage students interested in pursuing the health professions. This program is consistently the largest gathering of underrepresented minority medical students in the nation.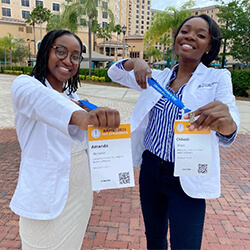 Amanda Musvosvi and Chikodi Ohaya, two first-year medical students at the University of Arizona College of Medicine — Phoenix, attended it and worked the recruitment booths.
During this conference, topics such as health policy, health disparities and activism in underserved communities were discussed among speakers and students. This year was the first in-person conference since 2019 due to the COVID-19 pandemic.
Musvosvi said that AMEC allowed her and other medical students to be exposed to a range of diverse topics within the medical field.
"There was a talk that I went to that was about transgender care in the prison population," Musvosvi said. "It was just really cool to get really deep in subject matters that I wouldn't necessarily have the chance to do if I hadn't had gone."
Sonji Muhammad, MA, director of the college's Office of Equity, Diversity and Inclusion (OEDI), reached out to Musvosvi and Ohaya and sponsored them for this conference.
"We had an opportunity to … build a community with minority medical students from around the country," Ohaya said. "People that were interested in the University of Arizona came and asked specific questions about our institution and how the push for diversity is going."
Both students were able to network with other minority medical students and Black medical professionals who are wanting to train and treat underserved communities.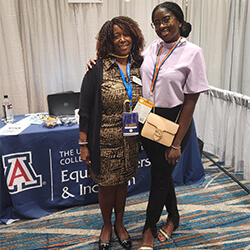 In addition to current students at the college, Luce Kassi, MD, Class of 2019, was able to attend on behalf of her residency program. Dr. Kassi advocated for the college and spoke to attendees about her experiences.
OEDI said it told attendees about the college's 12 Action Steps initiative and had "fruitful, meaningful conversations" with students interested in residency. Musvosvi said her favorite part of attending the conference was being able to see people who look like her succeed in various medical pathways she never thought were possible.
"The different tracks that your career can take, being able to see people from all over the world … opens your mind to what the possibilities are," Musvosvi said. "I think it helps [pre-med students] consider Arizona just seeing … we care about diversity."
At AMEC, Ohaya's research project was recognized as the top presentation in Public Health at the Wilbert C. Jordan Research Forum. She and a team of medical students at Mayo Clinic developed an initiative called the Medical R.E.N.E.W.A.L. Program, which she called the "Robin Hood of PPE."
"We collected over 500,000 unused masks, goggles and other medical supplies," Ohaya said. "Thousands of these [materials] will be redistributed to safety net clinics and organizations serving marginalized communities in Arizona."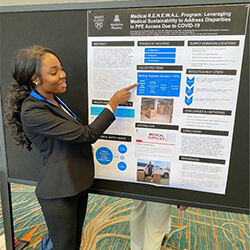 Though both students are currently attending medical school, that wasn't necessarily their first career choice.
Ohaya, who is a first-generation immigrant from Nigeria, said her interest in medicine comes from her passion for teaching, service and advocacy.
"Teaching was my first love, and I worked in education long before starting medical school," Ohaya said. "I love that academic medicine gives me the opportunity to train future physicians while also giving me the platform to serve as a voice for the marginalized communities I grew up with my entire life."
Musvosvi, who is from Sacramento, California, said she originally went to college for business, but decided to change paths.
"I decided to just fully pursue medicine mainly because I wanted to be involved with the health disparities and be able to advocate for my patients," Musvosvi said. "And, now, I'm here."
About the College
Founded in 2007, the University of Arizona College of Medicine – Phoenix inspires and trains exemplary physicians, scientists and leaders to optimize health and health care in Arizona and beyond. By cultivating collaborative research locally and globally, the college accelerates discovery in a number of critical areas — including cancer, stroke, traumatic brain injury and cardiovascular disease. Championed as a student-centric campus, the college has graduated 669 physicians, all of whom received exceptional training from nine clinical partners and more than 2,600 diverse faculty members. As the anchor to the Phoenix Bioscience Core, which is projected to have an economic impact of $3.1 billion by 2025, the college prides itself on engaging with the community, fostering education, inclusion, access and advocacy.