Students and Faculty Members Inducted into the Gold Humanism Honor Society
On Thursday, April 29, University of Arizona College of Medicine – Phoenix Gold Humanism Honor Society (GHHS) chapter advisors Susan Kaib, MD, and Shak Rehman, MD, welcomed the Class of 2022 inductees into the prestigious group. Twelve fourth-year medical students and four faculty members received the honor during a ceremony held on the Phoenix Biomedical Campus.
"Induction into the Gold Humanism Honor Society is an acknowledgement from fellow students and faculty that you are a model of society's values at the highest levels in the areas of compassion, humanism, service and professionalism," Guy Reed, MD, MS, dean of the University of Arizona College of Medicine – Phoenix, said.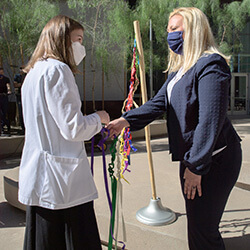 "The honor society defines humanism as keeping relationships between physicians and their patients as respectful and compassionate as possible. Humanism is reflected in behavior — physicians that honor and respect the diversity of people of varying backgrounds, experiences and values. In this spirit, we induct these exceptional students and faculty members as lifelong members of the Gold Humanism Honor Society," Dean Reed said.
During the induction ceremony, students wound colorful ribbons around a staff, originally gifted from the inaugural GHHS Class of 2011 students.
Made from a yucca stock native to the Arizona desert landscape, the staff symbolizes the strength and solidarity of the campus community, and is in the form of a single serpent, which in Native American tradition is strongly associated with healing capacities.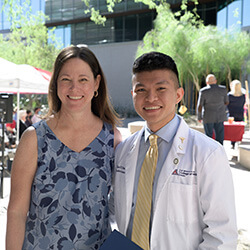 Family physician and faculty member, Jennifer Hartmark-Hill, MD, served as the guest speaker and gave a talk entitled Compassion is Love. Dr. Hartmark-Hill serves as the director of the UArizona Faculty Development Fellowship, director of the Program for Narrative Medicine and Health Humanities, and director of the Patient-Centered Care curriculum at the UArizona College of Medicine – Phoenix. She previously received the Gold Humanism Award for her care for vulnerable populations.

Congratulations to the following students:
Amanda Tjitro.
Maya Patel.
Allen Doan.
Aly Tukan.
Michelle Peterson.
Merrion Dawson.
Hamid Alattar.
Luke Wohlford.
Mary Beth Putz.
Janell Tully.
Kristina Yancey.
Dara Farhadi.
Faculty members, Lisa Grimaldi, MD, Daniel Drane, EdD, David Beyda, MD, and Gina Touch Mercer, PhD, were inducted for their outstanding contributions and leadership.
Photos and Video
Topics
About the College
Founded in 2007, the University of Arizona College of Medicine – Phoenix inspires and trains exemplary physicians, scientists and leaders to optimize health and health care in Arizona and beyond. By cultivating collaborative research locally and globally, the college accelerates discovery in a number of critical areas — including cancer, stroke, traumatic brain injury and cardiovascular disease. Championed as a student-centric campus, the college has graduated 669 physicians, all of whom received exceptional training from nine clinical partners and more than 2,600 diverse faculty members. As the anchor to the Phoenix Bioscience Core, which is projected to have an economic impact of $3.1 billion by 2025, the college prides itself on engaging with the community, fostering education, inclusion, access and advocacy.