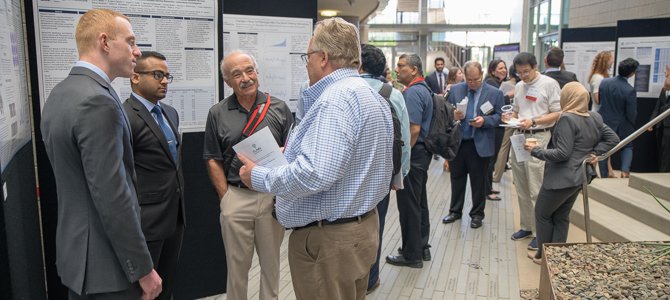 Students Present Medical Research at Scholarly Project Symposium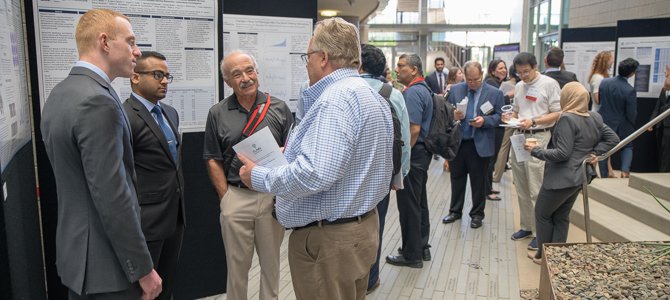 UA Students Complete Research Designed to Enhance Future Careers and Improve Health of Arizonans
Throughout their four years of medical school, each student at the University of Arizona College of Medicine – Phoenix works closely with mentors to complete a longitudinal, hypothesis-driven Scholarly Project.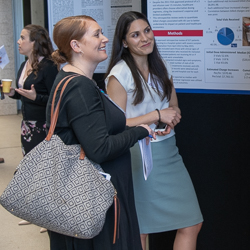 On March 6, fourth-year medical students presented their research projects at the annual Student Research Symposium. The projects are medically related, mentored and involve a research question, hypothesis and data collection.
"Medical students should be more than a repository for information," said Matthew McEchron, PhD, director of Scholarly Projects at the college. "They should be trained to think critically and continually acquire new information in order to move their practice of medicine forward. The Scholarly Project is a component of our curriculum that engenders evidence-based medical practice, critical thinking, problem solving and communication. The curriculum is designed to train students for a career of lifelong learning and will allow students to better address the needs of their patients."
Mounica Rao was one of five students asked to present their research at the symposium. She said the Scholarly Project, as well as three other research projects she participated in as a medical student, shaped her decision to pursue a career in academic medicine.
"These projects have taught me how to conduct clinical research and navigate the scientific publishing process," she said. "I am incredibly thankful for all my research mentors for guiding me and teaching me the importance of giving back to medicine through clinical research."
The medical school is one of just six in the country to require a longitudinal, hypothesis-driven project with a final thesis component. About one third of medical schools require some scholarly activity, which can take on many different forms.
Students selected to present at the symposium were (pictured in order):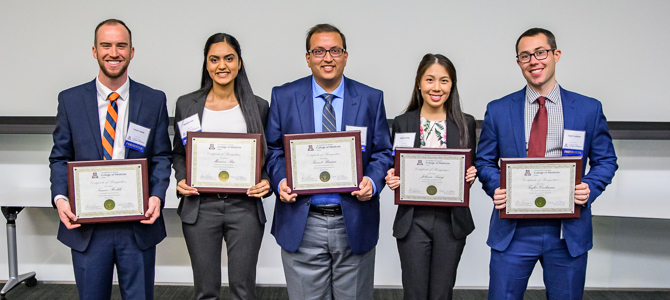 Mounica Rao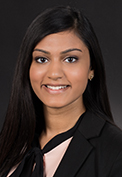 In patients who develop non-muscle invasive bladder cancer, the gold standard treatment is Bacillus Calmette-Guérin (BCG) therapy, an immunotherapy treatment option. However, in those who fail this treatment, current guidelines recommend a radical cystectomy, a significant surgery to remove the entire bladder. There are a group of patients who are not medical candidates or do not want to pursue the surgery due to the significant impact it can have on their quality of life. Therefore, more research is being done to look at the efficacy of various salvage chemotherapy regimens. Rao's project analyzed the treatment success of a salvage gemcitabine and docetaxel combination chemotherapy regimen after BCG failure in non-muscle invasive bladder cancer patients.
"This research is important to me because the potential implications are wide, and I can see it directly affecting a patient's treatment decision and by extension, hopefully improve their quality of life," she said.
Rao, with her mentor Donald Lamm, MD, found that the gemcitabine and docetaxel combination chemotherapy is a well-tolerated salvage regimen that demonstrates a reasonable efficacy.
Rao hopes her research will provide data that will help patients make informed decisions about treatment options to choose if faced with a recurrence of bladder cancer.
Taylor Cushman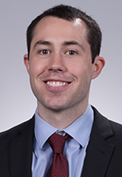 Cushman worked in the lab of James Welsh, MD, at MD Anderson Cancer Center in Houston for a year. Cushman's research focused on combining radiation therapy with immunotherapy. Currently, most immunotherapy clinical trials have a response rate of around 20 percent, meaning 80 percent of patients do not respond to treatment. Cushman's research focused on using radiation in combination with immunotherapies to overcome the treatment resistance seen in the 80 percent.
"This research was so important to me because it gave me exposure to an area of radiation oncology that can only be had at a handful of institutions," Cushman said. "My Scholarly Project and related research will help me during residency to be an effective and efficient resident researcher. Residency is such a busy time and I can only imagine how difficult it would be to learn the ropes of research while trying to juggle clinical responsibilities."
His research concluded that in certain treatment combinations, radiation therapy was not only beneficial, but essential to eliminate metastatic cancer. In his study, more than 70 percent of the mice treated with radiation and immunotherapy were cured. Cushman's research has been cited in more than 20 manuscripts.
Caitlin Williams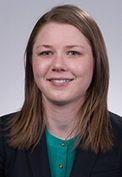 Feeding difficulties are fairly common in children. However, children with complex medical conditions are more prone to feeding difficulties and feeding disorders. This occurs when children have impaired oral intake that is not age appropriate and is often due to dysfunction with their medical health, nutritional status, feeding skills or development or psycho-social situations.
Because of their medical issues, children who have complex medical histories are often dependent on tube feedings. When they are medically stable, the goal is to transition them off tube feeding to an oral diet. Williams worked with her mentor, Dana Williams, MD, to study and evaluate a five-week outpatient program at Phoenix Children's Hospital, where children met daily with a speech and language pathologist, feeding therapist, occupational therapist, pediatric gastroenterologist and pediatric dietitian.
During the five-week period, a number of strategies were used to transition the child from tube feeding to an oral diet. Williams' found that after the intense intervention, nearly half the children had eliminated their tube feeding dependence after five weeks. In one year, 75 percent no longer needed tube feeding.
"This research is one of the things that motivated me to pursue a specialty in pediatrics," Williams said. "Prior to medical school, I worked in a basic sciences lab doing cancer research, but this project was my first experience with clinical research. It has been such a rewarding experience."
Daniel Trif
Trif conducted a retrospective study comparing the efficacy of epidural analgesia to perineural nerve catheter analgesia for postoperative pain management in pediatric patients following a unilateral lower limb surgery at Phoenix Children's Hospital. He recorded how patients did via pain scores, how much pain medication they needed and adverse effects. The study revealed that patients who had a perineural nerve block infusion compared to an epidural actually had pain scores 40 percent higher, but were prescribed and asked for fewer opioids. These patients also had shorter hospital stays and less adverse effects.
Triff, who plans to become an anesthesiologist, worked on the research with his mentor, Mohan Belthur, MD.
"Before medical school, I had never written an IRB (Institutional Review Board) proposal, put together a paper from scratch or collected clinical data," he said. "The Scholarly Project was important, as it showed me how to conduct a hypothesis-driven research project from start to finish."
Maximilian Zelic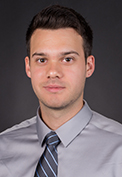 Zelic conducted a retrospective review of the outcomes after massive honeybee envenomation in patients with additional conditions when they were admitted to the hospital. The review looked at patients who were stung at least 50 times.
With his mentor Michelle Ruha, MD, Zelic looked at the clinical outcomes of patients who had pre-existing conditions like coronary artery disease, asthma, hypertension and diabetes. He analyzed the outcomes and complications based on the number of stings a patient received. For example, Zelic looked to see if the patient had been intubated, had been put on dialysis, the total length of stay and their creatine kinase levels.
His research revealed that a higher number of stings are more likely to have a higher creatine kinase level and longer length of stay in the hospital. Those with more stings also were more likely to be intubated and put on dialysis.
"The Scholarly Project is unique because we have to start this in Year One, often when we don't exactly know what (specialty) we are going to go into," said Zelic, who plans to specialize in anesthesiology. "I chose a project that was interesting with not a lot of research already done. It helped me learn about the research process and gain a further appreciation for it. My project allowed me to gain a better understanding and foundation for clinical research."
About the College
Founded in 2007, the University of Arizona College of Medicine – Phoenix inspires and trains exemplary physicians, scientists and leaders to optimize health and health care in Arizona and beyond. By cultivating collaborative research locally and globally, the college accelerates discovery in a number of critical areas — including cancer, stroke, traumatic brain injury and cardiovascular disease. Championed as a student-centric campus, the college has graduated 593 physicians, all of whom received exceptional training from nine clinical partners and more than 2,400 diverse faculty members. As the anchor to the Phoenix Biomedical Campus, which is projected to have an economic impact of $3.1 billion by 2025, the college prides itself on engaging with the community, fostering education, inclusion, access and advocacy.