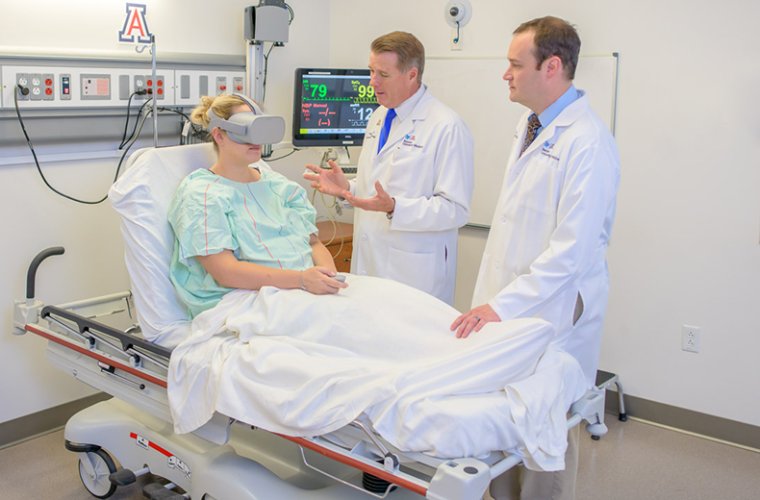 Study Shows Virtual Reality Reduces Need for Pain Medication in Labor and Delivery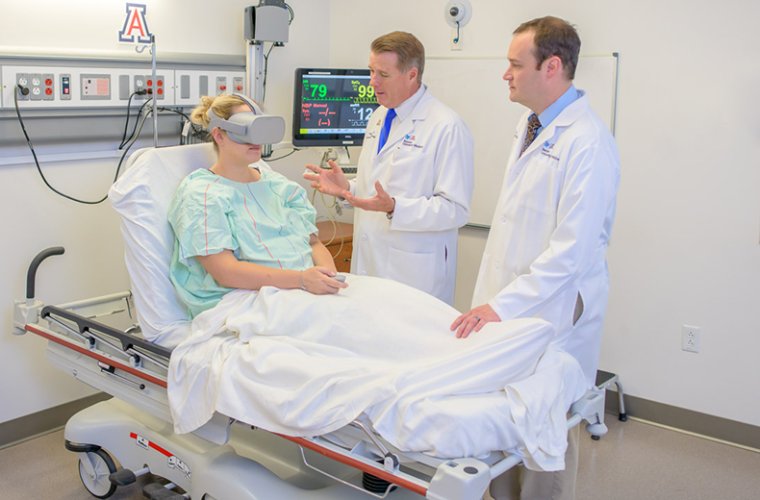 Physicians Seek to Improve the Experience of Child Birth through the Use of Virtual Reality
Imagine being in the early stages of labor and distracting the pain of contractions by immersing yourself into a different reality.
You could walk on the beach, swim with dolphins or watch horses gallop through verdant meadows in Iceland. A novel study conducted by physicians at the University of Arizona College of Medicine – Phoenix and Banner – University Medical Center Phoenix, investigated the use of virtual reality during labor to improve the delivery experience without the use of invasive drugs or procedures.
"We are looking at improving the experience of child birth and making it more natural by limiting the use of drugs," said Michael Foley, MD, chair of the Department of Obstetrics and Gynecology at the college.
Results from the study revealed an association between immersive virtual reality use in labor and improved pain scores, as well as a decrease in intravenous pain medicine. Patients who used virtual reality used 50 percent less stadol, a narcotic pain reliever used in early labor, compared to those who did not use virtual reality. Seventy-seven percent of patients who used VR said they'd use it again during a future delivery.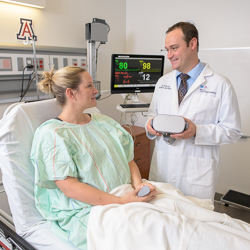 Dr. Foley and OB/GYN Resident Steven Cowles, MD, are co-principal investigators of the study. About 20 pregnant women participated in the small pilot study, which began in January 2018.
"In today's world, people are looking for improved experiences with child birth — whether that's with less medical intervention, less medicine or less interruption of the natural process," Dr. Cowles said. "We take that seriously, and we want to help our patients have that experience. If we can help them avoid medicines, we are willing to get creative and try new things."
As no two pregnancies are the same, the study analyzed the effectiveness of virtual reality in labor and delivery through various methods. They analyzed a group of 20 women with two groups of 10. A controlled group received no virtual reality and a test group received virtual reality for 15 minutes every hour from the start of their induced labor until they were ready to push. The team surveyed participants and compared the pain scores and medications used by each group.
"We know it's not going to be a replacement for medications, but we might be able to use it as an adjunct, and it might require less medicine or less doses," Dr. Foley said. "We hope the personal level of satisfaction increases and makes the experience better for our patients."
Only a few hospitals are using virtual reality in patient care. The team used Cedars-Sinai Medical Center in Los Angeles as an example for their study. The medical center used VR for people coming out of anesthesia. Patients would wake up, typically in a lot of pain after anesthesia, and were able to be distracted by using virtual reality. The medical center found that through virtual reality, they were able to discharge patients sooner and with fewer narcotics.
"There are a lot of things we don't understand about medicine," Dr. Cowles said. "In surgery, there has been a lot of progress to take away human error and to improve human ability. Virtual reality is not a new technology in the entertainment industry, but it has never been applied to maternal medicine. Medicine takes creativity and ingenuity to improve methods and patient care."
This is not the first time Dr. Foley and his team have spearheaded the use of virtual reality in medicine. He has used it to train and educate physicians on emergency techniques to lower the mortality rates of mothers and their newborn babies. Dr. Foley said it's a new way to teach trainees. "It gets their adrenaline rushing as if they were actually in the OR participating in the procedure," he said.
"New technology is creating a revolution," Dr. Foley said. "From our perspective, we have a new group of patients and physicians that have grown up as natives to technology. The new technology in medicine is being taken by these young and technology-savvy users who are thinking outside the box and applying it to medicine to improve patient care."
The headsets, headphones and simulations used in the study were donated by Samsung and Applied VR.
Topics
About the College
Founded in 2007, the University of Arizona College of Medicine – Phoenix inspires and trains exemplary physicians, scientists and leaders to optimize health and health care in Arizona and beyond. By cultivating collaborative research locally and globally, the college accelerates discovery in a number of critical areas — including cancer, stroke, traumatic brain injury and cardiovascular disease. Championed as a student-centric campus, the college has graduated 665 physicians, all of whom received exceptional training from nine clinical partners and more than 2,500 diverse faculty members. As the anchor to the Phoenix Bioscience Core, which is projected to have an economic impact of $3.1 billion by 2025, the college prides itself on engaging with the community, fostering education, inclusion, access and advocacy.