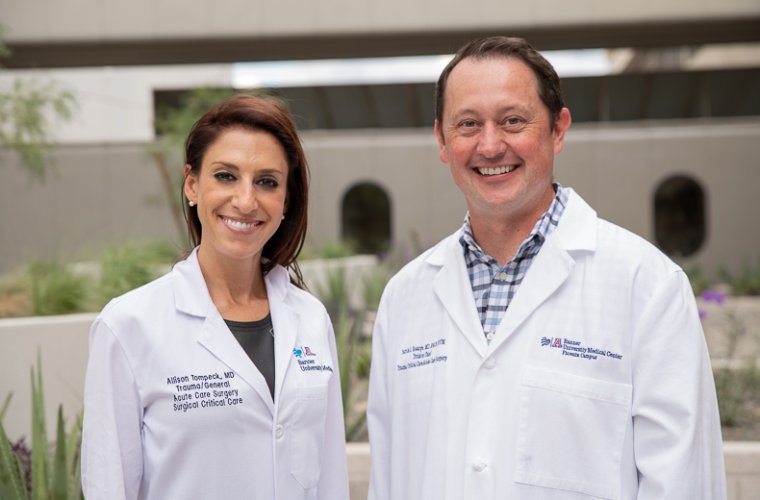 Surgeon Seeks to Improve Patient's Quality of Care with C. Difficile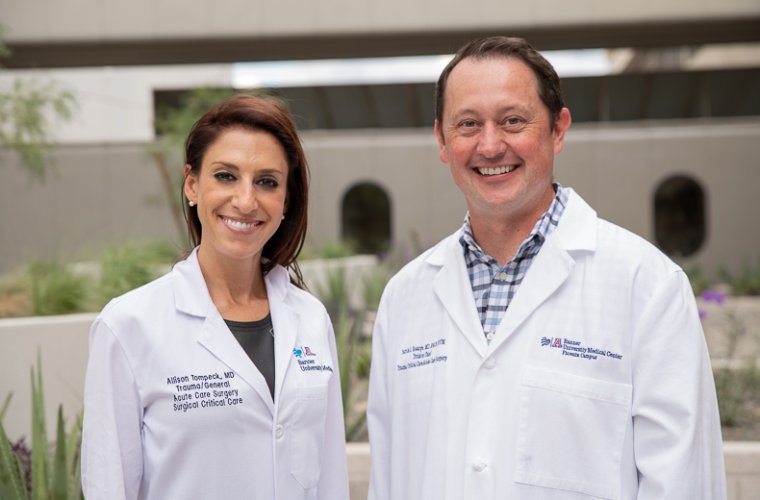 Research Highlight: Allison Tompeck, MD
Allison Tompeck, MD, hopes to change the standard of care for Clostridium difficile (C. diff) patients who undergo loop ileostomy with Vancomycin treatment by incorporating fecal transplantation into the surgical process. Her goal is to improve survival outcomes, length of stay and reoccurrence for C. diff patients.
Dr. Tompeck is an assistant professor of Surgery at the University of Arizona College of Medicine – Phoenix and medical director of the Trauma Surgical Intensive Care Unit at Banner – University Medical Center Phoenix. She is working on a study with Morgan Crigger, MD, a general surgery resident at the college.
Dr. Tompeck discussed her latest research.
What is C. Diff?
C. diff is a spore-forming bacterium that causes colitis and remains the most common cause of health care-associated diarrhea. The infection causes about half a million illnesses each year in people of all ages and it can be deadly.
According to the Centers for Disease Control and Prevention, most cases of C. diff occur after a course of antibiotics. However, other risk factors include being 65 years or older, a recent hospitalization, weakened immune system and previous infection to C. diff. Symptoms develop within a few days or up to several weeks following exposure or antibiotic use, and it is contagious throughout that period.
Explain Your Research
The intestinal microbiome in a healthy adult is beneficial, providing defense against infection. Once the healthy microbiome is lost, C. diff predominates and leads to clostridium difficile-associated disease (CDAD).
For patients with C. diff acquired diarrhea and disease who do not respond to treatment despite adequate antibiotic therapy, there is an alternative treatment known as loop ileostomy with antibiotic lavage.
An ileostomy is a surgical procedure where an opening is created in the abdominal wall. Next, the lowest part of the small intestine, also known as the ileum, is looped through the opening to form a stoma. Over subsequent days, the antibiotic Vancomycin, is flushed into the colon via the ileostomy, targeting the infection.
In addition to this procedure and antibiotic treatment, there is evidence to show that fecal transplantation can restore the body's healthy flora. In our research, we are going to see if adding the fecal transplant to the surgical procedure with Vancomycin lavage will improve outcome measures such as length of stay, time in the ICU and reoccurrence.
Why is This Important?
The incidence of C. diff is rising with the emergence of hyper-virulent strains, which infers an increased mortality risk. We need to find a better solution and improve patient outcomes.
Fecal transplantation has been quite successful in other settings for recurrent disease, as well as for patients with solid organ or bone marrow transplantation. Our study is a bit different, but it has been successful in other places, and we are very optimistic.
What's the Goal?
The goal is simple. We want to improve the mortality rate and quality of life for these patients.
This research is supported by a seed grant awarded by the Department of Surgery at the UA College of Medicine – Phoenix. Over the last year, the department has funded five projects in the department.
About the College
Founded in 2007, the University of Arizona College of Medicine – Phoenix inspires and trains exemplary physicians, scientists and leaders to optimize health and health care in Arizona and beyond. By cultivating collaborative research locally and globally, the college accelerates discovery in a number of critical areas — including cancer, stroke, traumatic brain injury and cardiovascular disease. Championed as a student-centric campus, the college has graduated 745 physicians, all of whom received exceptional training from nine clinical partners and more than 2,600 diverse faculty members. As the anchor to the Phoenix Bioscience Core, which is projected to have an economic impact of $3.1 billion by 2025, the college prides itself on engaging with the community, fostering education, inclusion, access and advocacy.