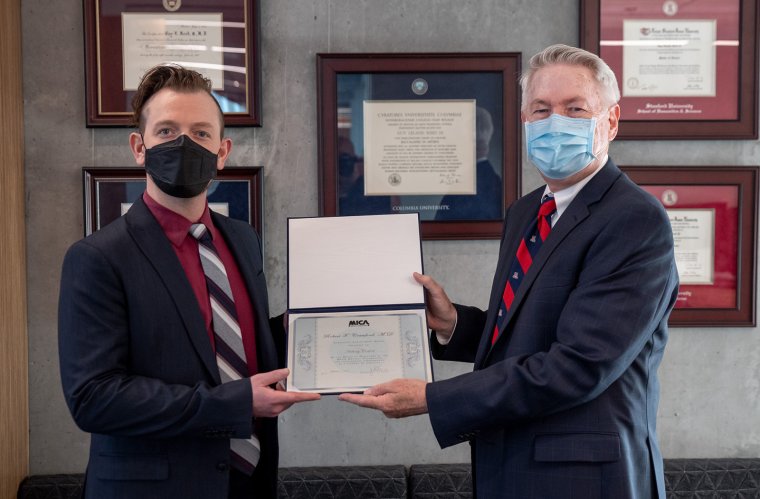 Three Medical Students Receive the 2021 MICA Scholarship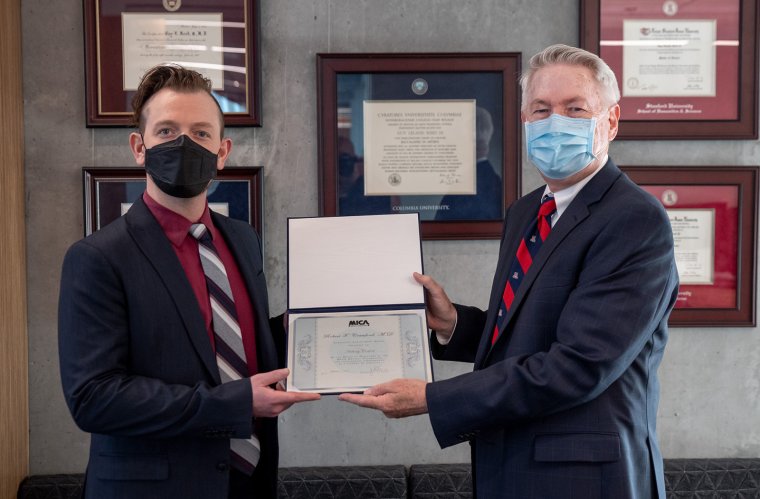 With the costs of medical school training increasing year over year, receiving a scholarship award — especially one you didn't expect — is very special.
When Anthony Conforti, Jordan Powell and Luke Wohlford received emails summoning each of them to meet with Guy Reed, MD, MS, dean of the University of Arizona College of Medicine – Phoenix, they had no idea what the purpose could be. To their surprise, all three Arizona natives and fourth-year medical students received a 2021 Mutual Insurance Company of Arizona (MICA) Medical Foundation scholarship based on academic merit.
Anthony Conforti was awarded the Robert F. Crawford, MD, Scholastic Achievement Award.
"I am very thankful for the support offered by the scholarship and it has already reduced the stress surrounding the financial strain of applying to residency," Conforti said.
Conforti says he was drawn to the medical profession because he witnessed his mother experiencing negative patient outcomes while also receiving suboptimal care and compassion from providers. He hopes to one day serve the community as a "med-ped," or a combined internal medicine and pediatrics physician.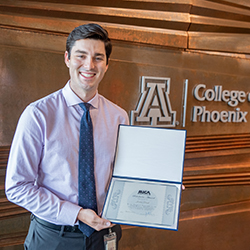 "I find the specialty particularly exciting because as the approaches and therapies for chronic childhood diseases continue to improve, there are a growing number of children surviving into adulthood. I am eager to find my place in this field of transitional care," said Conforti.
The MICA Medical Foundation was established in 2014 by the Mutual Insurance Company of Arizona Board of Directors to provide funding for the education and training of physicians in Arizona. This year's scholarship presentation was held during National Primary Care Week, which highlighted the critical need to train more primary care physicians.
Jordan Powell and Luke Wohlford both received a MICA Medical Foundation Scholastic Award.
"Medical school is extremely expensive, especially as a fourth-year student applying to residency. This scholarship will make it significantly easier to apply broadly and will open doors that I may not have had access to otherwise," said Powell, who plans to specialize in urology, a surgical subspecialty that focuses on the male and female urinary system, as well as the male reproductive system.
"I loved being in the OR during my during my rotations and knew that something surgical was right for me. Urology caught my interest because it has a ton of variety and many of the problems and therapies have a huge impact on a patient's quality of life."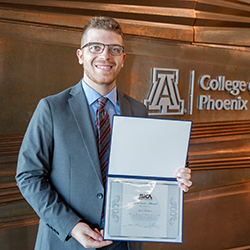 Luke Wohlford, MD/MPH 2022 candidate, 2021-22 editor of The Differential (a student-run publication), EMRA Medical Student Council and co-chair of the National Two-Step CPR, said his first introduction to and love of medicine came from wanting to volunteer for the University of Arizona Emergency Medical Services (EMS). That experience caused him to take an EMT course.
"I took my first public health course and realized how much of an impact health care professionals can make. I was set on medicine from then on," said Wohlford, who graduated with a degree in Physiology at the University of Arizona.
"I'm just humbled by the recognition and grateful to the Foundation for their generosity," said Wohlford. "Any amount of money helps, considering all the student loans. There are a lot of expenses that come with applying to residency and this scholarship will help me cross the finish line."
Topics
About the College
Founded in 2007, the University of Arizona College of Medicine – Phoenix inspires and trains exemplary physicians, scientists and leaders to optimize health and health care in Arizona and beyond. By cultivating collaborative research locally and globally, the college accelerates discovery in a number of critical areas — including cancer, stroke, traumatic brain injury and cardiovascular disease. Championed as a student-centric campus, the college has graduated 745 physicians, all of whom received exceptional training from nine clinical partners and more than 2,700 diverse faculty members. As the anchor to the Phoenix Bioscience Core, which is projected to have an economic impact of $3.1 billion by 2025, the college prides itself on engaging with the community, fostering education, inclusion, access and advocacy.