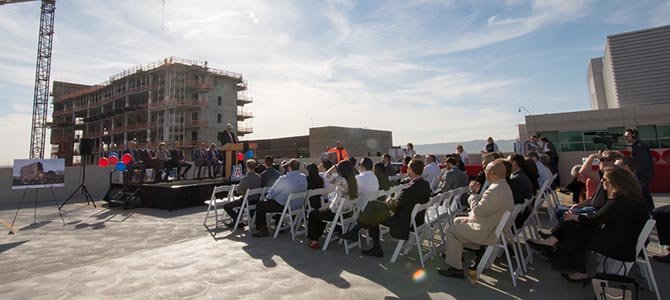 Top Beam Placed on Biomedical Sciences Partnership Building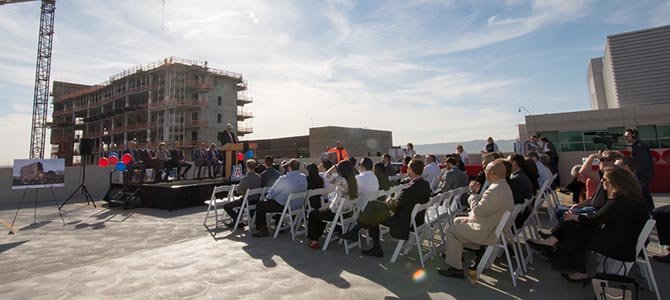 New Building Allows Expanded Partnerships in Health Care Innovation
Watch this video on YouTube
Construction workers whisked the top beam of the Biomedical Sciences Partnership Building from the ground to the 10th story Thursday morning to the delight of 150 onlookers on the University of Arizona College of Medicine – Phoenix campus.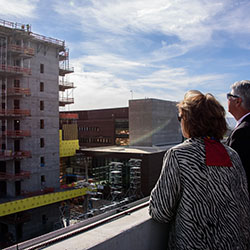 Dignitaries — including University of Arizona President Ann Weaver Hart, PhD, Phoenix Mayor Greg Stanton, Vice Mayor Kate Gallego, and Joe G.N. "Skip" Garcia, MD, Senior Vice President of UA Health Sciences — watched as the beam, with UA, U.S. and DPR • Sundt Construction banners whipping below and a pine tree attached above, was lifted to the top of the $136 million building in downtown Phoenix.
The 245,000-square-foot research building will be a hub for health care and scientific innovation when it opens in early 2017.
"I want to thank the City of Phoenix and Mayor Greg Stanton, and all of our other supporters for their partnership in making this new facility a reality," President Hart said. "I look forward to the great discoveries and innovation that will come from it."
"Today, Phoenix and the UA are one step closer to our shared vision to create a truly world-class and cutting-edge biomedical science hub in our downtown," Mayor Stanton said. "We are partners in so many ways, and your success is our success. I'm proud to be your partner."
Located just north of the Health Sciences Education Building, the new building will be the home for the Center for Applied NanoBioscience and Medicine as part of the Department of Basic Medical Sciences, UA College of Medicine – Phoenix.
Hart said that the interdisciplinary group of scientists and engineers from the Center are already making cutting-edge discoveries with great clinical promise, like the Rapid DNA test, which detects early-stage bacterial infections.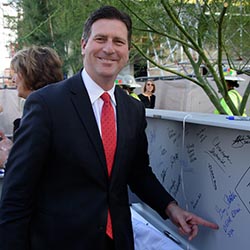 "This addition to the campus will be a tremendous asset to the medical school, but that's not all," Stanton said. "It will also attract researchers from the community and throughout the bioscience industry to come to downtown Phoenix and work with the latest medical technologies."
Dr. Garcia said over the next three years, the University will be recruiting to the Phoenix Biomedical Campus 40 nationally-renowned researchers and physician scientists who will bring expertise in traumatic brain injury, cancer biology, genetics and genomics, human microbiome, regenerative medicine and clinical and translational research.
Bioscience is driving development in District 8, said Vice Mayor Kate Gallego, who represents the City Council district that includes downtown Phoenix. "Companies want to come here to be close to the exciting growth."
Funding for the $136 million building was approved by the Arizona Board of Regents in 2014 using Stimulus Plan for Economic and Educational Development bonds that were approved by the Arizona Legislature in 2008.
Nearly 500 jobs in design and construction were created during the buildout, and another 360 permanent jobs are expected to be created in health care, education and biosciences once the building opens next year.
DPR Construction • Sundt Construction, Inc., a joint venture, managed construction. Architects for the project are CO Architects of Los Angeles and Ayres Saint Gross of Phoenix.
The building is the latest development in the steady expansion of the downtown Phoenix Biomedical Campus and expanding academic medical center. In 2012, the award-winning Health Sciences Education Building opened, housing health education for UA and Northern Arizona University. The University of Arizona Cancer Center at Dignity Health St. Josephs, a 220-square-foot outpatient and research facility, opened in 2015.
The UA has invested nearly $450 million in building projects on the downtown Phoenix Biosciences campus and has built close to one million square feet of capital projects.
The medical school in Phoenix has graduated 205 physicians and has 320 students in training in its continuing mission to address the physician shortage in Arizona. The College of Medicine – Phoenix opened in 2007.
About the College
Founded in 2007, the University of Arizona College of Medicine – Phoenix inspires and trains exemplary physicians, scientists and leaders to optimize health and health care in Arizona and beyond. By cultivating collaborative research locally and globally, the college accelerates discovery in a number of critical areas — including cancer, stroke, traumatic brain injury and cardiovascular disease. Championed as a student-centric campus, the college has graduated 665 physicians, all of whom received exceptional training from nine clinical partners and more than 2,600 diverse faculty members. As the anchor to the Phoenix Bioscience Core, which is projected to have an economic impact of $3.1 billion by 2025, the college prides itself on engaging with the community, fostering education, inclusion, access and advocacy.