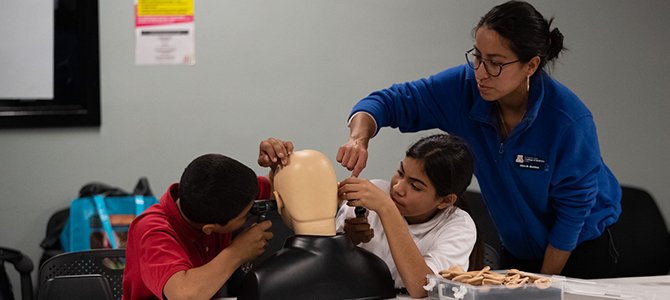 UA Phoenix Partners with PHXteens Mobile Recreation Unit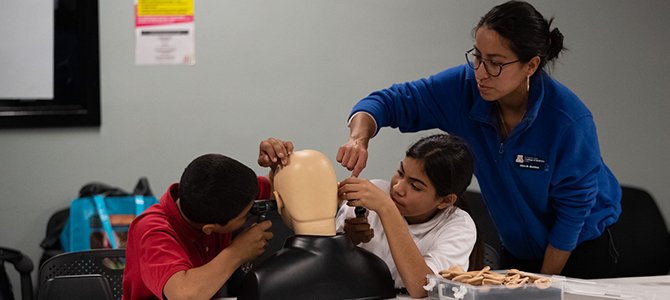 Partnership Exposes Youth to Potential Careers in Medicine through Mobile Education Unit
The University of Arizona College of Medicine – Phoenix Office of Diversity and Inclusion and the City of Phoenix PHXteens Mobile Recreation program are using a mobile activities unit to inspire children in underserved areas to consider careers in medicine.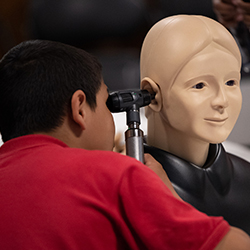 The hands-on, free program is designed for students between sixth and eighth grade. Youngsters have the opportunity to examine the eyes and ears of the college's simulation mannequins, which are used to train medical students. Teens also can listen to the mannequin's heart, check vital signs and blood pressure and learn how CPR can save lives.
"We are working with underserved and underrepresented populations that don't have the opportunity to have doctors as mentors," said Sonji Muhammad, assistant director of Diversity and Inclusion at the college. "Studies have shown that we need to start as early as possible to get children interested in medicine. We are hoping that this mobile activities program helps inspire more teens to learn and pursue careers in health care."
This is a pilot program with limited availability of 15 students per session. There have already been two sessions, and a third one is scheduled for April 22 from 3:30 to 5:00 p.m. at the Luke Krohn Housing Office, 1940 ½ E. Villa St., Phoenix.
"The program is only blocks away from our medical school," Muhammad said. "We want to build our presence within the community and inspire children to become interested in these careers, so maybe one day they will go through one of our pipeline programs."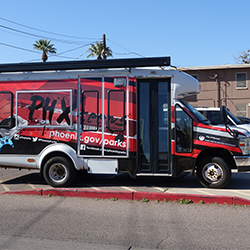 The mobile medical program is designed as an afterschool program. The idea is for it to become one of the five education units that the PHXteens Mobile Recreation program uses to educate teens. The other themes include STEM, gaming, sports, as well as arts and culture. The unit travels to 16 city parks throughout the Phoenix area Mondays through Thursdays.
Medical students from the College of Medicine – Phoenix and community physicians are volunteering their time to teach the students various medical activities like suturing and tying surgical knots. They include:
Alina Martinez, MS1.
Hamed Alattar, MS1.
Philip Maykowski, MS2.
Tory Prynn, MS2.
Sarah Loh, MS3.
Brittane Parker, MD.
Cheri Foxx, MD.
Ronald Wheeler, MD.
"This is a great opportunity for the youth to gain exposure in the medical field whether they are suturing or taking vitals," said Shawnte Johnson, recreation coordinator for the Mobile Recreation program. "The goal is to engage the youth and show them what a career in medicine could potentially look like. Hopefully, this will spark some interest in the future generation of health care providers."
The College of Medicine – Phoenix has several pipeline programs for Arizona residents who desire to introduce them to a career in medicine. They include the Pathway Scholars Program, designed for college graduates who have experienced unique or greater than average challenges in preparing to become competitive medical school applicants. The college also offers health care exploration programs for high school students through its Summer Scrubs and Saturday Scrubs programs.
About the College
Founded in 2007, the University of Arizona College of Medicine – Phoenix inspires and trains exemplary physicians, scientists and leaders to optimize health and health care in Arizona and beyond. By cultivating collaborative research locally and globally, the college accelerates discovery in a number of critical areas — including cancer, stroke, traumatic brain injury and cardiovascular disease. Championed as a student-centric campus, the college has graduated 669 physicians, all of whom received exceptional training from nine clinical partners and more than 2,600 diverse faculty members. As the anchor to the Phoenix Bioscience Core, which is projected to have an economic impact of $3.1 billion by 2025, the college prides itself on engaging with the community, fostering education, inclusion, access and advocacy.