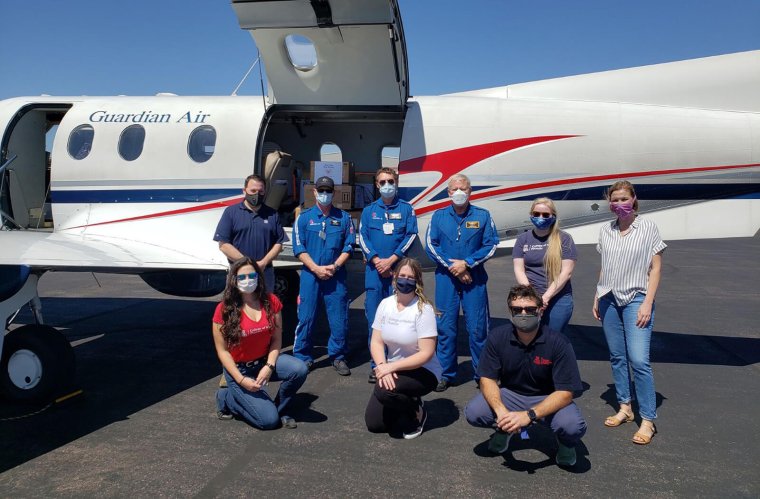 UArizona College of Medicine Receives PPE Donations to Assist Health Care Workers of the Navajo Nation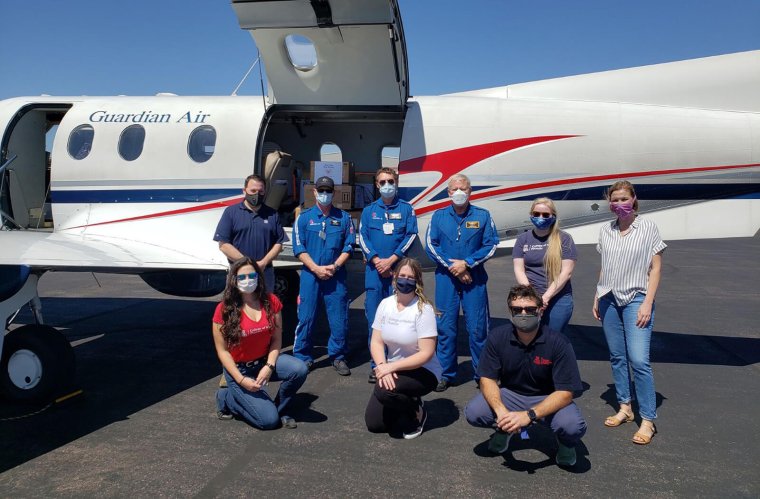 College of Medicine – Phoenix Receives Donations from Los Altos Robonaut Students and AMWA to Support Native American Community
Nationwide, health care workers continue to face shortages of personal protective equipment (PPE). The American Medical Women's Association (AMWA) has joined efforts with The Robonauts, a 501©(3) founded organization, to teach STEM and leadership skills to young learners; to help provide 200 3-D printed face shields; 100 one-time use face shields (donated by Dinsmore); 350 surgical masks and 96 cloth masks (donated by Taiwan through Ambassador HE Lily Hsu of TECO and AMWA leader Padmini Murthy, MD) to the Navajo Nation with the University of Arizona College of Medicine – Phoenix's Operation Pegasus project. The project will provide PPE to health care workers in the Navajo Nation who have been hit hard by COVID-19.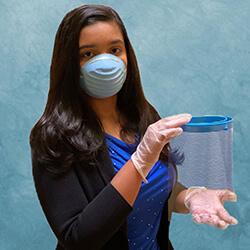 Donations are being delivered via air and ground to Window Rock, AZ; Kayenta, AZ; Gallup, NM; White River, AZ; the Tséhootsooí Medical Center in Ft. Defiance, AZ; Chinle Comprehensive Health Center in Chinle, AZ and Tuba City Indian Medical Center in Tuba City, AZ.
As of June 2, the Navajo Nation has seen 5,533 positive COVID-19 cases — with 252 deaths.
AMWA leader and one of the COVID-19 Student Service Corps leaders, Nicole Segaline, a fourth-year medical student at the College of Medicine – Phoenix,  said, "Our mission at the University of Arizona College of Medicine – Phoenix COVID-19 Student Service Corps (CSSC) is to support Arizona health systems and their patients, workforce and communities facing the COVID-19 pandemic. We have created a collaboration between multiple graduate and undergraduate programs throughout Arizona to bring students together to help during these times. We currently have 22 programs up and running — with over 150 volunteers. These programs include PPE projects, food and resource programs, education projects, helplines, epidemiological projects, research, along with community outreach."
Operation Pegasus is an initiative to deliver medical and non-medical supplies to the Navajo Nation. To date, they have moved large shipments of PPE through their partnership with Guardian Air Transport, who has donated their crew, aircraft and time to deliver these items. They have made eight flights that have delivered more than 1,500 lbs. of critical PPE to the Navajo Nation, Hopi Nation and Gallup, NM. They helped move another 5.5 tons of donations via ground travel. All of these donations were obtained from local and corporate donors or made by members of the CSSC's COVID-19 Innovation Team.
Segaline adds, "Through these flights, the leaders of this project have developed a strong relationship with the Attorney General Doreen McPaul of the Navajo Nation. Just last week, she asked for our assistance in helping move a large donation from the Korean Ministry of Patriots and Veterans Affairs in honor of the members of Navajo Nation who served in the Korean War. In less than 48 hours, we helped coordinate the transport of 10,000 N95 masks, along with 3.9 tons of food and water donated by the Arizona Korean Association and the Republic of Korea. Additionally, we were approached by the University of Arizona College of Medicine – Phoenix Internal Medicine Residency program to co-host a donation drive. In less than one week, we received more than 2,200 lbs. of donations, which were driven to Kayenta, AZ." She added, "We currently have another 500 lbs. of donations that will be driven or flown up to Navajo Nation in the coming week. We are also assessing the needs of our other rural communities in Arizona and will be sending PPE to areas in need."
AMWA's partnership with The Robonauts was launched by Michelle Benedict, director of Research and Development at AMWA, who also helped accelerate 3-D PPE printing efforts at the University of Michigan Medical School. Benedict commented, "During this pandemic, we have been continually impressed by our dedicated, creative AMWA members and specifically the CSSC's ability to mobilize so many resources in such a short amount of time to respond to the critical needs of the Navajo Nation. It has been our pleasure to contribute hundreds of face shields and face masks to this rapid response effort. We are continuing to expand our manufacturing collaboration with industry partners to be able to scale to meet the needs of health care providers nationally. This work would not be possible without the many generous financial and supply donations that have poured in globally. Thank you to everyone who has supported our mission of protecting frontline workers and their vulnerable patients."
Sophia Shams, founder of the Robonauts and an AMWA premed member, is also a member of Space Cookies, a First Robotics Competition Team 1868 created through a partnership between NASA and the Girl Scouts. Shams said "The Robonauts feel a profound responsibility in assisting to combat COVID-19 during this critical time. We are thankful to our donors and volunteers who enable us to support our health care heroes. Our team consists of high school and middle school students, volunteering their time to print these much needed PPE. We hope to partner with industry leaders to mass produce these much-needed supplies."
This story was written by Charlotte Tomic, director of public affairs for the American Medical Women's Association.
About the College
Founded in 2007, the University of Arizona College of Medicine – Phoenix inspires and trains exemplary physicians, scientists and leaders to optimize health and health care in Arizona and beyond. By cultivating collaborative research locally and globally, the college accelerates discovery in a number of critical areas — including cancer, stroke, traumatic brain injury and cardiovascular disease. Championed as a student-centric campus, the college has graduated 745 physicians, all of whom received exceptional training from nine clinical partners and more than 2,700 diverse faculty members. As the anchor to the Phoenix Bioscience Core, which is projected to have an economic impact of $3.1 billion by 2025, the college prides itself on engaging with the community, fostering education, inclusion, access and advocacy.