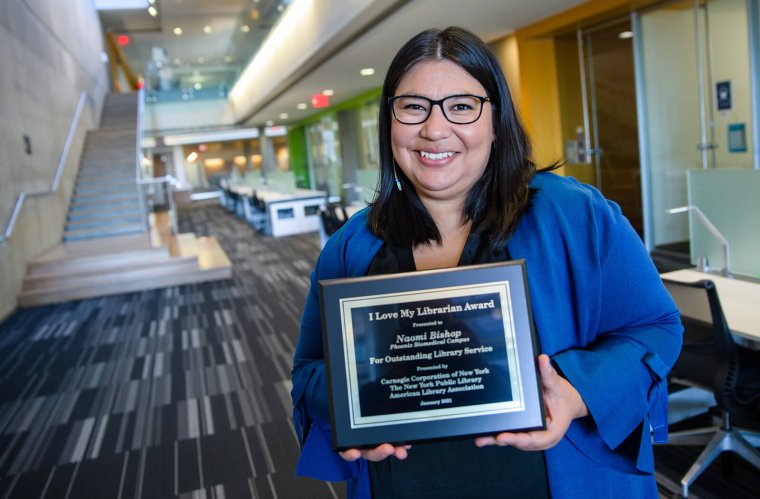 UArizona Health Sciences Librarian Wins Award for Exemplary Work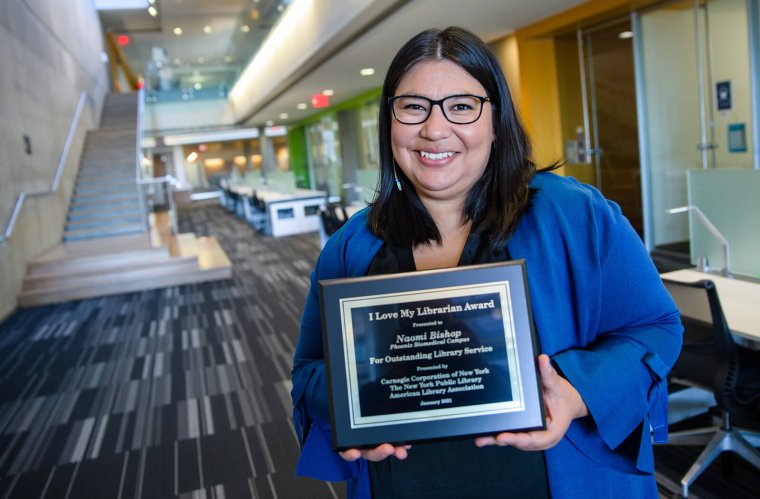 The American Library Association Announces 10 Winners of the I Love My Librarian Award
Every year library patrons across the United States nominate their favorite librarian for the, I Love My Librarian award. The award is presented to 10 deserving recipients by the American Library Association and is sponsored by the Carnegie Corporation of New York.
Naomi Bishop, MLIS, AHIP, Health Sciences librarian with the University of Arizona College of Medicine – Phoenix, was 1 of 10 winners. Bishop was selected for being "a champion for social justice" and providing invaluable research that propelled new safety guidelines during the COVID-19 pandemic.
Early in the pandemic, Bishop was approached by several physicians and community members with questions that directly impacted Maricopa County's safety policies. Bishop's immediate and researched response did not go unnoticed when local policymakers enacted new mandates that corresponded with the information that Bishop provided to them.
"This award is a huge honor, and I am grateful that the UArizona College of Medicine – Phoenix faculty and staff have recognized me. I feel appreciated and thankful to work with so many amazing faculty, staff and students. I was surprised to be nominated and selected," said Bishop. "It was also rewarding to see just how much physicians and students and the public needed information, and how I could be an important resource during this global pandemic."
Each award recipient receives a cash prize of $5,000 and $750 for their library in recognition of their outstanding community work. This year the library association received 1,865 nominations.
"She is hands down one of the best librarians I have ever worked with in my academic medicine career with regard to collaboration on education, research and grant proposal projects," said Jennifer Hartmark-Hill, MD, director of the University of Arizona College of Medicine – Phoenix Narrative Medicine Program.
In addition to her invaluable research, Bishop also delivered easy access to e-textbooks and academic workshops, implemented a virtual game night for students and held virtual summer story time sessions for staff and their young children. Bishop's continued dedication to library work is unmatched and this recognition is well deserved.
"Ms. Bishop takes time to learn about who we are and what we need, and she continuously explores the literature to locate resources that not only expand our knowledge, but build our community," said Gina Touch-Mercer, PhD, assistant professor in the Departments of Psychiatry and Family, Community and Preventive Medicine.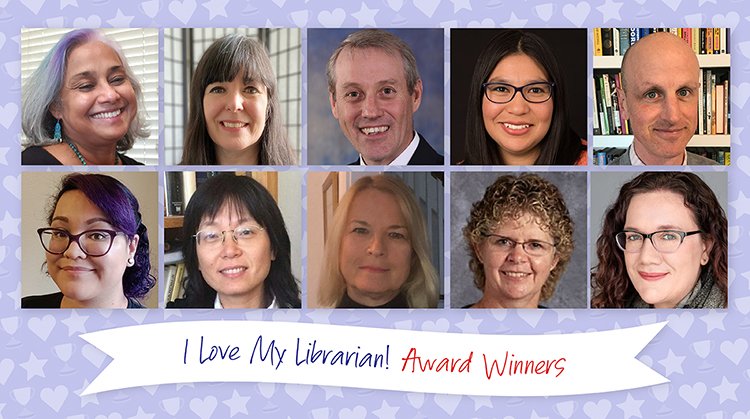 See the complete list of award winners and watch the full ceremony
About the College
Founded in 2007, the University of Arizona College of Medicine – Phoenix inspires and trains exemplary physicians, scientists and leaders to optimize health and health care in Arizona and beyond. By cultivating collaborative research locally and globally, the college accelerates discovery in a number of critical areas — including cancer, stroke, traumatic brain injury and cardiovascular disease. Championed as a student-centric campus, the college has graduated 669 physicians, all of whom received exceptional training from nine clinical partners and more than 2,600 diverse faculty members. As the anchor to the Phoenix Bioscience Core, which is projected to have an economic impact of $3.1 billion by 2025, the college prides itself on engaging with the community, fostering education, inclusion, access and advocacy.