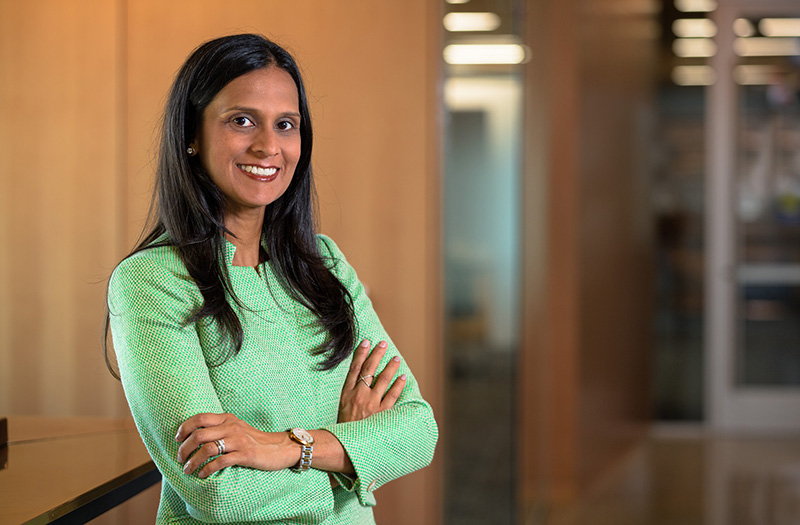 Women in Medicine: Trailblazers, Advocates and Leaders - Lisa Shah-Patel, MD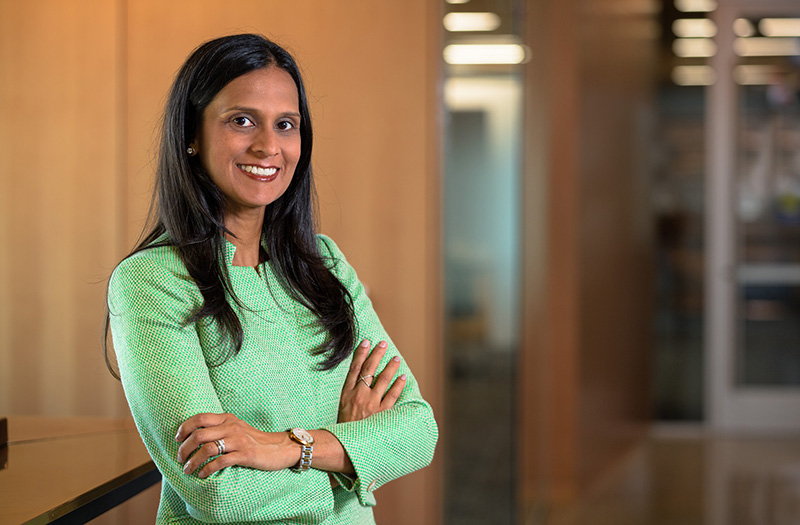 In honor of this year's Women in Medicine and Science theme, "Women in Medicine: Trailblazers, Advocates and Leaders," the College of Medicine – Phoenix has asked a few faculty to share their inspiring stories about female physicians or scientists who helped advance their career.
Lisa Shah-Patel, MD, is director of Career and Professional Advising at the University of Arizona College of Medicine – Phoenix and is a breast imaging radiologist.
Tell Us About Your Career
I completed medical school at UCLA followed a by Diagnostic Radiology Residency at St. Luke's Roosevelt Hospital in New York City. My husband and I then moved to Arizona, where I pursued a fellowship in Breast Imaging at Mayo Clinic in Scottsdale. Since then, I have worked as an independent contractor focusing on breast imaging. In this role, I read screening and diagnostic mammograms and perform ultrasound and stereotactic guided core biopsies. My passion toward breast imaging arose when I realized that this field of radiology would allow me to do procedures which I love doing and have continuous interaction with patients.
Breast imaging can be a very emotional experience for patients and thus, I strongly believe in speaking to the patient and creating a strong connection and understanding with the patient. As I pursued breast imaging, I also realized that I was missing that interaction with students, that mentorship and guidance that I wanted to provide students entering the medical field.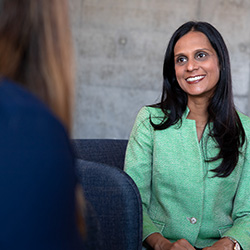 So in 2014 I joined the College of Medicine – Phoenix family on a volunteer basis first as an Multiple Mini-Interview (MMI) reviewer, Case-Based Instruction (CBI) facilitator and reflective writer reviewer. Shortly thereafter, I joined Student Affairs as a career and professional advisor and now am the director of Career and Professional Advising. Both my roles as a breast imaging radiologist and as director of Career and Professional Advising allow me to take part in the best of both worlds. I want to provide the best care possible to patients and the best guidance and support to students while maintaining empathy and compassion for both.
One thing I have learned through my journey in medicine is that you must have "someone" on your side: someone to bounce ideas off, someone who has a shoulder you can use, someone who has your back. My "someones" are my husband Rudy and my wonderful daughters Neha, 10, and Neela, 7.
Do You Have a Story That Shows the Difficulties Female Physicians Face?
I remember this like it was yesterday. I was in fellowship, pregnant with my first child. I planned to work until I delivered in order to have the most time with my baby after delivery. I was at the doctor's office for my routine checkup at 35 weeks and she said I needed to go straight to the hospital. She said the baby had fallen off the growth chart and that the risks of waiting to deliver were far more dangerous than delivering preterm. I was in tears. I was scared for not only my baby's health, but also for my fellowship. This was not in the plan — the plan we physicians so meticulously have on how things should be done and how things should go. We all know that female physicians have never-ending lists and a plan for everything that needs to get done as a doctor, wife, mommy, friend and colleague.
In the end, it all worked out. My daughter was born healthy and beautiful and is now keeping me busy at age 10. But that is not where the story ends. This story holds such weight in my heart. I returned to fellowship after about 12 weeks and worked my tail off. The balance of trying to learn as a fellow, find time to pump as a mother and go home and read as a doctor were all very real and all very trying. Needless to say, I got through that year. I sat at my graduation dinner with my co-fellows (one of whom also delivered a few weeks after me) only to hear one of the male attendings say that it was unfortunate that I decided to have a baby and miss part of my fellowship. I sat flabbergasted. My baby is a blessing!
This was not too long ago, so I cannot even say "that's how it was back in the old days." This situation not only made me angry and sad at the same time, but made me realize that I never wanted to be like that. I want to support my colleagues, peers, students and mentees in such a way that they can see that life does not stop even when we are in medicine. It will go on around us, and we have to learn to adapt, balance and prioritize what is important to us.
How Did You Forge Your Own Path?
In my role as director of Career and Professional Advising, I have many female students who discuss with me their future roles as wives and mothers. I think back to my decisions. I knew I always wanted a family, but never knew the right time to start. Actually, there was no right time. I often discuss with my advisees the importance of them choosing something they will be passionate about, that they love doing. Not every specialty will allow someone to easily balance real life, but there is a way to cater to a person's values and desires. My story did just this.
I became a radiologist, as I loved putting the puzzle together and figuring out the story from pictures. I love interacting with patients and doing procedures. But after I had my children and did some soul searching, I also realized that I wanted to be there for school drop off and pick up, wanted to be at basketball practices and wanted to help with homework in the evenings. I wanted to be there for them without giving up my career. After quite a bit of introspection and self-reflection and being in the right place at the right time, I found my home at the College of Medicine – Phoenix. I had no one to tell me how to make this work — how to make radiology and academia work together. I am still trying to figure it all out, but I know what I want. I know I want the best of both worlds and will continue to forge this path.
Parting Words of Advice
Stay true to yourself and your values and find your passions. Being a female physician has its own stressors, but it also can have its own joys. The joy of being a leader, mentor and advocate for those women who surround us and help each other grow and develop is a privilege. Grow yourself and help others grow as well.
Throughout the month of September, we will be celebrating and highlighting the important work of women scientists, clinicians, educators, mentors and leaders in academic medicine. They will share their empowering stories about female physicians and scientists who helped shape their careers in medicine and paved the way for the next generation of trailblazers in academic medicine.
About the College
Founded in 2007, the University of Arizona College of Medicine – Phoenix inspires and trains exemplary physicians, scientists and leaders to optimize health and health care in Arizona and beyond. By cultivating collaborative research locally and globally, the college accelerates discovery in a number of critical areas — including cancer, stroke, traumatic brain injury and cardiovascular disease. Championed as a student-centric campus, the college has graduated more than 800 physicians, all of whom received exceptional training from nine clinical partners and more than 2,700 diverse faculty members. As the anchor to the Phoenix Bioscience Core, which is projected to have an economic impact of $3.1 billion by 2025, the college prides itself on engaging with the community, fostering education, inclusion, access and advocacy.