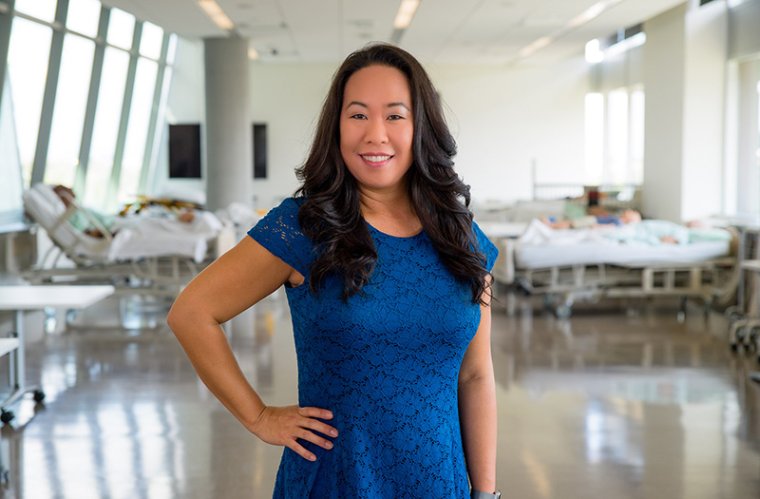 Women in Medicine: Trailblazers, Advocates and Leaders - Teresa Wu, MD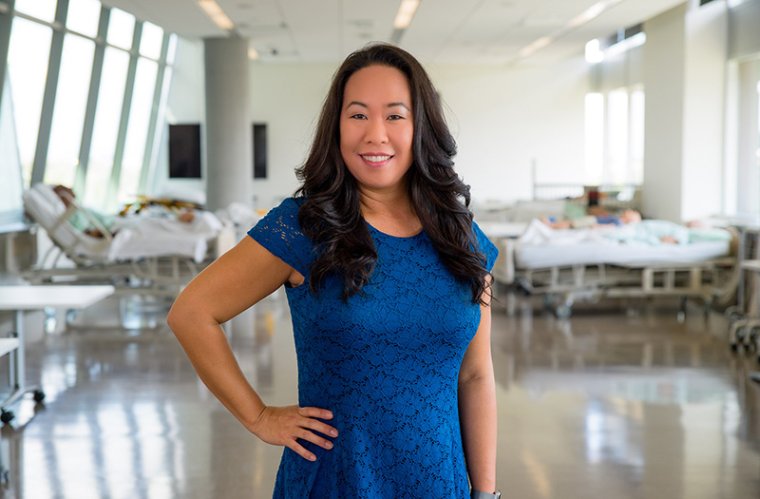 In honor of this year's Women in Medicine and Science theme, "Women in Medicine: Trailblazers, Advocates and Leaders," the College of Medicine – Phoenix has asked a few faculty to share their inspiring stories about female physicians or scientists who helped advance their career.
Teresa Wu, MD, grew up in Phoenix, Arizona and has always wanted to return to the Valley to help advance medical education and improve patient care for our community. Upon receiving her Bachelor of Science from the University of Arizona, she was granted the Dean's Scholarship to the Johns Hopkins School of Medicine, where she earned her Doctorate of Medicine. Dr. Wu completed her Emergency Medicine residency, followed by fellowship training in both Simulation and Emergency Ultrasound, at Stanford University. She is currently the director of the Simulation Curriculum, and an associate professor in Emergency Medicine at the college. In addition, she manages a multi-disciplinary team of clinicians and educators and has overseen the development of one of the most advanced, longitudinal and experiential simulation curricula in the country.
Over her career, Dr. Wu has mentored and taught medical students, residents and fellows as an associate program director in Emergency Medicine programs, and has started fellowship programs in both Simulation and Point-of-Care Ultrasound across the country. Dr. Wu currently serves as the director of Simulation for the American College of Emergency Physicians (ACEP), and has been invited as the honored keynote speaker for numerous international conferences and corporations. Dr. Wu's innovative research and publications have led to advances in medical simulation, education and point-of-care ultrasound.
Growing Up, Did You Have a Role Model or Mentor Who You Learned From or Admired?
I was very fortunate to have found excellent mentorship and guidance throughout my life and my career. I lost my father to lung cancer when I was only nine years old, and my brave and resilient mother was left to raise three young children by herself. She taught us the value of dedication and hard work, and instilled incredible passion and perseverance in all three of us. Because we came from so little, we knew that we had to work extra hard and be flexible and creative to achieve our goals in life. I have always been described as a dreamer who likes to solve problems. I learned at a very young age that you sometimes have to forge your own path and surround yourself with people who believe in you and share a similar mission.
How Have You Used Your Own Experience to Provide Guidance to a Trainee or Mentee?
As a leader and mentor, I have tried to pay it forward and promote those around me who share my passion for collaboration and innovation. My goal is to improve the lives of those who have been in my presence, and to leave a positive, lasting impact in my absence. I hope to inspire future generations and show them that you can do anything you put your mind to.
Because I lost my father to cancer at such a young age, I have dedicated my life toward my mission of improving health care for everyone. I do not want others to feel the pain and suffering my family endured secondary to my father's misdiagnosis and death. Through innovation and inspiring leadership, I hope to unite promising, talented individuals and institutions to achieve my vision for safer and more effective health care.
Throughout the month of September, we will be celebrating and highlighting the important work of women scientists, clinicians, educators, mentors and leaders in academic medicine. They will share their empowering stories about female physicians and scientists who helped shape their careers in medicine and paved the way for the next generation of trailblazers in academic medicine.
About the College
Founded in 2007, the University of Arizona College of Medicine – Phoenix inspires and trains exemplary physicians, scientists and leaders to optimize health and health care in Arizona and beyond. By cultivating collaborative research locally and globally, the college accelerates discovery in a number of critical areas — including cancer, stroke, traumatic brain injury and cardiovascular disease. Championed as a student-centric campus, the college has graduated 745 physicians, all of whom received exceptional training from nine clinical partners and more than 2,600 diverse faculty members. As the anchor to the Phoenix Bioscience Core, which is projected to have an economic impact of $3.1 billion by 2025, the college prides itself on engaging with the community, fostering education, inclusion, access and advocacy.