Zana Alattar Selected as Class of 2020 Student Commencement Speaker
Fourth-Year Medical Student Picked by Her Peers to Deliver Student Speech for Virtual Graduation Ceremony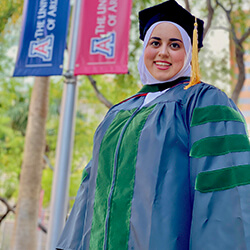 Fourth-year medical student Zana Alattar was chosen by her classmates to deliver the student graduation speech at the University of Arizona College of Medicine – Phoenix Class of 2020 Virtual Commencement Ceremony on May 11.
Alattar attended Desert Mountain High School in Scottsdale and completed her undergraduate degrees at Arizona State University in Biochemistry and Justice Studies. She is one of the 30 College of Medicine – Phoenix students that met the requirements to graduate early and join the fight against COVID-19.
After working at a telemedicine company called MeMD to handle questions about COVID-19, Alattar will be doing her residency in general surgery at the College of Medicine – Phoenix.
How Does It Feel to be Chosen as the Commencement Speaker?
It's a big honor. My classmates could have chosen anyone, and it's very heartwarming that they felt I would be able to represent them in that moment. I love our class, and I have been strongly connected to everyone. It means a lot that they would think of me for this honor.
What Do You Hope Your Classmates Take Away from Your Commencement Speech?
Honestly, I think there are two main things that I hope people will take away. The first, that we are prepared for what is coming our way, despite the nervousness and very reasonable worries about what's to come for us during residency. I want them to remember to be confident in the fact that we have been well-prepared in the last four years.
The second is to always look for that silver lining. Whether it's now or in the future, we are always going to have tough times come our way, but it's so important to be able to take a step back and realize that no matter how hard things get, there's always a silver lining to look forward to.
How Does It Feel to Finally be Graduating?
It feels amazing. It's kind of surreal especially with how everything is playing out. It's been this crazy feeling of 'wow, I made it, I'm done,' but it's exciting to know that there's still so much that lies ahead for me. I'm really looking forward to the next step, but also trying to live in the moment and enjoy what I have accomplished.
How Does It Feel to be Entering the Medical Profession during this Pandemic?
It's nerve-racking. I think there's a little bit of hesitancy from everyone and doubt, because of the circumstances. I think residency programs are doing a great job of placating those nerves and having us realize that everything that normal residents go through, we will go through; and we will have that support system in place. I think it's important to realize that this is a scary time, no matter what. The transition from medical student to residency is a big leap, and it's a lot more responsibility; but we have people supporting us, and we have people that have our backs. Keeping that in mind is important as we step into this next phase.
What has been Your Favorite Memory from Medical School?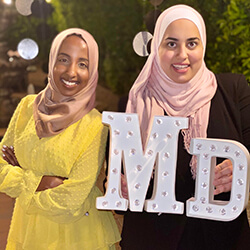 I can't pick a specific memory. Anytime my classmates and I were hanging out and celebrating — whether it was being done with exams or finishing our rotations — were my favorite. There's so many milestones that we went through while in medical school, and we did them all as one big family. Having that comradery is so unique to the College of Medicine – Phoenix. I consider every single one of my classmates someone that I can rely on.
What is Something You Learned at the College That You'll Take with You the Rest of Your Career?
I think one of the big things that the college does well is reminding us of the humanity of our patients. Remembering that those few minutes with your patients, for them, means so much, and that you are so important in their story. That's something that will forever be a learning point and something that I want to integrate into my career — how much of a privilege it is to be able to share those vulnerable moments in patients' lives and be able to be there for them during those times. No matter how ordinary it may seem to us, those moments can be big in the eyes of our patients.
About the College
Founded in 2007, the University of Arizona College of Medicine – Phoenix inspires and trains exemplary physicians, scientists and leaders to optimize health and health care in Arizona and beyond. By cultivating collaborative research locally and globally, the college accelerates discovery in a number of critical areas — including cancer, stroke, traumatic brain injury and cardiovascular disease. Championed as a student-centric campus, the college has graduated 593 physicians, all of whom received exceptional training from nine clinical partners and more than 2,400 diverse faculty members. As the anchor to the Phoenix Biomedical Campus, which is projected to have an economic impact of $3.1 billion by 2025, the college prides itself on engaging with the community, fostering education, inclusion, access and advocacy.