White Coat Profile: Amy Arias
First-Year Medical Student Focused on Primary Care
Meet Amy Arias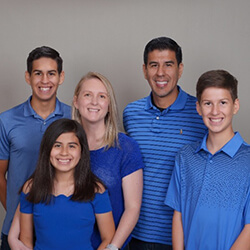 Amy Arias describes her decision to become a physician as a long, winding road. A first-generation college student on both sides of her family, she earned a degree in Political Science with a minor in Spanish from Illinois State University. She met her husband during her first semester of undergrad, calling it love at first sight, and she is now the mother of three children.
Experiencing several health concerns in her family sparked her interest to go back to school. One day, when discussing her program options with her family, Amy remarked, "What I really wish I could do is go back and be a doctor." Her oldest son responded, "But, mom, why can't you?"
"I knew that I wanted to serve in health care, but I really wasn't sure what my options were for going back to school at age 31. It sounds kind of simple, but right then, a light bulb came on. I realized that I was the only one stopping myself from doing what I believed was my true calling," said Arias.
Her son's question set her off on a five-year trajectory to prepare herself with the prerequisite courses she needed to be successful in medicine. She worked as an internal medicine scribe, in cancer clinical research at Mayo Clinic and shadowed her children's pediatrician to better understand her career choice.
She was then admitted to the Pathway Scholars Program, which is designed for students who have experienced unique or greater than average challenges in preparing to become competitive medical school applicants. The valuable skills she learned through the program helped sharpen her study skills and equipped her with the extra foundational knowledge needed for medical school. In May 2021, she completed her master's degree in Medical Studies from the University of Arizona. Amy is one of the few non-science undergraduates to join the 120-student cohort Class of 2025.
"For me, my best option was to find a local school, and I had looked up everything there is to know about all the programs here. I found the Pathway Scholars Program online. I watched videos of the White Coat Ceremony and Commencement on the website as motivation when I would hit obstacles or challenges. Pathway just gave me the extra footing I needed to know what I'm getting into for these next four years," said Arias.
After years of moving around the country with young children — even to Ecuador to teach English in her husband's home country — Amy was conscious of the financial burden medical school would place on her family. Her hard work and determination were rewarded when she was named a recipient of the highly competitive University of Arizona Primary Care Physician Scholarship, which is a four-year, full-tuition scholarship.
The cost of attending medical school has nearly doubled over the last 20 years. According to the National Center for Education Statistics, the average educational debt after medical school is $251,600, which takes approximately 13 years for most physicians to pay back. The latest figures from the Association of American Medical College's annual survey confirm that most medical students borrow under $300,000 — with one in five students' debt load exceeding this amount.
"Honestly, I was in disbelief. The generosity that was poured down on me was a personal affirmation that this journey I started five years ago was what I was really supposed to be doing. I'm just so grateful," said Arias.
For her, the White Coat Ceremony on July 16 is a unique gift, an opportunity to spread positivity and love. As she recites the Class Oath, she will be thinking about her family, who inspire her daily, and of her future patients.
"Physicians are in a position of authority and with that comes a really significant responsibility — a responsibility to not only know the science, but to give each patient one hundred percent, even when we're tired, stressed or going through our own situations," said Arias. She continued, "When I put on that white coat, I want it to remind me that every time I enter a patient's room, I have an opportunity to give them the best of me. I want my patients to know that I care about them and in that really small window of time that I spend with them, they leave the room feeling more cared for, more loved and better able to understand their health."
About the College
Founded in 2007, the University of Arizona College of Medicine – Phoenix inspires and trains exemplary physicians, scientists and leaders to optimize health and health care in Arizona and beyond. By cultivating collaborative research locally and globally, the college accelerates discovery in a number of critical areas — including cancer, stroke, traumatic brain injury and cardiovascular disease. Championed as a student-centric campus, the college has graduated 745 physicians, all of whom received exceptional training from nine clinical partners and more than 2,700 diverse faculty members. As the anchor to the Phoenix Bioscience Core, which is projected to have an economic impact of $3.1 billion by 2025, the college prides itself on engaging with the community, fostering education, inclusion, access and advocacy.