White Coat Profile: Brandon Klor
Hope for the Future
Meet Brandon Klor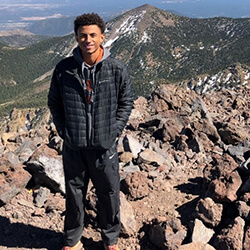 Brandon Klor is a Texas transplant to Arizona. He is the oldest of four children and started a biology undergraduate program at the University of St. Thomas in Houston while playing basketball. In 2017, he moved to Arizona and earned a biology degree at Grand Canyon University in Phoenix. One pivotal encounter with a medical student back in Texas convinced him to pursue medicine.
"I was at my primary care physician's office, and I noticed a young African American woman was shadowing my doctor. She was the one who really inspired me. She told me there's a need and a place for me in medicine and really helped me to see that medicine is definitely something I want to do; and that it's possible." While in college, he worked for the Hozhoni Foundation, which means "completed circle of harmony" in Navajo, in Flagstaff, Arizona. His interaction with patients who had intellectual and developmental disabilities opened his eyes to the need for health care for all patients. Other experiences at HonorHealth provided encouragement that he was making the best decision about his life and future.
"When I moved down to Phoenix, I started working in the emergency department as a patient care technician, and then I did some work in the operating room perioperative areas. That's when I realized there was opportunity for me to make a difference in people's lives," said Klor.
As he neared his decision to apply to medical school, he says his pre-health advisor gave him information about the University of Arizona College of Medicine – Phoenix.
"It was definitely one of my top choices — if not my top choice. Some of the doctors in the medical community around Phoenix also really put it on the map for me. I was super excited when I learned I had been admitted," said Klor.
Another factor, which Klor acknowledges, is the overall shortage of physicians. This shortage is especially pronounced with African American men — who are not very well represented in medicine. He is committed to connecting with all patients, especially those from underrepresented communities.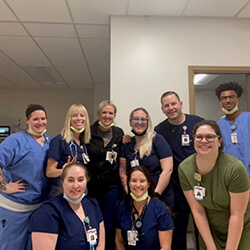 Klor is keeping an open mind about which specialty is the right fit for him and looking forward to doing clinical rotations with various clinical partners. "I'm still open, and I like the concept of helping people as they come through the door just as they are, and in whatever state they're in. That really appeals to me," said Klor.
"You see a lot of people come into the emergency room with illnesses that could be prevented if they had better primary care, sometimes even better specialty care. I'm still pretty open because of how broad the cases are that you see in the emergency department. My experiences have allowed me to keep an open mind about what I want to do in the future," said Klor.
Like his fellow classmates in the Class of 2025, he is excited about participating in White Coat Ceremony. "White Coat Ceremony means a lot to me. The best way to put it is it means hope for the future to make a difference and to have an impact. My goal is to improve the health of the population and the individuals that I treat."
About the College
Founded in 2007, the University of Arizona College of Medicine – Phoenix inspires and trains exemplary physicians, scientists and leaders to optimize health and health care in Arizona and beyond. By cultivating collaborative research locally and globally, the college accelerates discovery in a number of critical areas — including cancer, stroke, traumatic brain injury and cardiovascular disease. Championed as a student-centric campus, the college has graduated 669 physicians, all of whom received exceptional training from nine clinical partners and more than 2,600 diverse faculty members. As the anchor to the Phoenix Bioscience Core, which is projected to have an economic impact of $3.1 billion by 2025, the college prides itself on engaging with the community, fostering education, inclusion, access and advocacy.