White Coat Profile: Kathleen LeFiles
Working as an ER scribe, first-year student was inspired to help those in need
The White Coat Ceremony marks the first time a medical student will don his or her white coat, the defining symbol of a physician. The coat bestows a great honor on each student, and with it comes a responsibility to uphold the trust of every patient they will encounter. The Class of 2026 will receive their white coats on July 15 during a ceremony that begins at 3:30 p.m. at Symphony Hall in downtown Phoenix.
Meet Kathleen LeFiles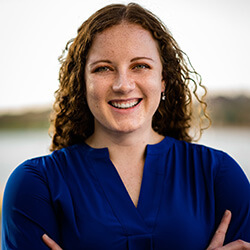 A superhero and coffee enthusiast, Kathleen LeFiles is a 'Wildcat Wonder.' She was raised in Tucson, AZ, and attended the University of Arizona as a physiology major for undergrad. Even prior to that, though, she had discovered an interest in medicine.
It was during her freshman year of high school in biology class, as she was learning about the cardiovascular system. She was absolutely fascinated by the heart's design and function.
That interest fueled her to learn more. And with the unwavering support of her family and friends, she was able to follow that desire to pursue her education all the way to medical school.
Path toward Medicine
What was the spark that led you to become a physician?
I think, for me, my path to becoming a physician has been more of a slow burn, rather than a spark. Even at a young age, I always had a passion to care for and help people. As I grew older, opportunities to aid some key individuals in my life during some tough situations really guided me to want to serve people as a doctor.
This was solidified when I got a chance to work one-on-one with some amazing doctors as an ER scribe. Getting to hear their stories and watch them treat patients, I knew this was something I truly wanted to commit myself to.
The College of Medicine – Phoenix
Why did you choose the College of Medicine – Phoenix?
During my interview, I immediately felt at home at the College of Medicine – Phoenix. I had been searching for a program that would encourage me to be my authentic self and would allow me to shape my learning experience, enabling me to become the physician I've always envisioned myself to be. The College of Medicine – Phoenix is that program! I also just love what UArizona stands for as an educational institution; clearly, I'm a Wildcat for life. Bear Down!
What excites you most about beginning medical school?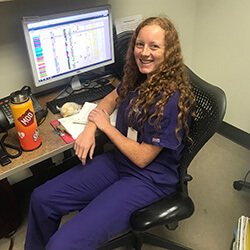 Oh gosh, everything! Medical school is something I've wanted for so long — I'm watching my dream turn into a reality — so I'm excited for every experience coming my way. Call me a nerd, but I'm looking forward to being in classes and learning again. I also can't wait to meet my classmates and the faculty!
Significance of the White Coat
What does the white coat mean to you?
To me, my white coat is an outward symbol of my commitment to dedicate my life to being an integral part of people's health. This is a responsibility I don't hold lightly and will always cherish; I'm deeply honored to be able to wear the white coat and serve people every day.
About the College
Founded in 2007, the University of Arizona College of Medicine – Phoenix inspires and trains exemplary physicians, scientists and leaders to optimize health and health care in Arizona and beyond. By cultivating collaborative research locally and globally, the college accelerates discovery in a number of critical areas — including cancer, stroke, traumatic brain injury and cardiovascular disease. Championed as a student-centric campus, the college has graduated 669 physicians, all of whom received exceptional training from nine clinical partners and more than 2,600 diverse faculty members. As the anchor to the Phoenix Bioscience Core, which is projected to have an economic impact of $3.1 billion by 2025, the college prides itself on engaging with the community, fostering education, inclusion, access and advocacy.