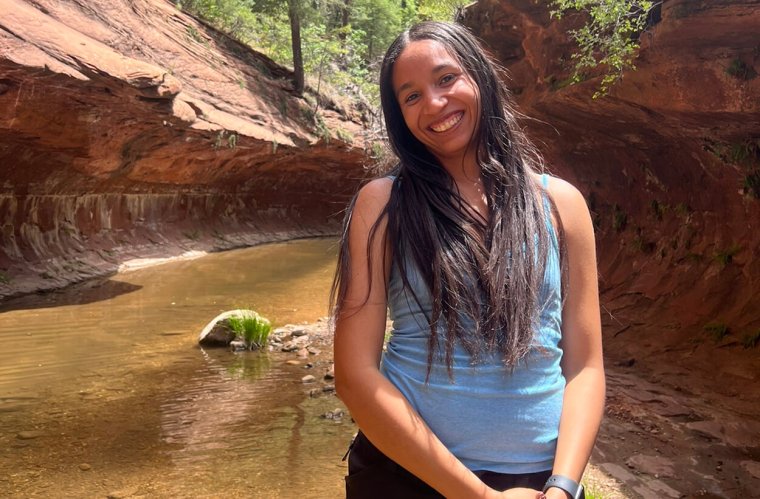 White Coat Profile: Santana Solomon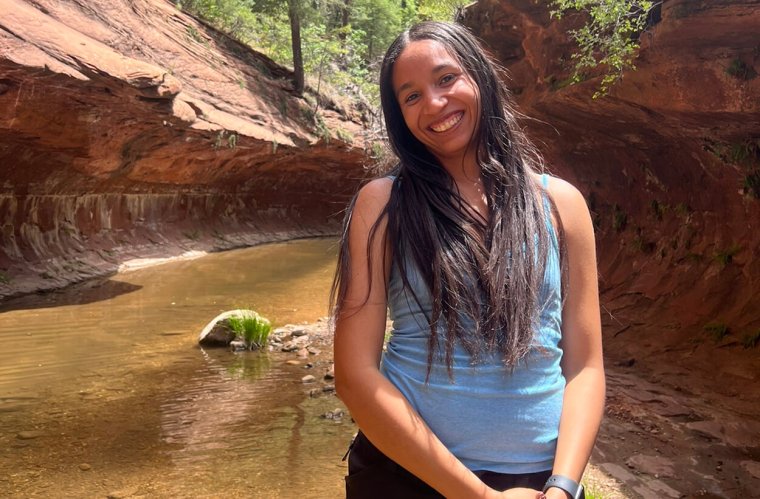 Witnessing medical disparities inspired first-year student to pursue a career in medicine
The White Coat Ceremony marks the first time a medical student will don his or her white coat, the defining symbol of a physician. The coat bestows a great honor on each student, and with it comes a responsibility to uphold the trust of every patient they will encounter. The Class of 2026 will receive their white coats on July 15 during a ceremony that begins at 3:30 p.m. at Symphony Hall in downtown Phoenix.
Meet Santana Solomon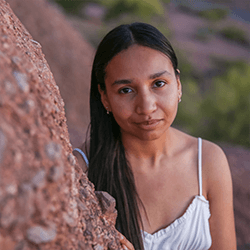 Santana Solomon was born in Washington, but was raised in Buckeye, AZ, where she has lived for most of her life.
Growing up, her parents always supported the various career choices she would dream up, but she always knew that no matter what form her future career would take, she wanted to be of service to others.
As Solomon prepared to begin her undergraduate studies at Arizona State University (ASU), she became more aware of the medical disparities in her hometown, nudging her toward medicine as a career. The idea was further fueled as she met and interacted with great mentors at ASU and was able to engage in her first clinical experiences.
Path toward Medicine
What was the spark that led you to become a physician?
The spark that led me to become a physician was largely non-clinical in nature. I had started an internship with the International Rescue Committee (IRC) in Phoenix at the start of the pandemic doing casework with survivors of abuse, a lot of whom needed access to medical care and mental health care.
In helping support my clients to find health care resources at the IRC or in the community, I was able to see how physicians can make a difference in a patient's life once they receive the care they need, and how this ultimately improved other facets of their lives. This prompted me to seek out clinical experience to fully understand the scope of medicine, but at that point, I knew I wanted to create a safe space for vulnerable members of my community through medicine.
The College of Medicine – Phoenix
Why did you choose the College of Medicine – Phoenix?
I knew I wanted to stay in Arizona due to our unique rural and refugee populations, but I chose the UArizona College of Medicine – Phoenix specifically because I loved my interview day here and could stay close to my friends and family.
What excites you most about beginning medical school?
I promise, I'm not being facetious when I say I'm excited to learn how to be a physician! I have shadowed and volunteered in clinical settings, and I've always been amazed at how physicians can translate their education and apply it to provide personalized care for their patients. It's hard to believe that in four years, I will possess some of those skills to help my own patients someday. I know that I will grow so much during medical school and I'm excited to begin the journey.
Significance of the White Coat
What does the white coat mean to you?
I think the white coat represents social justice and humanitarianism in a unique way. Physicians bear a substantial amount of responsibility in educating the public, increasing access to medical care to those in need and, most importantly, advocating for equitable treatment for all. To me, the white coat symbolizes this responsibility and our capacity to create change in the medical sphere and beyond.
About the College
Founded in 2007, the University of Arizona College of Medicine – Phoenix inspires and trains exemplary physicians, scientists and leaders to optimize health and health care in Arizona and beyond. By cultivating collaborative research locally and globally, the college accelerates discovery in a number of critical areas — including cancer, stroke, traumatic brain injury and cardiovascular disease. Championed as a student-centric campus, the college has graduated 669 physicians, all of whom received exceptional training from nine clinical partners and more than 2,600 diverse faculty members. As the anchor to the Phoenix Bioscience Core, which is projected to have an economic impact of $3.1 billion by 2025, the college prides itself on engaging with the community, fostering education, inclusion, access and advocacy.