Women in Medicine Fighting COVID-19: Clarimar Borrero-Mejias, MD
Pediatric Neurologist Co-Authors Article Advocating for Best Practices and Education on COVID-19
Meet Clarimar Borrero-Mejias, MD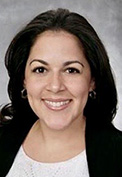 Clarimar Borrero-Mejias, MD, a pediatric neurologist, published an article with a group of nine women from across the country advocating for best practices and education about COVID-19. The article, titled "Eleven Things Not to Say to Your Female Colleagues" was published in Headache: The Journal of Head and Face Pain.
Dr. Borrero is a clinical assistant professor of Child Health and Neurology at the University of Arizona College of Medicine – Phoenix. She has been affiliated with the college since 2015. Among those who contributed to the article include her colleagues Jennifer Robblee, MD, and Courtney Schusse, MD, clinical assistant professors in Neurology, and Rashmi Halker Singh, MD, a neurologist at Mayo Clinic.
Describe your experience working during the pandemic.
The COVID-19 pandemic has proven to be a historical, life-altering event for humanity. While I acknowledge and grieve for the hardships and for the loss, together with my loved ones, my colleagues and other fellow women and men, I recognize that innumerable blessings and opportunities have surfaced and remain ever present during these trying times. I have been inspired by the resolve of women and men, who continue working hard to provide for their families and to care for those who are sick with COVID-19, as well as those who have other acute and chronic illnesses. I am also thankful for people's ability to adapt, innovate and reinvent themselves with the use of individual skills and technology. Telehealth, for example, has been a wonderful tool that has allowed for continued provision of care to patients near and far. Through strategic collaborations, our hospital has remained open, ensuring that the children within our community can continue to receive the best possible care, while at the same time allowing for thousands of employees to keep their jobs.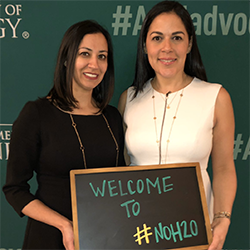 What would you like the community to know about your work during this time as a woman in medicine and science?
To my colleagues and my patients, their families and our community, I say what I tell myself all the time: "Give yourself Grace. Try your best every day and be content, even through failures. When you need to push yourself, show grit. When you're tired, rest. Count your blessings and enjoy the time you spend with your loved ones and with yourself. All will be well."
Tell us about your article and what you hope people takeaway from this.
There were several objectives that led us to write this article. First, our group wanted to highlight the value we place in the serious, rigorous use of the scientific method to study a disease and its therapies. We are guided by an oath to "do no harm" in our practice of medicine, and it was important to note the multitude of nuances that impact interpretation of data and recommendations related to this novel (emphasis intended) coronavirus. We thought it was important to alert our communities to be vigilant about the information they came across, as there have been myriad of claims that are not supported by medical evidence. With that said, given the circumstances, our hope is to encourage all to be cautious and judicious by following practices that have been "tried and true," even before COVID-19 — wear a mask, wash your hands, watch your distance.
Second, it was important for us to advocate for ourselves and other health care professionals who have been facing (still to this day) additional hazards related to this pandemic, specifically related to increased exposure to the virus, lack of adequate protection, increased workplace demands, personal and/or financial losses, amongst others that are shared with everyone else. Finally, we wanted to bring attention to issues related to burnout and the mental health of physicians and health care professionals, who have been facing a crisis related to high suicide rates, among other mental health problems, even prior to this pandemic. By writing this article, we hope to illustrate how to address challenging scenarios assertively and with grace and compassion.
About the College
Founded in 2007, the University of Arizona College of Medicine – Phoenix inspires and trains exemplary physicians, scientists and leaders to optimize health and health care in Arizona and beyond. By cultivating collaborative research locally and globally, the college accelerates discovery in a number of critical areas — including cancer, stroke, traumatic brain injury and cardiovascular disease. Championed as a student-centric campus, the college has graduated more than 800 physicians, all of whom received exceptional training from nine clinical partners and more than 2,700 diverse faculty members. As the anchor to the Phoenix Bioscience Core, which is projected to have an economic impact of $3.1 billion by 2025, the college prides itself on engaging with the community, fostering education, inclusion, access and advocacy.