Women in Medicine Fighting COVID-19: Jennifer O'Hea, MD
Physician Who Provides Care to Critically Ill Patients Discusses Work, Research and Words of Encouragement during Height of Pandemic
In honor of this year's Women in Medicine and Science month, the University of Arizona College of Medicine – Phoenix has asked a few faculty to share their inspiring stories and work that is helping our community through the coronavirus pandemic.
Meet Jennifer O'Hea, MD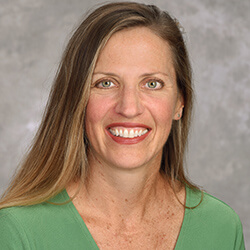 Jennifer O'Hea, MD, has been working the night shifts in the ICU-COVID units during the height of the pandemic in Arizona, seeing some of the most critically ill patients. Despite the emotional and stressful situation for physicians, Dr. O'Hea has been applauded by her colleagues for her, "incredible compassion and work ethic."
Dr. O'Hea, who is a clinical assistant professor in the Division of Pulmonary Medicine at the University of Arizona College of Medicine – Phoenix, has been working at the medical school since 2013. She has been an intensivist for 15 years and has been at Banner – University Medical Center Phoenix for 23 years, since medical school. An intensivist is a board-certified physician who provides care for critically ill patients.
Describe your experience working in the hospital during the pandemic.
​I have seen the best parts of humanity in our nurses, staff and community. People have been so incredibly kind, generous, hardworking, forgiving and uplifting. I am in awe of how physically hard our nurses work in a 12-hour shift, and it might be their fifth or sixth shift for the week. The sadness, I have to say, has been deep and frequent. Families grieving for months for a loved one they cannot see, and patients in pain and delirious with sometimes little hope of recovery. We cling to all the hope like it's a breath — seeing someone wheeled out of the hospital to go home is the reward. In the midst of all the suffering though, we have learned so many wonderful things that we will adopt after COVID — collaboration between specialties, how quickly we can adopt protocols when we work together, the use of telemedicine for our vulnerable populations and a greater understanding of the needs of our Native American population. We owe it to our patients to make health care better because of this.
What words of encouragement or advice do you have for other physicians during this time of uncertainty?
​Keep focusing on the positives. Remember that as a physician, you are a leader, no matter what stage of learning you have achieved. People will look to you — they will watch how you act and what you say. You can be that hopeful, positive example that keeps a team afloat and inspires people to do the right thing.
What would you like the community to know about your work during this time as a woman in medicine and science?
​As a woman in critical care, I now know that I was preparing for this pandemic my whole career. I had mentors who fostered my deep empathy, but challenged me with the toughest patient-care situations, all while teaching me how to protect myself from burnout. They embraced the qualities I brought to the job as a woman and a mother, and because of them, I have been able to tackle each day on the COVID ICU in a way that makes me proud.
Are you conducting any research or community projects that relate to COVID?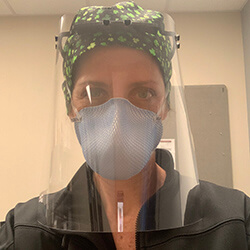 ​Our hospital and ICU has been involved in some research very early on with COVID therapies, including remdesivir, inhaled Nitric Oxide and convalescent plasma. Just as in the AIDS epidemic and other recent viral outbreaks, physicians owe it to the patients we have lost to learn and evolve in our understanding, so that we can save lives — and we must do it quickly, but carefully.
What tips help you during this stressful time?
​Sleep is the key to it all. We can accomplish so much when we are well-rested. My family and I have prioritized sleep, which has allowed me to work nights in the ICU for 15 years. I have also found my tribe — and not just one, but several. Those small groups of people (at work, at home, in our community) that really "get" us, is so important for relieving stress and talking it out. Those people make me want to go back to work and do it better the next time.
About the College
Founded in 2007, the University of Arizona College of Medicine – Phoenix inspires and trains exemplary physicians, scientists and leaders to optimize health and health care in Arizona and beyond. By cultivating collaborative research locally and globally, the college accelerates discovery in a number of critical areas — including cancer, stroke, traumatic brain injury and cardiovascular disease. Championed as a student-centric campus, the college has graduated 669 physicians, all of whom received exceptional training from nine clinical partners and more than 2,600 diverse faculty members. As the anchor to the Phoenix Bioscience Core, which is projected to have an economic impact of $3.1 billion by 2025, the college prides itself on engaging with the community, fostering education, inclusion, access and advocacy.