Women in Medicine Fighting COVID-19: Suma Rao, MD
Neonatologist Creates Algorithms to Improve Patient Experience and Quality of Care in NICU
In honor of this year's Women in Medicine and Science month, the University of Arizona College of Medicine – Phoenix has asked a few faculty to share their inspiring stories and work that is helping our community through the coronavirus pandemic.
Meet Suma Rao, MD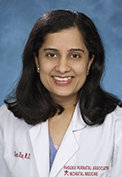 As a neonatologist and medical director of the newborn intensive care unit (NICU) at Banner – University Medical Center Phoenix, Suma Rao, MD, has taken the lead in creating algorithms that improve the patient experience and quality of care for parents and newborns during the pandemic. In addition to her work in creating algorithms for the NICU, Dr. Rao is participating in a national COVID survey and research for NICU patients.
Dr. Rao is a clinical assistant professor in the Division of Critical Care at the University of Arizona College of Medicine – Phoenix and the chief for the Department of Pediatrics at Banner – University Medical Center Phoenix.
Describe your experience working during the pandemic.
The COVID-19 pandemic has been an unprecedented worldwide phenomenon creating challenging circumstances for society as a whole, particularly for the medical profession. It has stretched the hospital systems and personnel to the maximum and compelled us to contemplate, devise and execute plans to combat the novel virus. It has been an extremely stressful, thoroughly exhausting and emotionally draining experience to say the least. Countless hours were spent in accumulating, processing and organizing the available information, especially as there was a paucity of literature at the outset regarding pregnant women and newborn babies. It took a tremendous amount of effort to keep up with the ever-evolving recommendations from the Centers for Disease Control and Prevention (CDC) and the specialty academic societies, all while continuing to provide the best care for our babies and their families.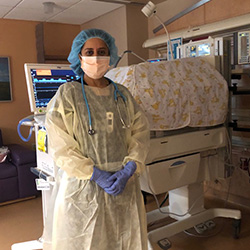 What advice or words of encouragement do you have for other physicians during this time of uncertainty?
The medical teams throughout the country and worldwide have done a phenomenal job of taking care of people affected by COVID-19. Everywhere I look, the scenes are filled with humanism, compassion and acts of heroism depicting the epitome of the medical profession. Each and every individual has poured their heart and soul into taking care of patients. We need to draw strength from standing together as a team, lean on each other for support and take solace in the fact that we have given our all to provide the best care for our patients; and even if we saved one life, it is worth the world to that family. Although many have perished, countless more have survived, because of our dedication and resilience in the face of calamity. We need to move forward knowing that tomorrow will be better than today.
What would you like the community to know about your work during this time as a woman in medicine and science?
As the medical director of the NICU and chief of the Department of Pediatrics at Banner – University Medical Center Phoenix, I have been fortunate to lead a team of neonatologists and pediatricians, nurses and allied health professionals to prepare, strategize and execute care plans for the newborn nursery and NICU patients related to COVID-19. I had the opportunity to partner with other health professionals such as obstetricians, fellow physicians, infection prevention teams and hospital administration. We put forth strategies to prevent the spread of COVID-19 to babies. We created protocols, based on CDC and American Academy of Pediatrics recommendations, for safeguarding and optimizing care for babies with regards to COVID-19 in the NICU and the newborn nursery. These protocols were implemented throughout the Banner Hospital systems in Arizona and Colorado. Educating the care team and the families has played a key role in our success in minimizing risk to our vulnerable population.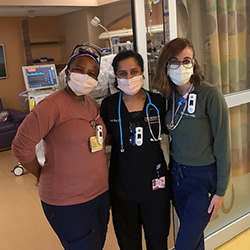 How has the pandemic changed your practice?
I am a neonatologist, a member of Phoenix Perinatal Associates – Neonatology Division of Mednax, working in a large level 3 NICU, and I help care for some of the smallest and desperately ill newborn babies. The schedule is grueling, working long hours, day and night, alongside other neonatologists, dedicated nursing staff and allied professionals, to provide the best possible care for our tiniest of patients. Pregnancy is a time of excitement and anticipation for most parents, and any outcome that is less than perfect shatters their dream. By providing care to these babies, I play a small part in restoring the parents' hopes, dreams and aspirations for their newborn. To me, this is the most rewarding and satisfying aspect of my job. In addition, I have the opportunity to teach pediatric residents from Phoenix Children's Hospital and medical students from University of Arizona School of Medicine – Phoenix.
The COVID-19 pandemic has changed the rules of the NICU for everyone involved, including the parents of hospitalized babies. Every member of the team is on high alert when a mom presents in labor to the delivery room — donning and doffing Personal Protective Equipment (PPE), following special protocols and procedures to keep the babies safe, testing babies for COVID as indicated. Limitations have been placed with regards to visitors — including research personnel, medical students and volunteers — to the NICU, except for parents. We had to devise alternative methods to maintain the educational experience for residents and medical students. Several hours of my day have been spent in attending meetings, researching literature on COVID-19, educating, answering questions and allaying anxiety experienced by staff, colleagues, pediatricians and families.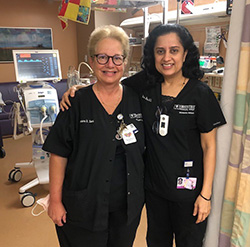 Describe the algorithms you've created for the neonatal team and NICU.
The COVID-19 pandemic has taken everyone by surprise and early on, there was very little known about the disease and its impact on pregnant women, the unborn fetus and the newborn baby. Amidst the fears and uncertainty, we had to create a guideline for the hospital with regards to handling newborns and babies in the NICU.
A systematic and uniform approach is extremely important in order to achieve the best outcomes and prevent the spread of the disease in the vulnerable NICU population. Based on current evidence — as put forth by the CDC and American Academy of Pediatrics, and working closely with the infection prevention team and hospital administration— we created several algorithms to address different aspects of care for babies starting in the labor and delivery room, progressing to newborn nursery or the NICU.
The algorithms involved an easy to follow flowchart that describes the cascade of steps to be taken when encountering a COVID-19 suspected or positive mother/baby or NICU baby. These algorithms were revised as and when new evidence became available. These protocols were implemented in all the Banner Hospitals and the information was disseminated among the pediatricians and neonatologists, thus establishing a standardized approach and minimizing variability in evaluation and care of babies with respect to COVID-19. This was of tremendous assistance to busy physicians to stay current with the latest guidelines, and continue to provide safe and excellent care to their patients and families.
Can you describe your involvement with a national COVID survey and research for NICU patients?
As the pandemic began, there was a dearth of information regarding COVID-19 and its effects on pregnant mothers and their unborn fetuses, as well as in full-term and premature babies. It quickly became apparent that the best way to obtain this information is to participate in a national COVID-19 registry and research surveys from around the country.
As more and more states started experiencing spikes in the number of cases, several hospitals and NICUs started collecting data on incidence, clinical severity, treatment options, antiviral medications, risk factors, modes of viral spread and complications associated with COVID-19.
In order to advance the efforts of the scientific community, we decided to participate in the national COVID-19 registry and research surveys. The collective knowledge gained has provided us and other NICUs with directives in the best patient care management strategies and dispelled many myths surrounding the disease. New data keeps emerging every day and we hope to continue to participate in research projects and gain in-depth knowledge of the disease and better prepare for the future.
About the College
Founded in 2007, the University of Arizona College of Medicine – Phoenix inspires and trains exemplary physicians, scientists and leaders to optimize health and health care in Arizona and beyond. By cultivating collaborative research locally and globally, the college accelerates discovery in a number of critical areas — including cancer, stroke, traumatic brain injury and cardiovascular disease. Championed as a student-centric campus, the college has graduated 669 physicians, all of whom received exceptional training from nine clinical partners and more than 2,600 diverse faculty members. As the anchor to the Phoenix Bioscience Core, which is projected to have an economic impact of $3.1 billion by 2025, the college prides itself on engaging with the community, fostering education, inclusion, access and advocacy.