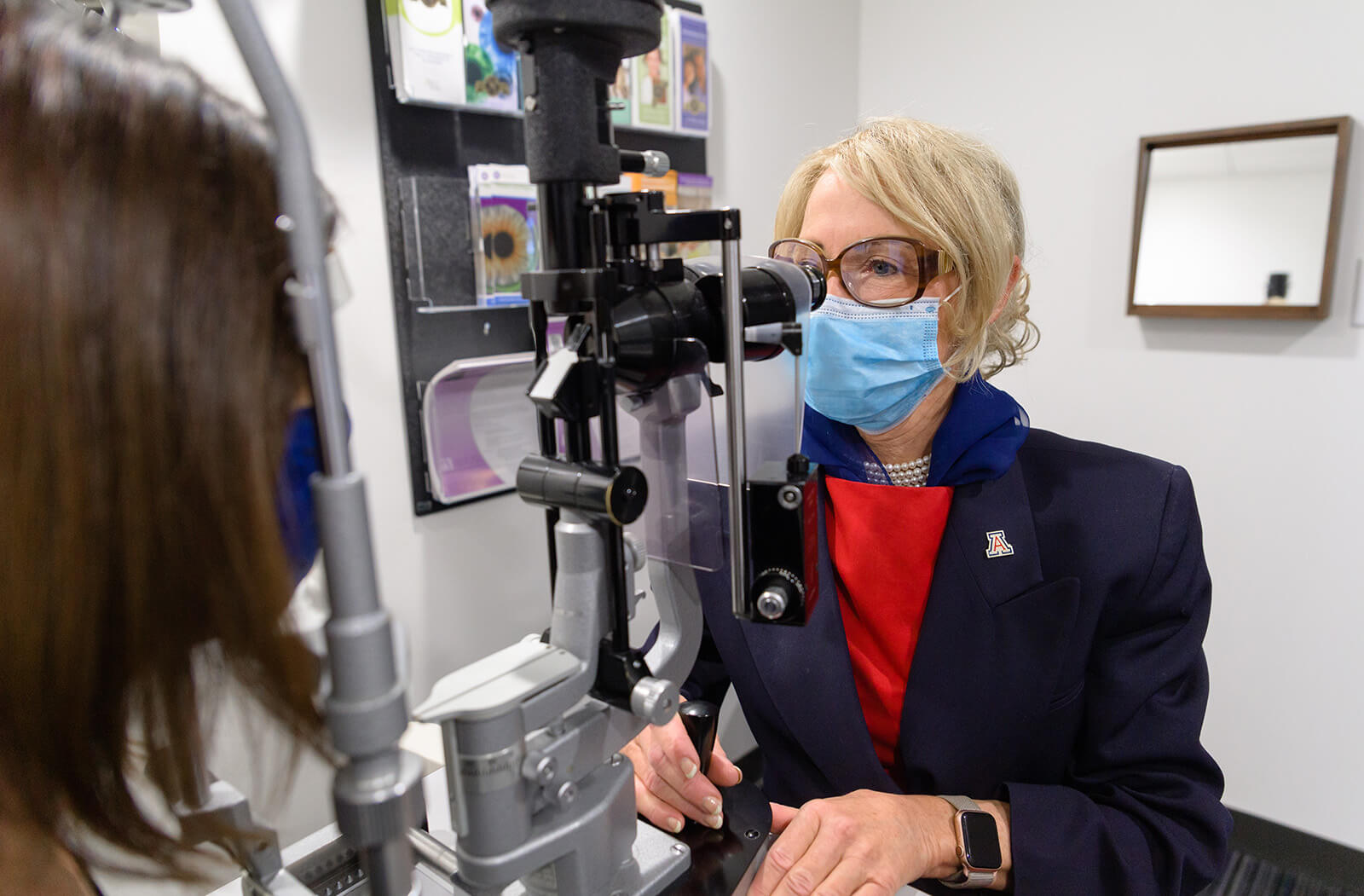 Women in Medicine and Science - Mandi D. Conway, MD, FACS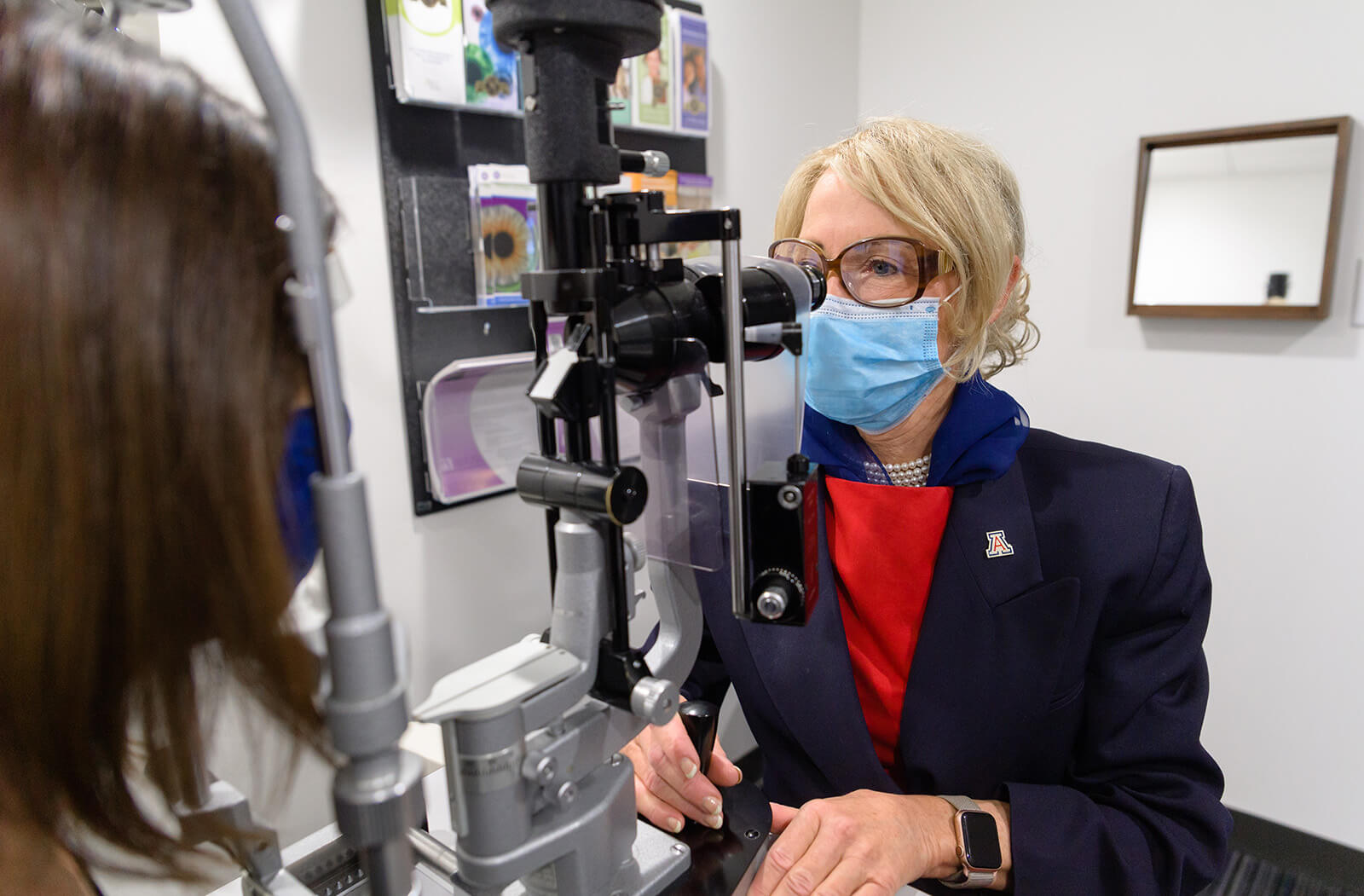 Mandi D. Conway, MD, FACS, is the interim chair of the Department of Ophthalmology and a clinical professor in the Department of Basic Medical Sciences. She's also in private practice as a retina specialist with Arizona Retinal Specialists.
Meet Mandi D. Conway, MD, FACS
Name someone who influenced you and why
Of course, my parents influenced me because they let me know that we were put on this earth to do something for someone else and not just to be comfortable.
Also, Gholam Peyman, MD, influenced me. When I first worked with him at the University of Illinois, I noticed that he was not biased against women and advocated for fair treatment of women in medicine and retina. He also fostered a scientific inquisitiveness among his co-workers and made it possible to pose questions, find the solution and publish it.
Tell me about a stretch goal you set for yourself and then achieved
When I left my first retina position at Louisiana State University (LSU), I joined the faculty at Tulane University, which had three retina specialists on staff. I was told that I could have Fridays to see my patients, since the other retinal specialists did not want to work on Friday. That left me with nothing to do Monday – Thursday, so I decided to start a part-time private practice. There were many hurdles and learning curves to navigate and despite these missteps, I learned how to negotiate with hospital administrators, manage employees and run a successful practice.
After Hurricane Katrina, this practice closed, and we lost our home. We relocated to the University of Arizona College of Medicine – Tucson, where we joined the faculty and were assigned to Kino Community Hospital. I had to build a practice once again from scratch in Tucson and then later in Phoenix. Some of the experiences from New Orleans were useful to me; I learned to simultaneously manage a successful business with patients and employees, work with faculty members, teach medical students and do research.
What barriers did you break to work in your specialty?
When I was a resident, there were not very many women in retina in the whole country, maybe less than 50. When I trained, women were discouraged from going into retina due to the long hours and middle of night trauma calls. To me, the retina was the most fascinating part of the eye, and I wanted to pursue it. Unfortunately, the retina attending in my residency program was not encouraging and would not allow a woman to do retinal surgery.
Thankfully, others were not so biased, and I was able to secure a prestigious retina fellowship with good surgical experience with the help of Gholam Peyman, MD, and Michael Murphy Corb, MD, who was my preceptor, director for my NIH postdoc grant and National Service Research Award (NRSA). Today, there are perhaps 450 female retina specialists and an organization to support them, Women In Retina of the American Society of Retina Specialists.
What is the biggest lesson you have learned so far in your career and why?
When I went to my pre-med counselor to find out how to apply to medical school, he had no idea because he had never done it! He had a PhD. He directed me to walk the halls of the University Hospital in Iowa City to see if I could find someone — a medical student or an attending — and ask them how to do it. That was the extent of my pre-med counseling.
During an interview for medical school, a female psychologist challenged me about my ability to perform in medical school. She said, "What makes you think you can do this?" Later when I graduated Alpha Omega Alpha (AOA) Medical Honor Society, I realized that she had never attended medical school and "done it" herself. She was trying to discourage me.
What I have taken away from this is don't let anybody steal your dream and never ever give up!
Who paved the way for you and why do you think they helped you?
Many people paved the way for me including Alice McPherson, MD — the first female retina specialist in the U.S. She is a legendary woman who became an academic retinal specialist and excelled both in academia and private practice. Also, two of my mentors in retina fellowship were fantastic, fair and introduced me to the retina community as their fellow. We have become lifelong friends.
Who are you mentoring?
I am mentoring three medical students who want to enter ophthalmology. I am also mentoring three college students who plan to pursue  medical school. Additionally, I have a newly minted retina associate, whom I am mentoring. I mentor my six technicians and try to open their eyes to the larger world of ophthalmology. I don't want entering medical school and ophthalmology residency or retinal practice to be as hard for others as it was for me. I want to be the wind beneath their wings, and I try to lift them up.
Read all of our Women in Medicine and Science: Breaking Barriers, Leading Change profiles.
About the College
Founded in 2007, the University of Arizona College of Medicine – Phoenix inspires and trains exemplary physicians, scientists and leaders to optimize health and health care in Arizona and beyond. By cultivating collaborative research locally and globally, the college accelerates discovery in a number of critical areas — including cancer, stroke, traumatic brain injury and cardiovascular disease. Championed as a student-centric campus, the college has graduated more than 800 physicians, all of whom received exceptional training from nine clinical partners and more than 2,700 diverse faculty members. As the anchor to the Phoenix Bioscience Core, which is projected to have an economic impact of $3.1 billion by 2025, the college prides itself on engaging with the community, fostering education, inclusion, access and advocacy.