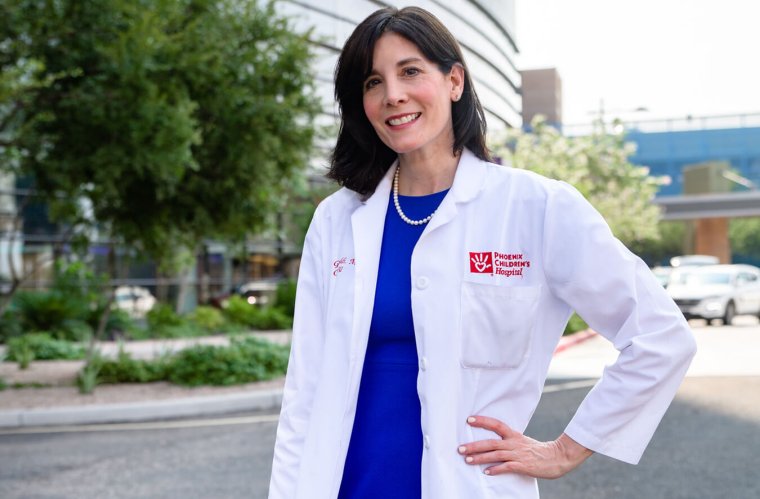 Women in Medicine and Science - Lisa M. Grimaldi, MD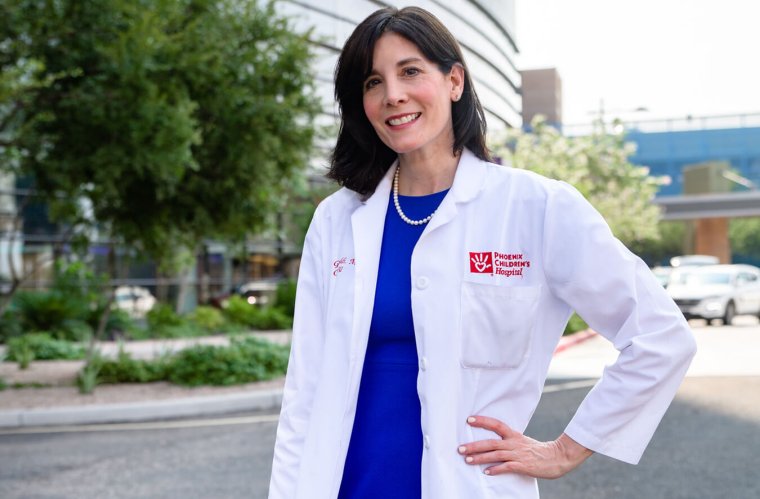 Lisa M. Grimaldi, MD — a clinical associate professor in the college's Department of Child Health and the former block director of Pulmonary, Renal, Acid-Base (PRAB) — is a staff physician in the Division of Cardiovascular Intensive Care at Phoenix Children's Hospital.
Meet Lisa M. Grimaldi, MD
Name someone who influenced you and why
I have been so fortunate to have wonderful role models throughout my life. I've learned that role models can come in all shapes and sizes and sometimes in the most unexpected places. They don't have to look like you or even come from a similar background. They have a positive impact on your life not because of immutable characteristics like gender or race, but because of who they are and what they represent to you. Very early on in my life, my parents taught me and, more importantly, showed me by their own actions two important lessons: that anything can be achieved if you are willing to work hard enough and that integrity matters above all else. These have been important themes throughout my life and career, and as I reflect on other role models who have influenced my path, these themes are common to them all.
I am so grateful to my high school cross country coach, Mr. Norman Fink, who taught me that natural talent is great, but nothing trumps hard work when you are trying to achieve a goal and push yourself to be better. Those principles apply whether you are trying to get into medical school or match into residency or run the New York City Marathon. During my pediatrics residency training in New York at Columbia University's Morgan Stanley Children's Hospital of New York-Presbyterian, I apprehensively considered pursuing a career in critical care medicine. I worried that my small stature and quiet nature might be obstacles to success in a field where confidence is key, and the biggest personalities often seemingly make the most impact. It was my brilliant, mild-mannered mentor, Art Smerling, MD, who taught me that you don't have to be the loudest voice to be heard and that humility is always preferable to pride. I try to instill these principles of hard work, integrity and humility in those I mentor.
Tell me about a stretch goal you set for yourself and then achieved
When I left New York and relocated to Arizona to be part of a team building a congenital heart program in Phoenix, it was an exciting time, and we set some big goals. As a pediatric cardiac intensivist and director of Education for the Heart Center, I envisioned creating a pediatric cardiovascular intensive care unit (CVICU) that not only provided excellent patient care, but would also be a welcoming environment rich with learning opportunities and accepting of learners at all levels of training. We knew this would be a very hard goal to achieve because in most places, a pediatric cardiac critical care experience is off limits to most learners. Because the care that is provided is so highly subspecialized and the patients are so complex and fragile, the traditional thinking is that students — and even pediatric residents — won't be able to function in that environment or benefit from being there.

Our goal was to change that mindset and make it an environment that would be accessible to all learners. To do so, we assembled a team that was dedicated to teaching and committed to learner success. And to ensure that success, we created a structured curriculum for students and provided them with the resources and guidance needed to succeed. We aimed to show all the learners that the pediatric CVICU was like a real live physiology lab, and in doing so, we hoped to foster a love of applying physiology at the bedside. Each year we welcome many students to our unit from around the Valley and around the U.S. We intend  to inspire the next generation of pediatric intensivists, and I'd like to think that on some small level, we are doing that.
What is the biggest lesson you have learned so far in your career and why?
When you embark on a career in medicine — and in critical care especially — you are always surrounded by brilliant, exceptional, high-achieving people. It is inspiring and motivating, but it is also easy to feel inadequate. I was always happy to cheer on my colleagues and celebrate their successes, but at times, I would find myself questioning, "Why can't I get a paper published?" or "Why can't I win that award?" or "Why is it so hard for me to manage my time when they seem to have no problem?" I found myself comparing myself to others and feeling as if I was falling short. What I have learned is that we are all on our own path and what comes easy for one, may not come easy for another. And that's ok. I have learned to be happy to support my colleagues, but recognize that my journey is my own. I have learned to focus on the things in my life and career that I truly enjoy and concentrate my efforts on being the best I can be at those things.
Who paved the way for you and why do you think they helped you?
When I began my career in Phoenix, I knew that I wanted to pursue my two loves: caring for critically ill kids with congenital heart disease and teaching. It seemed like it would be very hard to do both, especially in a career like critical care, where the work hours are long and erratic and sometimes unpredictable.
I met two extraordinary physicians from the University of Arizona College of Medicine – Phoenix, Cheryl Pagel, MD, and Elaine Niggemann, MD. They not only showed me that it was possible to do both, but they helped open the door for me to do the same. I was struck by their kindness, professionalism and their fierce dedication to both their patients in clinical practice and their students. And I was especially amazed by their ability to balance it all seemingly effortlessly. These two brilliant physicians, educators and leaders were innovators who were open to new ideas and welcomed me to join them, opening doors for me to new opportunities at the medical school. I would be honored to think they helped me maybe because they saw some potential in me to follow in their footsteps. Those would be some big shoes to fill! They immeasurably helped me find the balance between clinical work and teaching that I so cherish and still have today.
Who are you mentoring?
Mentoring the next generation of physicians has been one of the most enjoyable and rewarding parts of my career. For me, mentoring is very much a two-way street. In a time where burnout and disillusion with medicine can sometimes prevail, I hope to set an example that it is possible to be in a career for a long time and still practice with passion if you are doing what you love and feel like you are learning and challenged every day. This is what I have found in pediatric critical care, and I hope that my example helps to guide students to the path that will do that for them.
But the rewards that I reap from mentoring in return are so much greater. I am constantly amazed by the boundless enthusiasm, creativity and especially the altruism of this generation of aspiring physicians. I learn so much from their example, and they make me a better doctor and a better person. Burnout is a big problem in my field from multiple factors, including long hours and stressful work environments. Working with those who are just starting their careers has been a great help for me to avoid feeling burnt out in my own career. Their excitement and vigor are infectious.
Currently, I am mentoring a wide variety of young men and women all with different backgrounds and interests and at different points in their journey in medicine. I am working with several undergraduate students on their honors thesis projects and their medical school application processes. I also mentor several medical students in their path to pediatrics. I am thrilled to see so many exceptional students pursuing careers in pediatrics. Because of this, I know that the future of pediatrics is very bright!
Read all of our Women in Medicine and Science: Breaking Barriers, Leading Change profiles.
About the College
Founded in 2007, the University of Arizona College of Medicine – Phoenix inspires and trains exemplary physicians, scientists and leaders to optimize health and health care in Arizona and beyond. By cultivating collaborative research locally and globally, the college accelerates discovery in a number of critical areas — including cancer, stroke, traumatic brain injury and cardiovascular disease. Championed as a student-centric campus, the college has graduated 669 physicians, all of whom received exceptional training from nine clinical partners and more than 2,600 diverse faculty members. As the anchor to the Phoenix Bioscience Core, which is projected to have an economic impact of $3.1 billion by 2025, the college prides itself on engaging with the community, fostering education, inclusion, access and advocacy.