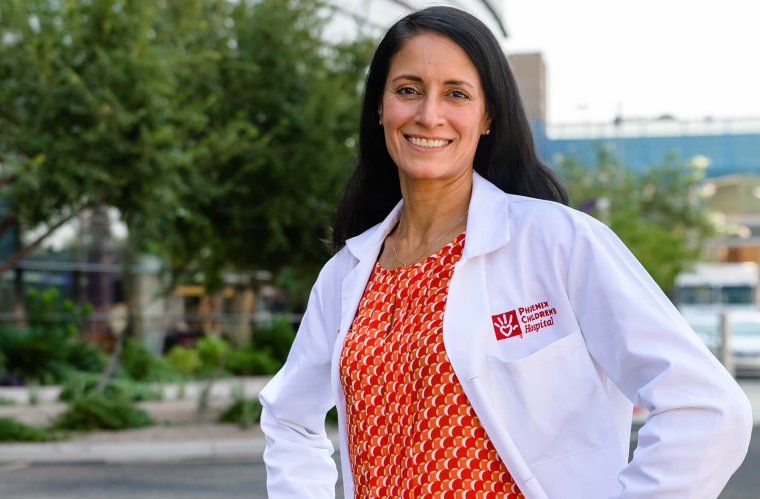 Women in Medicine and Science - Davinder Singh, MD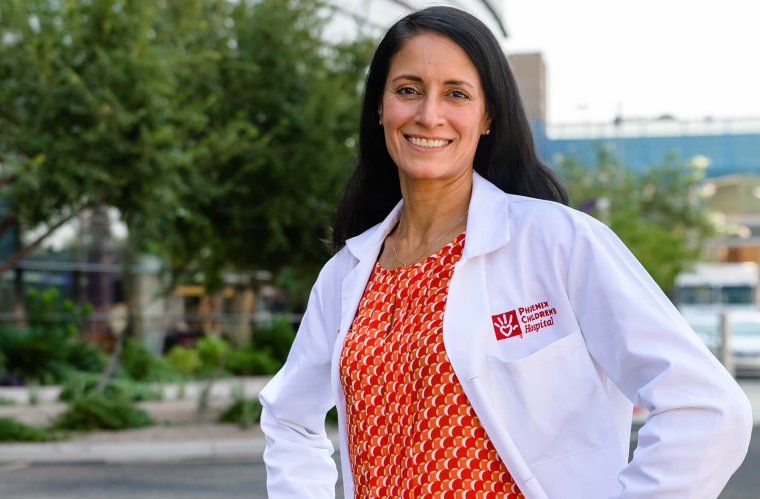 Davinder Singh, MD, is the division chief of Plastic Surgery at Phoenix Children's Hospital; a clinical associate professor of Child Health at the University of Arizona College of Medicine – Phoenix; and an assistant professor of Surgery at Mayo Clinic in Scottsdale. She also serves as the co-medical director of the Barrow Cleft and Craniofacial Center and has been in practice in Phoenix since 2006.
Meet Davinder Singh, MD
Dr. Singh attended medical school at Columbia University, followed by general surgery residency at Columbia and plastic surgery residency at the University of Pennsylvania. She completed her Craniofacial Surgery Fellowship at Children's Hospital of Philadelphia and was on faculty there for three years before moving to Phoenix.
She is active in leadership within Craniofacial Plastic Surgery at the national and international levels and serves on the Executive Council for both the national and international organizations. Dr. Singh is actively involved in research and teaching and serves as section editor for the American Cleft Palate Craniofacial Journal and the FACE Journal.
Name someone who influenced you and why.
As I reflect on my evolution as a surgeon, wife and mother, I recognize that there are so many teachers and mentors who influenced my life path, but it is my mother who influenced me the most. During a generation when most women did not work outside the home, my mother managed to teach full-time, run the household and raise three children. She never complained about all of her "work" and continued to be patient and kind, teaching us the virtues of hard work and independence.
Tell me about a stretch goal you set for yourself and then achieved.
When I arrived in Phoenix in 2006, I realized that pediatric patients with plastic surgery needs did not have a "pediatric home" they could go to receive care. Providers and services were spread across the Valley. I envisioned  developing a comprehensive pediatric plastic surgery program for a region with so much growth and such a large concentration of pediatric patients.
I set a goal of building a Division of Plastic Surgery, which could not only meet all the clinical needs of patients, but was also focused on research and education. I joined Phoenix Children's Hospital in January 2017 with the hospital's support to build a comprehensive division. We now have five surgeons — all fellowship trained in the different subspecialties of plastic surgery — and four advanced practice providers, with plans to recruit more! Our division has two National Institutes of Health-funded grants, and we are educators to medical students and residents with plans to start fellowships in the next one to two years.
What barriers did you break to work in your specialty?
My fellowship training and practice focus is on craniofacial surgery, a subspecialty of plastic surgery. During my fellowship in 2002, there were very few women in craniofacial surgery in the United States. While building a craniofacial practice was rewarding and successful for me, becoming a leader within the craniofacial surgeon community posed challenges that I did not expect.
I frequently found my suggestions and input overlooked during meetings and within organizations and struggled to find a way to be involved in leadership within my specialty. Part of me wanted to walk away, but a larger part of me wanted to have the leaders recognize and appreciate the diversity of ideas and people. I realized that building individual relationships with the other surgeons nationally and internationally and continuing to volunteer through committees would help me achieve my goal of being a leader and mentor within craniofacial surgery. In the last few years, I was elected to serve as an officer for the American Society of Craniofacial Surgeons and on the executive council for the International Society of Craniofacial Surgeons.
What is the biggest lesson you have learned so far in your career and why?
When I was going through surgical training and early career, the leadership and organization was very hierarchical. Initially, I fell into this "surgical mindset," but realized that this was not the way to build effective teams and programs. I have learned a number of leadership lessons along the way — the most important one being the need to listen and collaborate.
Who paved the way for you and why do you think they helped you?
The numerous professional women who worked so hard for their careers and successes have paved the way for me. While they may not have realized that they were "paving the way" for generations of women to come, they have collectively served as my mentors and role models. I am particularly drawn to the writings of Ruth Bader Ginsburg because she overcame so many obstacles and persevered until she could shed light on gender inequality in the workforce, and did it during a time when it was taboo to even speak about it.
Who are you mentoring?
I feel passionately about mentoring anyone who is interested in the medical field — from my own pediatric patients to younger colleagues who have already chosen the path of craniofacial surgery. We have medical students and residents who spend time with us on a regular basis both in our clinics and in the operating room. I enjoy teaching them about my specialty and getting to know them as individuals. One of the biggest determining factors in selecting a career path within medicine is mentorship, and I am fortunate to have the privilege of serving as a mentor.
Read all of our Women in Medicine and Science: Breaking Barriers, Leading Change profiles.
About the College
Founded in 2007, the University of Arizona College of Medicine – Phoenix inspires and trains exemplary physicians, scientists and leaders to optimize health and health care in Arizona and beyond. By cultivating collaborative research locally and globally, the college accelerates discovery in a number of critical areas — including cancer, stroke, traumatic brain injury and cardiovascular disease. Championed as a student-centric campus, the college has graduated 669 physicians, all of whom received exceptional training from nine clinical partners and more than 2,600 diverse faculty members. As the anchor to the Phoenix Bioscience Core, which is projected to have an economic impact of $3.1 billion by 2025, the college prides itself on engaging with the community, fostering education, inclusion, access and advocacy.