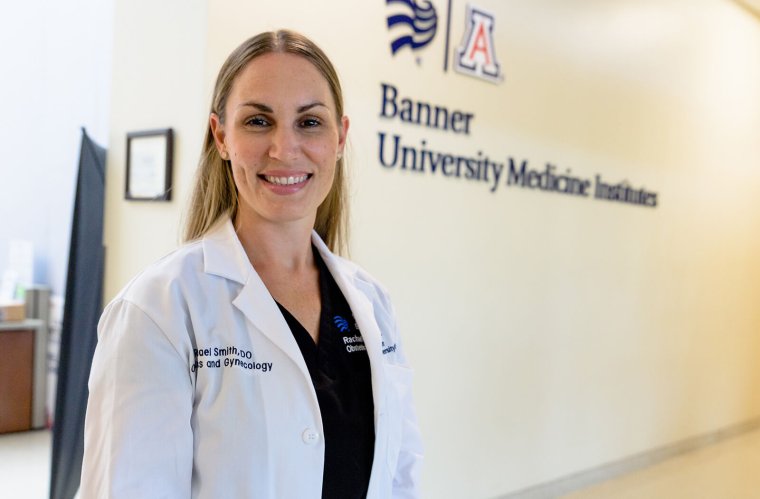 Women in Medicine and Science - Rachael Smith, DO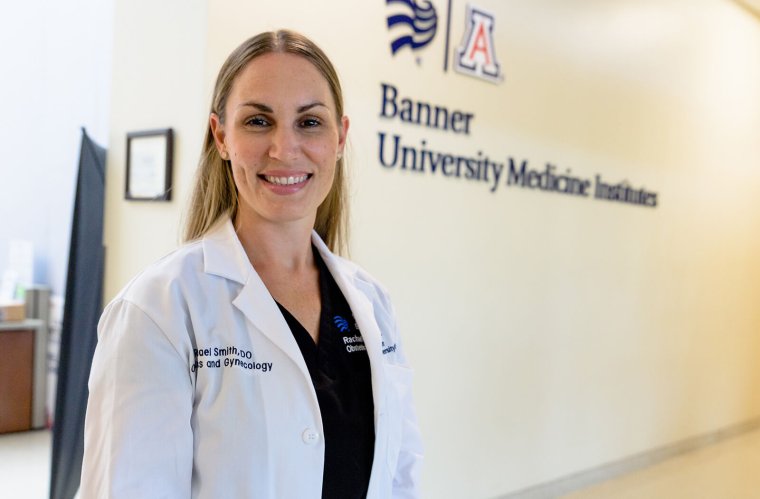 Rachael Smith, DO, is a clinical assistant professor of Obstetrics and Gynecology at the University of Arizona College of Medicine – Phoenix and the associate program director of the Minimally Invasive Gynecologic Surgery Fellowship at Banner – University Medical Center Phoenix. Dr. Smith completed a residency in obstetrics and gynecology and a fellowship in minimally invasive gynecologic surgery at UArizona College of Medicine – Phoenix..
Meet Rachael Smith, DO
Name someone who influenced you and why
My fellowship associate program director, Nichole Mahnert, MD, has influenced my career trajectory. From the day I met her five years ago, when I was early in my training as an OB/GYN resident, she has shown me the kind of physician I aspire to be. She takes time to teach trainees both in the clinical realm (operating room and office-based), as well as in the research realm. She influenced me to pursue a fellowship in minimally invasive gynecologic surgery and to become a published researcher; both things I had not believed I could do, and both things I am tremendously proud of today. I gifted her a mug on my fellowship graduation stating, "Empowered Women Empower Women," which rings true to our mentor-mentee relationship.
Tell me about a stretch goal you set for yourself and then achieved
When the COVID-19 pandemic initially peaked and the operating rooms were shut down for elective surgical cases, I set a goal for myself to redirect my fellowship time and energy to research — with the ultimate stretch goal in mind — to publish an impactful paper in a major journal. I initiated a clinical trial utilizing a mobile meditation app, CALM, with our obstetrics and gynecology patients to assess the effect the wellness app had on stress, depression, anxiety and sleep during the COVID-19 pandemic. We found positive impactful results and published them in a major journal in our field.
What barriers did you break to work in your specialty?
Just as many women face sexism in medicine, I definitely experience this barrier as a female surgeon on a regular basis. I will never forget the first time. I had just spent a significant amount of time in the preoperative area discussing with a patient the planned surgery for her ectopic pregnancy, the risks/benefits of the surgery and expected postoperative course. The male medical student was quietly standing next to me as I spoke and at the conclusion of the counseling, the patient asked if the "surgeon" had anything to add and looked to the male medical student. Unfortunately, this was not the last time this occurred and often happens in the clinic after I complete a surgical consult, asking "when will I meet the surgeon?" This is a barrier I work to break every day by encouraging women to pursue careers in medicine — and specifically surgery.
What is the biggest lesson you have learned so far in your career and why?
To always stay true to myself and what is important to me, which is first and foremost my family and then my career. This sentiment was tested in my first year as an attending when I took three months for my second child's maternity leave. My first pregnancy was during residency when limited time was allotted. The second time around, I was hesitant on how an extended leave would affect my new career. This was a challenging decision for me to take this time for my family, but it was the best decision I could have made; and I believe it made me a better physician on my return to practice.
Who paved the way for you and why do you think they helped you?
Laurie Erickson, MD, my residency program director, paved the way for me to this incredible position I have at the University of Arizona College of Medicine – Phoenix. She saw something in me early on that I did not even see in myself — that I was meant to be in academic medicine. She encouraged me to get additional training in leadership and always provided positive feedback on my teaching skills. We used to talk about my "dream job" working as faculty with our residency department and she seemed to never have a doubt in her mind that would happen for me one day.
Who are you mentoring?
I have some medical students and OB/GYN residents I am mentoring in various research projects (Elizabeth Mangone, UArizona College of Medicine – Phoenix medical student, Emily Biller, MD, Caitlin Indart, MD, and Katie Zeng, MD).
Read all of our Women in Medicine and Science: Breaking Barriers, Leading Change profiles.
About the College
Founded in 2007, the University of Arizona College of Medicine – Phoenix inspires and trains exemplary physicians, scientists and leaders to optimize health and health care in Arizona and beyond. By cultivating collaborative research locally and globally, the college accelerates discovery in a number of critical areas — including cancer, stroke, traumatic brain injury and cardiovascular disease. Championed as a student-centric campus, the college has graduated 669 physicians, all of whom received exceptional training from nine clinical partners and more than 2,600 diverse faculty members. As the anchor to the Phoenix Bioscience Core, which is projected to have an economic impact of $3.1 billion by 2025, the college prides itself on engaging with the community, fostering education, inclusion, access and advocacy.