Women in Medicine and Science Spring Gathering
Friday, June 3, 2022 5:30 PM to 7:30 PM
Where We Have Been, Where We Are Now and Where We Are Going
Save the date for the Women in Medicine and Science Executive Committee 5th Annual Spring Dinner.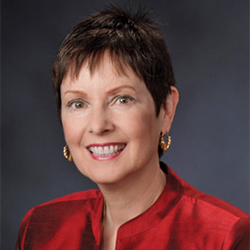 We are honored to have Karen Nichols, DO, as our keynote speaker. Dr. Nichols was most recently the dean of the Midwestern University/Chicago College of Osteopathic Medicine (MWU/CCOM) serving from 2002 until stepping down July 2018. Prior to serving as dean, she was the assistant dean of Post-Doctoral Education and chair of Internal Medicine at the MWU/Arizona College of Osteopathic Medicine. She was in the private practice of internal medicine and geriatrics in Mesa, Arizona, from 1985 to 2002. A graduate of the Kansas City University College of Osteopathic Medicine (KCU-COM) with a DO degree, she holds a Master's degree in Management with a specialty in Health Care Administration from Central Michigan University.
This event is sponsored by the college's Women in Medicine and Science and is open to all College of Medicine – Phoenix faculty, staff, students and friends. It will be held in the Virginia G. Piper Auditorium in Building 2 — 600 E. Van Buren Street, Phoenix 85004. 
For questions, please contact the Office of Equity, Diversity and Inclusion.