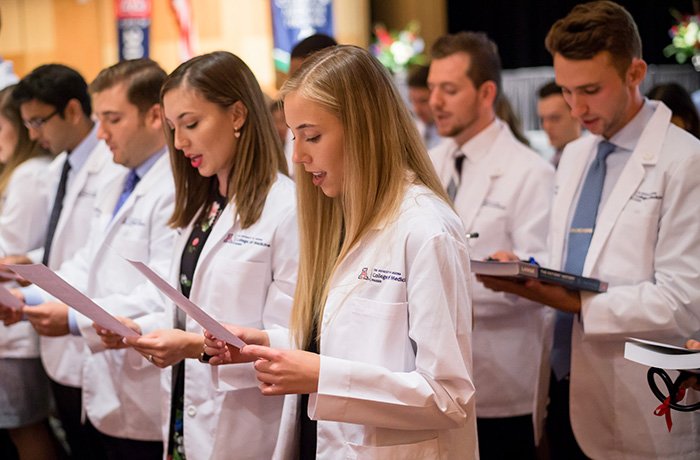 80 Students to Receive White Coats as They Begin Training to Become Physicians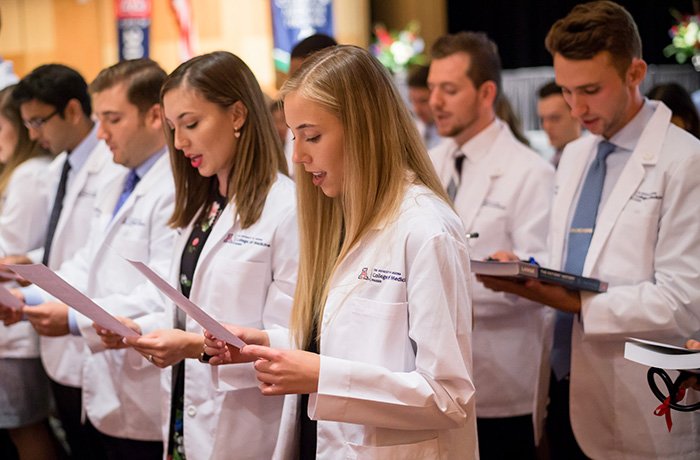 Harvard Medical School Diversity Dean Joan Y. Reede, MD, will Welcome the 13th class at the UA College of Medicine – Phoenix
Eighty first-year students from the University of Arizona College of Medicine – Phoenix will receive their white coats at a ceremony beginning at 3:30 p.m. Friday, July 19, at Phoenix Symphony Hall in downtown Phoenix, 75 N. Second St. Doors open at 2:30 p.m.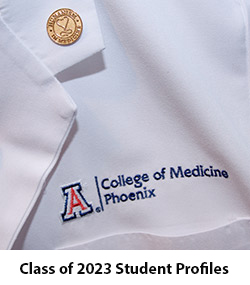 The ceremony marks the students' entry into clinical medicine and is a rite of passage in their journey toward a health care career. Considered to be the mantle of the medical profession, the white coat is a symbol of dedication and commitment to becoming a compassionate and competent physician.
More than 5,900 students applied to become members of the College of Medicine – Phoenix Class of 2023. Fifty percent of the incoming class identifies with at least one Dimension of Diversity factor. This includes their educational, socio-economic, geographic or underrepresented status.
Joan Y. Reede, MD, dean for Diversity and Community Partnership at Harvard Medical School, will deliver the keynote address. Her comments are part of the ceremony's history, where students are welcomed by a respected leader who represents the value system of the college.
Appointed as Harvard Medical School's first dean for Diversity and Community Partnership in January 2002, Dr. Reede is responsible for developing and managing a comprehensive program that provides leadership, guidance and support to promote the increased recruitment, retention and advancement of underrepresented minority faculty at the medical school.
Dr. Reede has created more than 20 programs at Harvard that address pipeline and leadership issues for minorities and women interested in careers in medicine, academic and scientific research and health care professions.
Guy Reed, MD, MS, dean of the College of Medicine – Phoenix, also will address the students. Dr. Reed is a renowned cardiologist, physician-scientist and health administrator.
The alumni speaker will be Rachel Lusk, MD, who graduated from the College of Medicine – Phoenix in 2013. She is a pediatrician with the Maricopa Medical Center Comprehensive Health Center, working with refugee patients and overseeing residents. She recently completed a a two-year global health fellowship through the HEAL Initiative, where she cared for patients in Gujarat, India, and at Natividad Medical Center in Salinas, CA.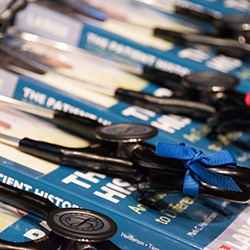 The White Coat Ceremony was initiated in 1993 at the Columbia University College of Physicians and Surgeons. The widespread adoption of the event, currently practiced by 90 percent of medical schools, is endorsed by the Robert Wood Johnson Foundation. Beginning in 2007, the College of Medicine – Phoenix began holding the ceremony at the conclusion of first-year students' first academic block, Introduction to Medicine.
In addition to their white coats, students will receive a 3M Littmann Cardiology III Stethoscope from Banner University Medicine, the textbook "The Patient History: An Evidence Based Approach" from District Medical Group, and Keeping Health Care Human pins from The Arnold P. Gold Foundation.
"We are pleased that these students have chosen to continue their academic journeys and pursue careers in medicine," said Peter Fine, President and CEO, Banner Health. "This investment from Banner is just a small token of our appreciation for their dedication and commitment to creating healthier communities in Arizona and throughout the United States."
About the College
Founded in 2007, the University of Arizona College of Medicine – Phoenix inspires and trains exemplary physicians, scientists and leaders to optimize health and health care in Arizona and beyond. By cultivating collaborative research locally and globally, the college accelerates discovery in a number of critical areas — including cancer, stroke, traumatic brain injury and cardiovascular disease. Championed as a student-centric campus, the college has graduated 500 physicians, all of whom received exceptional training from nine clinical partners and more than 2,000 diverse faculty members. As the anchor to the Phoenix Biomedical Campus, which is projected to have an economic impact of $3.1 billion by 2025, the college prides itself on engaging with the community, fostering education, inclusion, access and advocacy.