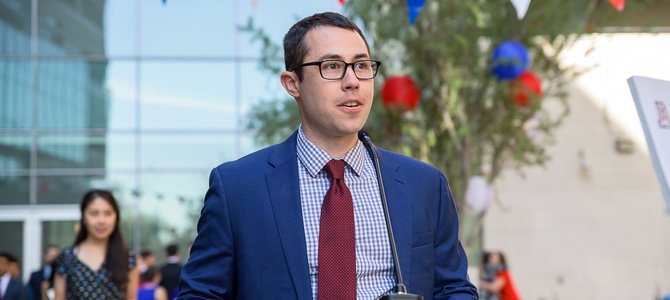 Commencement Profile: Taylor Cushman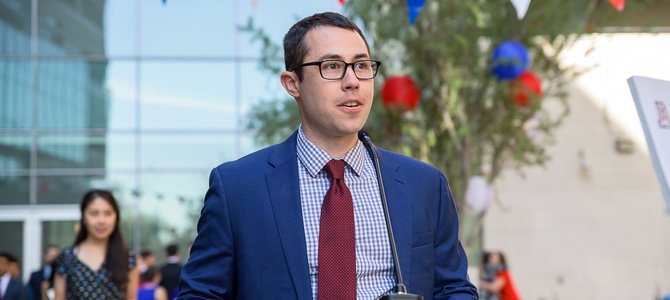 Cushman Conducts Year of Research to Advance Treatment Options of Radiation Therapy and Immunotherapy
Fourth-year medical student Taylor Cushman conducted a year of research between his third and fourth years of medical school to help advance the fields of radiation therapy and immunotherapy.
Cushman, who will graduate May 6 from the University of Arizona College of Medicine – Phoenix with a medical doctorate degree, spent a year working in the lab of James Welsh, MD, at MD Anderson Cancer Center in Houston. Cushman's research focused on combining radiation therapy with immunotherapy.
Currently, most immunotherapy clinical trials have a response rate of around 20 percent, meaning 80 percent of patients do not respond to treatment. Cushman's research focused on using radiation in combination with immunotherapies to overcome the treatment resistance seen in the 80 percent.
His research concluded that in certain treatment combinations, radiation therapy was not only beneficial, but essential to eliminate metastatic cancer. In his study, more than 70 percent of the mice treated with radiation and immunotherapy were cured. Cushman's research has been cited in more than 20 manuscripts.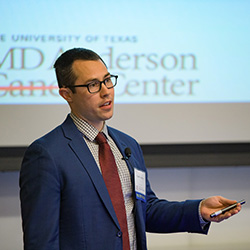 "Oncology is moving so fast now," Cushman said. "There are many novel drugs being developed, but less research focused on how we can combine new agents with already existing ones. Research such as ours will give patients the best outcomes using the tools we currently have, and give insight into how future therapeutics can be tailored into existing treatment regimens."
Cushman became interested in this area of research after a two-week elective rotation in radiation oncology during his third year of medical school. He learned about research investigating the effects of radiation therapy on the immune system and how that related to immunotherapy. His mentor, Rachit Kumar, MD, who is a clinical assistant professor in Interdisciplinary Oncology at the college, put Cushman in contact with Dr. Welsh.
"This research was so important to me because it gave me exposure to an area of radiation oncology that can only be had at a handful of institutions," Cushman said. "Dr. Welsh's lab is dedicated to truly translational research and making a major impact on the field. Participating in this mission, even if only for a year, was a fantastic experience."
This research was part of Cushman's Scholarly Project, which he presented on March 6 at the annual Student Research Symposium. Throughout their four years of medical school, each student at the College of Medicine – Phoenix works closely with mentors to complete a longitudinal, hypothesis-driven Scholarly Project.
"Scholarly Project and related research will help me during residency to be an effective and efficient resident researcher," Cushman said. "Residency is such a busy time, and I can only imagine how difficult it would be to learn the ropes of research while trying to juggle clinical responsibilities."
Cushman would like to thank the "excellent mentors" he had along the way, including Drs. Kumar, Welsh, and Vivek Verma, MD. He plans to follow in his mentors footsteps and pursue a specialty in radiation oncology.
"Radiation oncology is a field with amazing technology that can treat patients in a noninvasive manner," Cushman said. "I enjoy helping patients navigate the complexities of cancer care, coordinating treatments with other providers, solving complex treatment plans and assisting patients in navigating some very emotionally trying times. In some cases, radiation therapy will cure cancer. In others, it can provide palliative care that adds meaningful value to the quality of life."
Cushman will embark on a radiation oncology residency with a preliminary year at the College of Medicine – Phoenix followed by a radiation oncology residency at Ohio State University.
About the College
Founded in 2007, the University of Arizona College of Medicine – Phoenix inspires and trains exemplary physicians, scientists and leaders to optimize health and health care in Arizona and beyond. By cultivating collaborative research locally and globally, the college accelerates discovery in a number of critical areas — including cancer, stroke, traumatic brain injury and cardiovascular disease. Championed as a student-centric campus, the college has graduated 593 physicians, all of whom received exceptional training from nine clinical partners and more than 2,400 diverse faculty members. As the anchor to the Phoenix Biomedical Campus, which is projected to have an economic impact of $3.1 billion by 2025, the college prides itself on engaging with the community, fostering education, inclusion, access and advocacy.