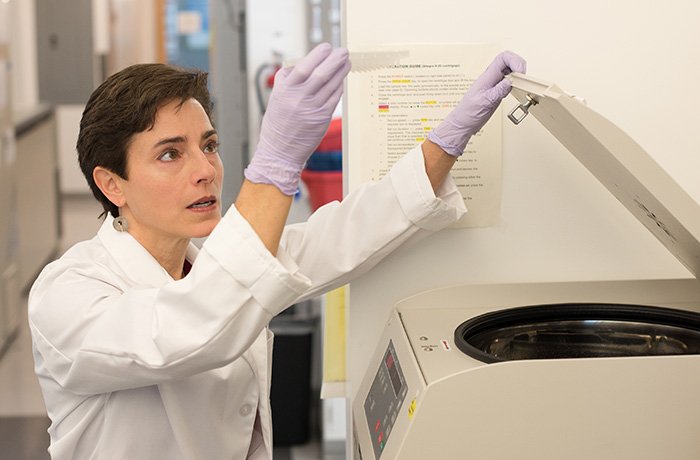 Faculty Spotlight: Amelia Gallitano, MD, PhD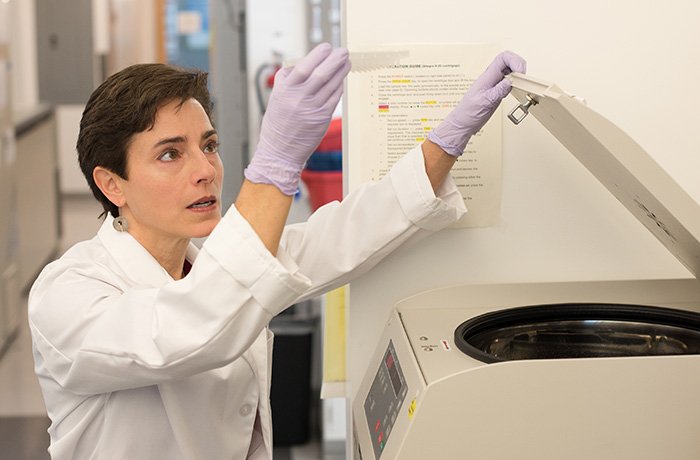 Physician-Scientist Studies Genetic Pathways and their Response to Environmental Stimuli, Hoping to Improve Treatments for Mental Illness
Amelia Gallitano, MD, PhD, is a physician-scientist whose goal is to improve the treatment of mental illnesses.
It's a difficult task, considering there is no biological test to diagnose a mental illness such as schizophrenia or post-traumatic stress disorder (PTSD).
"We've got a huge challenge in trying to find the causes of an illness that is poorly defined, that probably encompasses multiple illnesses that change over time and that is not diagnosable with any biological test," said Dr. Gallitano, a UA of  Medicine – Phoenix Department of Basic Medical Sciences faculty member.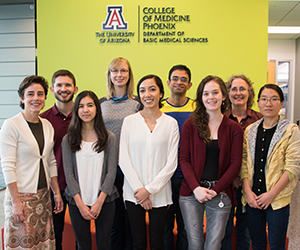 Part of the problem is that psychological illnesses are not caused by genetics alone, but by genetics and environmental factors, she said.
Dr. Gallitano was recently interviewed for a PBS-TV special about mental illness and young people called "Not Broken."
"We still don't have a single psychiatric illness for which we know definitely a cause," she said.
Dr. Gallitano directs a laboratory that investigates a family of genes activated in the brain in response to environmental events.
"These genes are ideally poised to explain the risk for mental illness," she said. In other words, dysfunction in these genes could give rise to risk.
Earlier this year, she received a grant from the Sidney R. Baer Jr. Foundation to develop a rapid, easily administered and inexpensive biologically-based diagnostic test that could determine whether an individual has schizophrenia or a specific subtype. The grant, over two years, totaled $175,000.
More recently, she received a two-year R21 grant for $382,482 to identify the molecular and genetic mechanisms that underlie the therapeutic effects of electro-convulsive therapy.
As a scientist and physician, Dr. Gallitano said her goal is to better understand the biology of mental illness. "By understanding the biology underlying the disorder, we have more opportunities to identify treatments and maybe even prevent the onset of mental illness."
A big portion of Dr. Gallitano's research focuses on the pathway of genes that are activated by environmental stimuli — in other words, the response to this stimuli. Her hope is to come up with therapies that are non-medication related.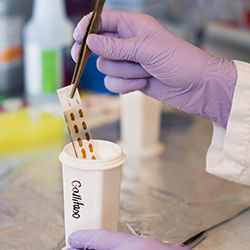 Earlier this year, she published a study showing that, in a particular gene pathway her laboratory has described, the next gene in the line-up will also play a role in mental illness. "This gene appears to be playing a key role in mediating the risk for schizophrenia and other mental illnesses."
In the study, Dr. Gallitano collaborated with Nicholas Breitborde, PhD, who founded the Early Psychosis Intervention Center, or Epicenter, in Tucson. Dr. Breitborde studied cognitive remediation therapy, in which an individual exercises cognitive skills using brain-training techniques and computer-based exercises that stimulate the cognitive processes.
"Those stimuli were acting in part through the genes we study in my laboratory," Dr. Gallitano said. "This study can allow us to identify people in advance that would do well with this type of therapy, but someone else may need more intensive treatment. There are certain types of medication that can boost the function of this genetic pathway, which can help us create a more personalized treatment."
Dr. Gallitano discovered her passion for science and medicine in high school. "When I was a junior in high school, I took an AP Biology class and was fascinated by a project I did," she said. "We read an article about dreaming, and how there is a connection between your physical body and your mind. I thought this was the coolest thing ever, that your biological state is influencing the contents of your thoughts."
She completed her undergraduate degree at the University of Chicago, after which she took a year off to conduct research at McLean Hospital in Boston. She then completed a combined MD/PhD program at the University of Pennsylvania.
She completed her residency in psychiatry at Columbia University and then went to Washington University in St. Louis to do postdoctoral work. After six years, her path eventually brought her to the College of Medicine – Phoenix.
Outside of her lab, Dr. Gallitano volunteers as a psychiatrist every other week at the VA Medical Center in Phoenix. "I have been taking care of patients there since 2008," she said. "I work in the PTSD Clinic. It is a refreshing change because when I go there, I get completely absorbed in it. The rewards I receive from research are long-term and very slow, so it's nice to have a rapid impact in someone's life."
"Part of the reason I chose the PTSD Clinic is because the genes that I study are involved in memory formation and what's happening at the origin of PTSD is the encoding of a memory," Dr. Gallitano explained. "There is evolutionary pressure for us to remember situations that almost killed us because that helps not only us from getting into them, but then we can go back and tell the other members of our community about the experience. In the military, there is a lot of stigma associated with the idea of having a problem and getting treatment for that problem. The way I explain it to my veterans is this is not a weakness, it is biology. It is normal for us to have this strongly encoded memory that keeps resurfacing following such horrible trauma. What is abnormal is having been put in those situations."
About the College
Founded in 2007, the University of Arizona College of Medicine – Phoenix inspires and trains exemplary physicians, scientists and leaders to optimize health and health care in Arizona and beyond. By cultivating collaborative research locally and globally, the college accelerates discovery in a number of critical areas — including cancer, stroke, traumatic brain injury and cardiovascular disease. Championed as a student-centric campus, the college has graduated 593 physicians, all of whom received exceptional training from nine clinical partners and more than 2,400 diverse faculty members. As the anchor to the Phoenix Biomedical Campus, which is projected to have an economic impact of $3.1 billion by 2025, the college prides itself on engaging with the community, fostering education, inclusion, access and advocacy.