Faculty Spotlight: Paul Standley, PhD
UA Researcher Studies Manual Medicine as Potential First-Line Therapy
Paul Standley, PhD, associate dean of Curricular Affairs and Program Evaluation and professor of physiology at the University of Arizona College of Medicine – Phoenix, is one of the few basic medical scientists seeking to make certain aspects of manual medicine a primary line of care.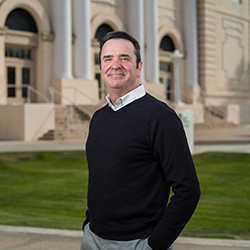 Manual medicine, often referred to as a complementary or an alternative medical approach to patient care, typically describes clinician-directed techniques to aid in the treatment of musculoskeletal and other disorders. Such treatments are widely used by osteopaths, chiropractors, physical therapists, kinesiologists and massage therapists.
"These treatments are non-surgical, non-pharmacological and non-invasive," Dr. Standley said. "If we can conduct scientific research that shows the benefits of these treatments, then maybe one day we can make these alternative medicines a first-line therapy."
Although manual medicine has been around for thousands of years, there is not a lot of scientific evidence supporting the specialty. Dr. Standley is one of a select group of people around the world studying how manual medicine affects gene expression. His research at the College of Medicine – Phoenix focuses on the biomechanical regulation of gene regulation and cell growth in bioengineered tendons, bioengineered fascia and skeletal muscle cells.
Dr. Standley started his career at an allopathic college in Michigan. He came to Arizona to found a new medical school in 1996, which happened to be an osteopathic school. After 10 years there as an educator, researcher and department chair, he came to UA to again found a new medical school, returning to the "allopathic world."
He became interested in his area of research years ago when he was recruited to Midwestern University's Arizona College of Osteopathic Medicine. While wandering the halls of the building, Dr. Standley came across a space directly across the hall from his new office, where nearly 150 students and 15 faculty members with matching polo shirts were milling around a room filled with what looked like massage tables. The students were in the introductory session of osteopathic medicine. This was Dr. Standley's first exposure to manual medicine and where he became interested in how stretch, compression and other biophysical stimuli could cause or cure disease.  
Dr. Standley has been at the College of Medicine – Phoenix since 2006. He was one of the founding faculty who helped build the medical school curriculum and associated policies. In addition to being associate dean of Curricular Affairs and Program Evaluation, Dr. Standley is co-director of the Cardiovascular-Hematology and the Pulmonary/Renal/Acid-Base blocks, and a professor of Physiology and Basic Medical Sciences. He is also founder of the Research Office for Medical Education (ROME) on campus.
The research office is meant to assist researchers doing curricular or medical education research. Dr. Standley continues to collaborate, consult and give scientific seminars on biomechanical regulation gene expression and its implication in manual medicine.
In November 2018, he was the keynote speaker for the fifth annual International Fascia Research Congress in Berlin, Germany. He has been a keynote for this conference since its inception 15 years ago.
The Congress welcomes clinicians and scientists from across the world who practice manual medicine. About 1,100 attendees from more than 27 countries came to learn about how the fascia — the layer beneath the skin that attaches and separates muscles and other internal organs — can impact health outcomes.
"It's fascinating and heart-warming to see these diverse sets of clinicians who typically fight for the same patients come together from across the globe," said Dr. Standley, who also is a board member for the Fascia Research Congress and the Ida P. Rolf Research Foundation. "This is an amazing example of collegiality."
The Congress was created by a multi-disciplinary committee of basic science researchers and practicing health care professionals whose respective fields share a common focus and interest in the human body's soft connective tissue matrix. The hope is they can foster collaboration among scientists and clinicians, inform and energize groups to lead to new areas of scientific inquiry and advance the understanding of structure and function.
"This whole area of medicine, which does not rely on surgery or pharmaceuticals, has historically been called complementary and alternative medicine, and that alone meant basically that it's alternative to what we know works," Dr. Standley said. "In these 15 years of meetings, we now know that these treatments work for some patients with certain disorders such as non-specific low back pain. Through these conferences and by fostering collaboration, we are bringing complementary and alternative medicine mainstream to be used as a first-line of treatment to better care for our patients."
About the College
Founded in 2007, the University of Arizona College of Medicine – Phoenix inspires and trains exemplary physicians, scientists and leaders to optimize health and health care in Arizona and beyond. By cultivating collaborative research locally and globally, the college accelerates discovery in a number of critical areas — including cancer, stroke, traumatic brain injury and cardiovascular disease. Championed as a student-centric campus, the college has graduated 500 physicians, all of whom received exceptional training from nine clinical partners and more than 2,000 diverse faculty members. As the anchor to the Phoenix Biomedical Campus, which is projected to have an economic impact of $3.1 billion by 2025, the college prides itself on engaging with the community, fostering education, inclusion, access and advocacy.