Grants Given to Projects that Promote Diversity
Diversity Office Awards Diversity, Equity and Inclusive Excellence and Innovation Research Grants
The Office of Diversity and Inclusion has awarded five projects at the University of Arizona College of Medicine – Phoenix funding for their proposals to improve diversity and address health disparities in Phoenix.
One faculty project and four student projects were provided support through the Diversity, Equity and Inclusive Excellence and Innovation Research Grants, which support educational initiatives, scholarly project research, creative activities, outreach and other ideas that promote diversity and inclusion.
"The goal of these grants is to stimulate inquiry and scholarship related to diversity and inclusion topics that broaden our understanding of medical education, care and research for all," said Francisco Lucio, JD, associate dean of Diversity and Inclusion. "These grants help catalyze the answers to the questions that may otherwise not be explored."
Nyima Ali, MD, and Crista Johnson-Agbakwu, MD, assistant professors in Obstetrics and Gynecology (OB/GYN), were awarded $2,500. Student recipients received between $500 and $750. They are first-year medical students Julie Tran and Tyler Bien, first-year medical student Tina Samsamshariat, fourth-year medical student Nuria Sisterna and first-year medical student Kristina Yancey.
Nyima Ali, MD, and Crista Johnson-Agbakwu, MD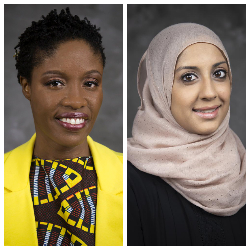 Drs. Ali and Johnson-Agbakwu are working on a project to promote greater awareness and understanding of health disparities among minority women by creating an educational program through online training modules. The program would be designed for inpatient and outpatient nursing, midwife and OB/GYN attendings and residents in the Women's Health Department at Maricopa Integrated Health System.
"As a board certified OB/GYN, I take care of pregnant mothers every day, and my goal is to provide the best possible care for each and every mother," Dr. Ali said "Some women, particularly minority populations, are at risk for worse maternal and neonatal outcomes than others. I want to be the bridge to help reduce these adverse outcomes. By helping educate the entire women's health staff, I hope to create more awareness, understanding, identification and implementation of systems that help identify and improve maternal and neonatal outcomes in at-risk, minority women."
The two said they are fortunate to work at the College of Medicine – Phoenix due to its commitment to diversity and inclusion, as well as its promotion of education and research on topics facing minority populations. By creating a targeted educational system to help understand maternal morbidity in minority populations for women's health providers within the Valley, they hope to become a model system of optimization of maternity care. Ultimately, they hope to be able to distribute the educational materials throughout the country and to collaborate with other centers who want to improve maternal outcomes in at-risk minorities.
Tyler Bien and Julie Tran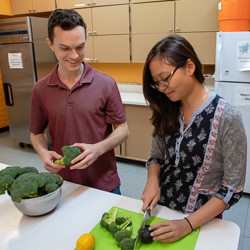 Bien and Tran started an initiative through the Culinary Medicine Interest Group to teach medical students cooking skills through healthy and culturally-sensitive recipes prepared in the Wesley Community and Health Center kitchen under the guidance of professional chefs.
"The overall goal of this initiative is to become part of an integrative medicine program at Wesley, serving patients and empowering them to manage their diseases through nutrition and cooking education," Tran said.
On April 17, they hosted the first cooking event at Wesley, where 10 students cooked various recipes under the direction of Jennifer Caraway, founder of the Joy Bus Diner. Bien and Tran hope to start student-led cooking classes with patients later this year.
"There is an increasing recognition that medical students and physicians are lacking in their nutrition training and knowledge," Bien said. We want this to be an experience that further opens the door to the exploration of healthy food and nutrition as a crucial part of patient care. By bringing our students and patients together in a cooking class, everyone benefits. Students not only gain cooking skills and nutrition knowledge, but they will be working with patients to manage their health in a unique, fun way."
The two said they feel fortunate to be working with so many passionate people who want to make this idea a reality, and appreciate the support of the Office of Diversity and Inclusion.
Tina Samsamshariat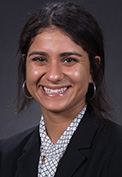 The goal of Samsamshariat's project is to see if a person's social determinants of health profile can predict their blood pressure, A1c and BMI. By surveying patients, she hopes to understand what social factors present the Wesley population with the greatest barriers to accessing health care. Based on the results of the survey, they will implement new programming in order to meet those needs.
"One of the largest challenges in our current health care system is addressing the health disparities that exist between communities due to social, economic and demographic factors," she said. "Understanding how these upstream factors shape individual health may allow us to overcome some of the barriers to health equity at the community level."
Samsamshariat became interested in this subject while pursuing a masters of public health degree at University of Southern California, where she learned that zip code matters more than genetic code in predicting life expectancy.
"I hope our survey can help us better understand the needs of our Wesley Community so can create sustainable solutions," she said.
Nuria Sisterna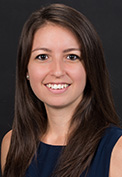 Sisterna is fostering a welcoming medical environment for refugees by starting a community lunch or dinner at the College of Medicine – Phoenix. She plans to have one to two refugees sit at each table, and have the event catered by a refugee-owned restaurant. This will be followed by a presentation detailing information on refugee medical health care in Arizona and will allow time for students, attendees and refugees to talk.
Sisterna hopes the event will help refugees feel more comfortable going to medical appointments. She wants to provide a safe environment for students to ask questions to refugees and learn about the medical needs unique to refugee populations. It's also a chance to increase awareness among medical students about the vast and diverse refugee population in Phoenix.
Kristina Yancey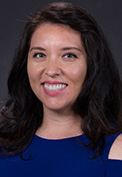 Yancey is researching cultural humility in medical education and how service learning impacts medical students' relationship with patients. She will measure students' baseline level of cultural competence and cultural humility and will track its evolution throughout students' four years of medical school.
"I believe that future physicians who demonstrate cultural humility will have greater success in connecting with their patients on a more profound level, and that this should naturally translate into improved health outcomes," Yancey said.
Prior to coming to the medical school, Yancey collaborated with several community health centers in New York on an initiative to improve health literacy in underserved communities.
"During that time, I was struck that as a future physician, I need to do more than just ensure that my future patients understand the information and advice I'm trying to give them," she said. "Just as important, if not more so, I need to seek to understand where my patients are coming from and what their values are in order to recruit them to be active participants in their health and well-being."
About the College
Founded in 2007, the University of Arizona College of Medicine – Phoenix inspires and trains exemplary physicians, scientists and leaders to optimize health and health care in Arizona and beyond. By cultivating collaborative research locally and globally, the college accelerates discovery in a number of critical areas — including cancer, stroke, traumatic brain injury and cardiovascular disease. Championed as a student-centric campus, the college has graduated 500 physicians, all of whom received exceptional training from nine clinical partners and more than 2,000 diverse faculty members. As the anchor to the Phoenix Biomedical Campus, which is projected to have an economic impact of $3.1 billion by 2025, the college prides itself on engaging with the community, fostering education, inclusion, access and advocacy.